The Telefónica Technology and Automation Laboratory has not stopped in its first five months of life since its relocation to the Distrito Telefónica.
So far, we have announced how the laboratory became a base for research on quantum cryptography working, together with the most relevant manufacturers in QKD technology and security, in the development of pilots in our LAB facilities, to demonstrate the ability to deploy and use this quantum technology.
We have also seen how Telefónica and NEC began their collaborations for the validation and implementation of cutting-edge Open RAN technologies and several use cases at the Telefónica Technology & Automation LAB.
In addition, our Laboratory is part of the MadQCI project (Madrid Quantum Communication Infrastructure), an ambitious network that demonstrates the viability of different implementations of QKD technology (Quantum Key Distribution) and the coexistence of different manufacturers and operators.
And finally, in our Lab we are building our proposal for Private 5G Networks, combining 5G Access, Edge Computingand SVAs from different partners in a single product. This is our 5G Telco Edge platform to deliver 5G leveraged B2B services in a fully automated, certified, and click-to-deploy way.
But the LAB is not only a space for research and exploitation of the latest technology, but a place to retain talent. Hence, the Talentum Lab initiative, a commitment to young talents for researching and analyzing data from our network through Artificial Intelligence and Machine Learning.
Now, it is time to open the Laboratory to the rest of the company's areas and OBs through our TALENT NETWORK.
Connecting needs, interests, knowledge and technology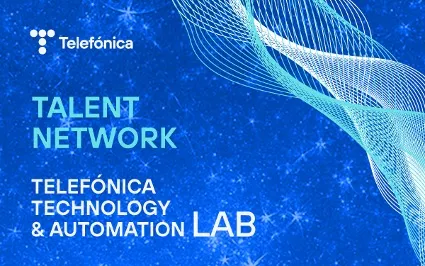 TALENT NETWORK
This initiative aims to capture all those technical projects or ideas from the different areas and operators of the company in which we can add value from the Laboratory.
The areas that manage the laboratory (CTIO and CDO) have carried out a survey of the type of projects and activities within the laboratory that we are working and that we can make available to everyone. A total of 17 topics organized into 6 global categories: Analysis & AI / ML, Access and Transport Network, Automation & Virtualization, Business Support, Devices & TV and Network as Platform & New Services.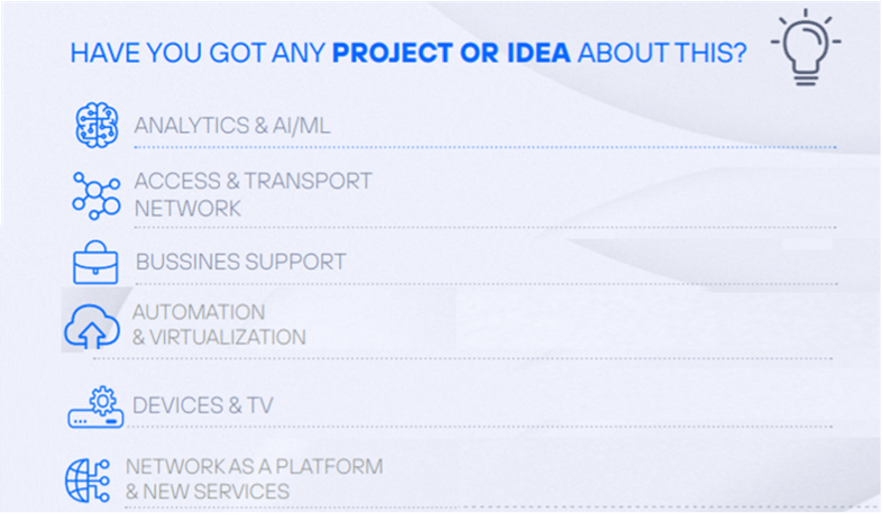 What's in the LAB
From the LAB we offer technical teams different types of support and collaboration such as ENVIRONMENTS AND TOOLS for Data Analysis and AI / ML, 5G Core and Radio, Edge Computing, Open Broadband OLTs, video infrastructures to access real transmissions, OLT deployed in Telefónica or triple play services over FTTH by Telefónica.
We also give the opportunity to work with DEVICES that we have in situ, such as 4G and 5G mobile devices, home devices from the Telefónica catalog, video retail devices with different models, brands and years of manufacture, different families of STB IPTV from Telefónica and third-party HTML applications from IPTV STB.
But beyond technology, we once again turn to sharing knowledge by offering CONSULTING, TRAINING AND SUPPORT, making internal and external experts (partners and universities) available to the company, support in Proofs of Concept, information on regulations and technical documentation, training courses, workshops, communities, datathons …
We also offer the RESOURCES that we have available through collaborations with internal or third-party specialists, the possibility of generating agreements with third parties, obtaining collaborations in industry forums (O-RAN, GSMA, Telco Global API Alliance, TIP … ) and offering services of system managers, installation and commissioning HW and SW.
You can access the complete information in detail here.
Through the TALENT NETWORK project, we have invited all colleagues who may be interested to send us their project proposals in which we can help and collaborate, immediately becoming part of the Telefónica Technology & Automation LAB family.
We believe it is essential to share needs, interests, knowledge and technology in order to grow together and grow more.
It is crucial to combine internal talent and that of our partners with cutting-edge technologies in order to be prepared and to be able to welcome the Future of Telefónica.
The place where everything happens is the Telefónica Technology & Automation LAB.