Climate change is already affecting all regions on Earth, causing extreme weather incidents, including heat waves, heavy rainfall and more frequent and severe droughts. It is estimated that the earth's average temperature has risen by 1.1°C.
Society is demanding a more sustainable way of life and a more sustainable economy. A third of Europeans consider pandemics to be the biggest challenge facing their countries, but climate change remains a top issue.
On the other hand, consumers are embracing green products and services and an increasingly sustainable lifestyle. Today, sustainability is important to 80% of consumers worldwide. The pandemic has accelerated this trend. In fact, almost two-thirds of customers are willing to change their purchasing habits to help reduce negative environmental impact.
Sustainability is currently very important for large companies
In a world where competition between companies is increasing every day, efficiency is critical to ensure profitability and long-term sustainability. No business leader questions that sustainability should be on their strategic agenda and practically every major company issues a sustainability report and sets targets. More than 2000 companies and financial institutions around the world are working on Science Based Targets (SBTi) and have set a target to reduce their carbon emissions based on science. And around a third of Europe's largest companies have committed to achieve net zero by 2050
Towards a green digital transformation
Telefónica's group strategy is fully aligned with these trends and is based on two fundamental pillars:
To minimise the impact of our operations.

Our goal, to have the most energy and carbon efficient telecommunications network in the market, so that the connectivity we offer to our customers is low emission.

To help our customers to decarbonise their activity.

Digitalisation and connectivity are key to help them become more efficient and sustainable. Our products and services optimise the consumption of resources such as energy and water, reduce CO2 emissions and promote the circular economy.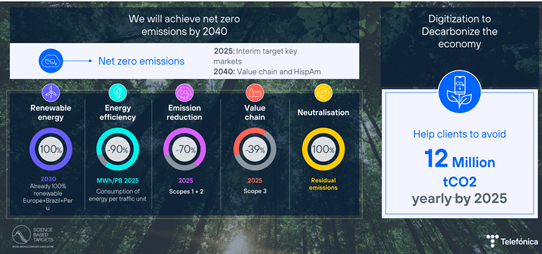 In the first pillar we have brought forward our emissions reduction targets and set ourselves the goal of being net zero by 2025 in our key markets and by 2040 across the entire footprint, including the value chain. Twenty-five years ahead of the Paris Agreement. To achieve this, we continue to reduce direct and indirect emissions with the 1.5°C scenario, 70% globally by 2025.
In the second pillar, we have set a target of avoiding 5 million tCO2 at our customers through our products and services by 2025 in our four main markets: Spain, Brazil, the UK and Germany.
"Green Tech" to build a greener digital future and help society grow
For companies to achieve net zero emissions targets, digitalisation and decarbonisation must go side by side. Assessing the environmental impact of digital technologies is vital, as their impact can be significant. On the other hand, digital technologies have a huge potential to reduce emissions. In this sense, companies are increasingly turning to their technology partners to integrate sustainability and create meaningful change that is good for their business, society and the planet.
And this is where Telefónica Tech plays a key role in supporting companies of all sizes and sectors to digitalise. Our dedicated teams bring a great deal of experience and industry knowledge to develop, integrate and implement strategies and technologies that help our clients create business value and sustainable impact.
Over the past year, we have made further progress and made our commitment to sustainability and decarbonisation even more visible to our customers. To this end, Telefónica Tech products and services are designed with "Green" technology and have an Ecosmart seal, verified by AENOR, which certifies that our digital solutions for companies achieve what they promise: to reduce energy and water consumption and CO2 emissions and to promote circular economy.
It is estimated that through digitalisation, using technologies such as 5G, the Internet of Things, Artificial Intelligence, digital twins, blockchain, cloud and many others… we can achieve up to a 15% reduction in the world's carbon footprint.