One of the recurring use cases that is always mentioned when talking about Blockchain is its application in supply chains. In fact, back in 2018, at Telefónica we were pioneers in implementing a Blockchain-based solution to manage our supply chain in Brazil. Three years later, this Monday, we introduced Telefónica Tech's supply chain solutions to the market.
Solutions to face with the greatest guarantees the important challenges that arise in supply chains. Among them, an innovative platform developed so that our customers can benefit from our experience over the last few years in the adoption of Blockchain. The platform, built in collaboration with IBM and EY, enables traceability of any type of material or asset. More importantly, it promotes efficiencies by establishing a collaborative ecosystem between all actors in the supply chain.
Our experience: revolutionising our supply chain
The goal of any supply chain is to secure the company's operations. Achieving this becomes more challenging every day due to the increasing globality and complexity. The product, from raw materials to distribution and sale or installation, passes through hundreds of companies and thousands of hands. Logistics extends to a very complex network of participants spread over the five continents.
Telefónica is no exception. We manage one of the largest supply chains in the world. Some numbers help us to understand its dimension. We have operations in 12 geographies, from Europe to Latin America. We ensure the maintenance and deployments of our industrial plant, with more than 70,000 sites and 50,000 switchboards. We have over 16,000 shops, twice as many as giants such as Inditex and more shops in Latin America than Starbucks or McDonalds.
More than three years ago, we started to establish global processes to make these operations more efficient, which we can summarise in 3 objectives:
Give end-to-end, real-time visibility and traceability. We needed data on which all participants could rely and make joint decisions. We are talking about knowing the origin of each component, the person responsible for it and its location at all times. In short, the maximum detail of information that allows us to identify and prevent incidents of any kind and improve planning.
Increase the level of automation and control. It was essential to minimise human interaction. Include technology to automate warehouse processes. All data collected through IoT devices is accessible in real time. In this way, decisions can be made and action can be taken on the product anywhere in the chain.
Add analysis and alarming capabilities. Increasing automation means multiplying data entry points. Increasing the granularity of information means generating a huge amount of data in real time. Analysing it allows business insights to be obtained. But, above all, optimising the different parts of the process on the basis of the information generated in other stages.
To be able to carry out this transformation, we needed a platform that would allow all actors in the chain to share information in real time. One that would guarantee all participants that we could trust the data and make decisions on it without questioning it. In short, a platform that fulfilled all the advantages that Blockchain promised at the time.
Today, what started as a pilot to demonstrate the value of the technology is the cornerstone of these global processes. Today we are managing the entire manufacturing and design flow of our client's equipment (Decos, Routers, Modems, etc.) in Brazil. We can say without hesitation that we have one of the largest projects in the world using Blockchain applied to the supply chain. This is backed up by the numbers:
We distribute more than 15 million sets of equipment per year, 25% of which are semi-new, reconditioned and previously recalled.
Each box has more than 1,000 serialised and non-serialised components, more than 15 billion components plus their grouping in boxes, pallets or containers.
More than 100 partner companies with some 30,000 field technicians are involved in the chain.
The updates involve more than 200,000 transactions per day, more than 70 million updates per year.
And of course, significant efficiencies have been achieved in business magnitudes. Material supply times have been made 60% more flexible and inventory has been reduced by 50%. The return on investment has been 10 times the cost of the project, and this cost has been recovered in less than 1 year.
Our virtuous circle
But beyond the data, what is really valuable is the accumulated experience. The lessons learned over the years have allowed us to tailor a suit to the main challenges of the supply chain. Each update that went into production revealed a new improvement that was incorporated in the next iteration. It has been a continuous process where we have learnt how to bring such a project to fruition. We can sum it up in 4 headlines:
The most important thing is the use case. You have to speak the language of the business and understand its needs. What use case do we want to cover. It has never been about setting up a Blockchain project, but about using Blockchain in a supply chain project. No more than 30% of the effort has been about implementing the technology or developing Smart Contracts. The important thing is to understand the business needs and the relationships of the different actors.
A Blockchain project makes sense when we are dealing with an ecosystem. A network of data exchange between various actors. It is about implementing with technology the relationships that exist between the different actors. It is necessary to understand the value that the project will give to each participant. The value of the project is the sum of the individual values. Only if each participant perceives value in the solution will it add up. It is a matter of creating this ecosystem of trust between all the participants.
The value of the case lies in the value of the data that is exchanged or presented. We make the data irrefutable. You have to make sure that the data you enter is true and accurate. That is why the intersection with the Internet of Things is so powerful. By collecting the data as close to the source as possible we increase its reliability.
Data accumulates and multiplies and is accessible to all participants. No one has to expose or compromise each other's information systems or deal with costly multilateral integrations. Data is no longer requested to be processed by others. We pool all the data from all stages that until now resided in different data sources. The application of Big Data and Artificial Intelligence techniques exponentially multiplies the possibilities of optimising the chain. We can identify variables in the entire process that one of the parties was unaware of and that directly affect its performance or contribution to the entire chain.
From project to product: TrustOS
Telefónica Tech has gone one step further: can we build on these learnings to build a product that helps our clients meet these same challenges? The answer is yes. Not just based on those learnings. While continuing to optimise our supply chain, we have tackled other Blockchain projects with their corresponding lessons learned. With all this, we designed TrustOS. It is a modular solution that allows customers to enjoy the benefits of immutability and transparency that Blockchain brings easily and quickly. It's not about undertaking large projects like ours to redesign the supply chain to take advantage of the technology. It's about understanding a customer's specific need and how the technology enables them to solve it.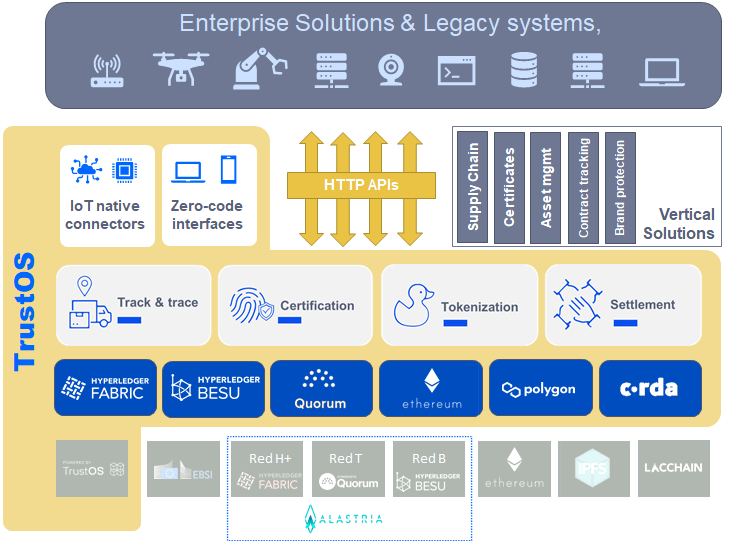 The main challenge in this type of project is how to incorporate Blockchain into existing processes. If we focus on the supply chain, all companies have already digitised it to a greater or lesser extent. Even with integrations between different systems (SAP purchasing, warehouse management, etc.). Thanks to TrustOS, the technology developed by Telefónica, we connect pre-existing systems with a complementary layer that offers traceability. Thanks to TrustOS, Blockchain does not replace pre-existing systems, but complements them and adds capabilities at a low integration cost..
But Blockchain is not only about traceability. Apart from traceability, most of the projects we have developed over the years replicated the same functional modules. The different solutions needed to certify information, reconcile disparate data sources or create markets on ecosystems thanks to the tokenisation of assets. These are the four main modules of TrustOS. Each one of them is focused on serving this group of solutions.
In addition, many customers just need a fast and usable way to verify information recorded on blockchain. Therefore, as part of TrustOS we have also developed simple verification interfaces available to anyone. A user can "read" or "write" to blockchain from their mobile phone or email reader. For example, he can certify on the spot the image captured by his camera or the report he has just received by email.
With this whole suite of solutions, we aim to universalise blockchain and make it accessible to everyone. Not to mention the fragmentation of available technologies, consortia or public or private networks. TrustOS simplifies all this for customers, making the technology completely transparent.
And as part of the portfolio, TrustOS also incorporates vertical solutions. These are products focused on solving a specific need. Among these solutions we can find products for contract tracking, document certification or brand protection. And also, of course, the optimisation of the supply chain.
The Smart Supply Chain
The new TrustOS-based platform establishes a new model of collaboration between supply chain participants based on trust. As we have been saying, Blockchain enables the creation of a unique digital identity for each product in an immutable "repository". This repository is agreed with all participants (suppliers and partners) and is therefore auditable, trustworthy and transparent.

The Platform records all events and enables automatic tracking of every change in the asset lifecycle. The Smart Contracts engine is used to orchestrate suppliers and supply chain actors. It also enables the automation of functions such as inventory management and procurement. The entire ecosystem of companies involved in the supply, installation and consumption of materials interacts efficiently and information is easily accessible.
Participants' existing systems communicate through standard APIs, so there is no need to modify their systems. It also allows the automation of data ingestion.
All in all, we can list the following advantages that a company gains from the solution:
Facilitates the unification of work systems across companies
Improves data integrity, inventory management and control.
Enables traceability and auditability of delays, incorrect payments, inconsistent transactions.
Actively detects "inconsistencies" in transactions, as well as non-compliance at any point in the process (shipments, quantities, transfers, receipts, etc.).
Evaluates the types of materials used and their consumption per site (anomalies).
Verifies the treatment of returns.
Acts in the face of potential problems and mitigates risks
Avoids the inappropriate use of products.
Acts and minimises common problems such as shrinkage, overstocks, potential breakages, obsolescence, etc.
Provides information on each product in almost real time and with access to its traceability history.
Identifies a product by its characteristics of origin at any point in the chain and allows action to be taken on it.
Allows to be more efficient in reverse process and waste reduction (collection, recycling, reuse, packaging…).
Facilitates the auditing of transformation processes and the authenticity of components.
The platform is part of Telefónica Tech's ambition to accelerate digital innovation and the adoption of new technologies in companies. We are of course talking about Blockchain, Internet of Things or Artificial Intelligence. We intend to create a reference for the construction of these digital ecosystems of trust that connects people, resources and organisations. But also, a catalyst for generating efficiencies along the entire supply chain through continuous innovation. It is our vocation to continue evolving it by incorporating both new technologies and new business requirements that allow us to broaden its impact.
The adoption of initiatives related to sustainability must play an important role in this model. To this end, it is essential to ensure the sustainable origin of materials and to control reputational risk by extending control to its network of suppliers.
For all of this, we have the synergies of three major technology companies: Telefónica, IBM and EY. Between the three of us, we have extensive experience in supply chain operations. Not only in the telco sector, but also in other sectors such as the automotive and energy industries. Between the three companies we digitise the end-to-end process, integrating different technologies and adapting them to the particularities of the different industrial sectors.