During last week, the Turkish (maybe a gang, maybe just a person) behind the pr0nClickers malware got to
avoid Google Play defenses and upload again dozens of fake apps that visit pornographic links in the background.
During 2015, this is the fourth time that, slightly modifying the code, the attacker gets to fool the defenses in Google Play.
February, the first time
It all started in February. ElevenPaths detected at least 32 apps that used an old known technique in the PC world, but not so used in Android badware. Between the simulated apps, we could find a fake Talking Tom (that was online for just a few hours) and a "Cut the Rope". In this case they visited ads and porn websites and simulated clicking in the banners, so they got some benefit. This schema affects the data plan of the user, because the apps will keep on requesting pages in the background and the victim will not be aware. The gang or person behind was operating since December, uploading apps to Google Play, with the only intention of booting with the device and making GET requests in the background.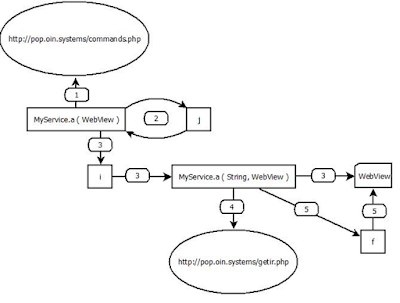 App general schema
We made a deep research on them, and published this article about it. The attacker used domains with real names. It is easy to find even their Facebook profile.
Name of the registrar, common for most of the domains used
The first domain used for the attack still works as a "porn domain generator". Since the beginning, it showed some preference for movie related apps, domains, etc.

Click F5…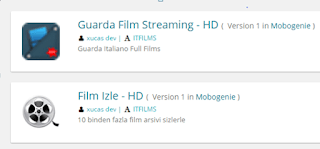 Apps related to the attacker, found thanks to Tacyt
April, the second time
Avast detected the attacker using again Dubsmash 2 as a fake app to spread these clickers. The way the apps worked were very similar, using the same JavaScript functions, part of the code, and Turkish addresses. But different enough to fool not only antivirus but Google Play again.
May, the third time
This time was Lukas from ESET, who alerted that the Turkish people were using same techniques and decoy (Dubsmash 2) to install clickers in victim's devices. The attacker got a few thousands of downloads and installations. It even used the same domains as in February, where the infected devices got the information from.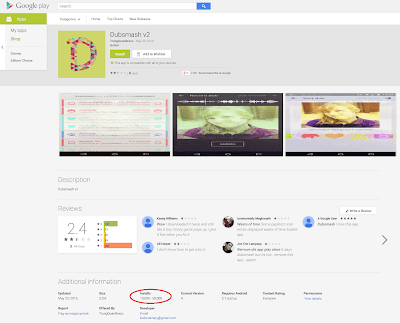 Fake Dubsmash 2 used during May

Same domains as the first time, seen in Tacyt
July, the fourth wave
This time, Avast alerted again about the same people: Turkish, same "movies related" domains and apps, same Dubsmash 2 as a decoy, same network and JavaScript code. But again, different enough to fool Google Play and antiviruses. He never stopeed trying to upload apps during June, but during July it was more aggressive.
The attacker still uses the same structure as the offensive domains. Some of them seem to be compromised domains (peliculasgratishd.net?). These are all the domains (we do not show all the paths) related with this wave of attacks. They seem harmless, but this could change any moment from now.
http://ynk.linuxum.com/
http://kankalar.linuxum.com/z/z5/
http://amas.europeanteenx.com/z/orap/
http://sulale.hitgit.com/com.sulale.dubb/1.png,
http://tranquockarafren.peliculasgratishd.net/g/getasite/
http://kum.angelpinkgirls.com/z/z2/
http://cinar.pussyteenx.com/z/z5/
http://kamki.insfollows.com/com.nguyenngocjumraze.suuu/4.png
http://phutanjocohare.mobilprn.net/g/getasite/,
http://mebk.pantiescock.com/z/z2/,
http://komidin.cumshotsex.net/com.komidin.cheatscrim/3.png
http://rafta.girlstoyporn.com/z/orap/
http://sulale.hitgit.com/z/z2/
http://kendo.teenpornxx.com/z/orap/
http://fet.asianpornxx.com/z/z5/
http://pupa.romantictube.net/g/getasite/
http://palasandoreki.filmsme.net/z/z2/
The attackers keep using the same Turkish name to register most domains. Code (inside and outside the app) keep on using some characteristics and formulas that are common enough to attribute the code to the same people.


Domain used in February (up) and domain used in July (down)
Some of the files a are still available in Google Play while writing this lines.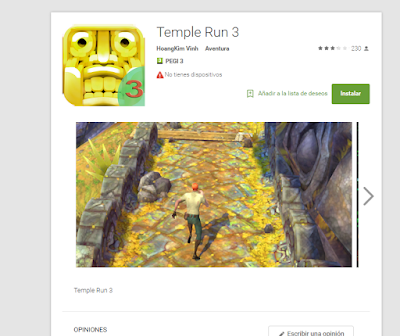 One of the clickers simulating Temple Run 3, still online: https://play.google.com/store/apps/details?id=com.amas.ra
These are some of the apps we have found during these last days so far (using Tacyt and a few clicks) that share the same characteristics. But, since February, they had to refuse to some "commodities" as for example, starting the app with the telephone, which limits the attack to the moment the app is opened… so that is why the attacker is trying to add some content to it lately.
Amasra 1;com.amas.ra;f617515837ebe345a68904417d7823974e382e59
Best : Dubsmash;com.kankalar.elma;99cc2f0ff000df5c2e856d40acac1b4dc72e9230
Dubs Mash 2;com.sulale.dubb;459dc9198de2875017885d89e1c04c81301213b3
Panita Kin;com.tranquockarafren.king;f320e227b9742527be37a1c03afe4f2689bb76f0
Cheats for Boom Beach;com.kum.sal;36c4d4c0ca7c2d9e948daa32c20556709984fdba
Cinarcik 1;com.cinar.cik;315c57bddee7a2ee5db54fb52215986bc23a9c93
belki yanbak;com.nguyenngocjumraze.suuu;9b0e6c03338db95a86217ea298ae9a50c85c8217
MayHada;com.phutanjocohare.may;9fe6f210fe5209c3d6d97800054e42d80d4e6966
MayHayda;com.phutanjocohare.jat;84af3da99603e9d5586a2278d180d485c74d4068
Cheats for Clash of Clans;com.kankalar.cheats;a0f000baa8246908bdce9feabc2f24530fd8afcb
Man Kaptasi;com.phutanjocohare.conc;ed7ed72b9cf1de2cd67ce74d252be5aa7a2c0d35
Cheats for Pou;com.mebk.adli;9d3e6747cf892a7bc7571b1b91da1d14061ad4bb
Cheats for Criminal Case;com.komidin.cheatscrim;df5be5567eb7dc2ef8d6f96909ff6dfc29b37d8d
Cheats for Hill Climb;com.rafta.chetashill;8d4a009bae65731f10adc0b7fbfb708918579e74
Cheats & Trucos: Gta 5;com.sulale.chetastga;1741e985d4d204da73ee9f2a35622331fe7824c0
Maps & Guide: GTA 5;com.sulale.cimmi;ed388d4dd304c695aba5794d089355febaeb80d8
Followers for Instagram;com.nguyenngocjumraze.takip;5638df53b960a0d2b16f708bba8e46d4dc996f6d
C l a s h o f C l a n s 2;com.kankalar.clash2;7552118b7e5f1ef3698579cc48121a6be37aa5f3
Komidin;com.kendo.yako;0695c87554db4a10a7b38df49ecf03f6e20eb4db
Fethiye;com.fet.hiye;49c37da0ca94536600cecd8290aba670164ba7a6
Koday;com.pupa.yelken;2e2598c930a448217b6070d934e98735e4c44732
Doganın Güzellikleri 2;com.palasandoreki.hsa2;961923bad0f1a986a142ef5916d57b053e6591ba
Doganin Guzellikleri;com.palasandoreki.hsa;193e986d65249a8a04d596b9c13ecfdf0e3dced9
Doganin güzellikleri 3;com.palasandoreki.hsa3;6dad78b0bae7210fcc9335ee671f4514becdb214
So, this is the fourth time the attackers modify the apps and get them in Google Play. But we have to consider that, once you are able to "fool the antivirus" just twisting code, this kind of badware is hard to detect, since the way the apps work is not that "suspicious" ("just visiting sites") and the behavior can be easily "hidden", for example, waiting for some events to start visiting porn sites.
Sergio de los Santos
ssantos@11paths.com
@ssantosv