During the early December bank holiday many of us take the opportunity to relax, discover new places or return to our countries of origin. This time, as a further addition to our previous articles about mobility (commuting and contamination), we give you a short insight into our holiday customs during the December break. We have again focused on Madrid as it is a source of mobility which has repercussions all over Spain, which is why many of us will see ourselves portrayed. Just to mix it up a bit this time we are also going to discover some interesting aspects about Toledo.
Where are people from Madrid going during the upcoming December holidays?  
We have went back to using data by SmartSteps focusing on the dwell concept instead of the home and work points of interest that we have previously highlighted in articles. To keep reading with an understanding of the concept let´s break it down; SmartSteps extracts information through two different actions carried out on the mobile network, active events (calls and texts) and passive events (those that simply occur whilst being actively on your mobile). If you are interested in finding out more about SmartSteps we have linked you to this article which explains various concepts in a concise and clear way. We can also take these two types of data and look at where the user has stayed for a significant time and differentiate this with where they have just passed through. 
Before we continue, we must insist in the aggregation and anonymization that govern Smart Steps activities and use of data. In other words, we observe and analyze data of homogeneous groups of people, never of individuals. We have explained this formally in previous posts, and we now summarize it in a simple way: if when reading this article and seeing the graphics you feel pointed at, do not be alarmed, there are many of us doing something similar, and that is why we appear as significant. Top destinations for people from Madrid this December holiday
The first step we have taken is similar to that of the post about commuting: the heat map in Figure 2 represents the distribution of the chosen destinations of people who normally reside in Madrid.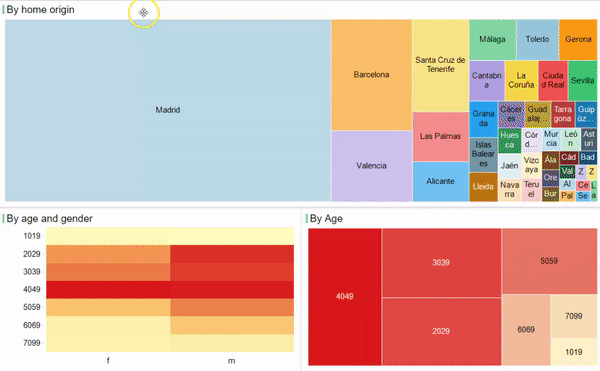 Figure 2: The distribution of chosen destinations by people who reside in Madrid during the December break.
The break is usually quite long and most people don´t even spend the entire break in once place, for this reason we have selected the locations in which people have spent the most time during the holidays (longer dwells). Various destination types include:
Most notable destinations: Barcelona, Toledo.
Notable destinations: Valencia, Alicante, Sevilla, Málaga, Cádiz, Guadalajara.
The rest of the map see´s various destinations surrounding Madrid and other costal destinations around Spain.
This first approach which seems simple has let us raise some initial questions which we want to continue to elaborate with a deeper data analysis. As we unfortunately don´t have enough time to investigate all areas we have decided to take a further look at Toledo. If you live in Madrid it goes without saying you will know someone with family from there, but in the map Toledo is quite highlighted. In principle we could also say that Guadalajara could have had a similar trend as it has akin population to Toledo. Madrid and Toledo are actually quite linked. Is this through family, tourism or gastronomy?
Toledo, a simple coincidence?
To further continue our investigation, we want to discover whether this was a temporal occurrence or something that happens on a regular basis. For this reason we have aggregated the data from the December break whilst also combining it with 9 other weekends throughout the year. We can reflect on the results in Figure 3.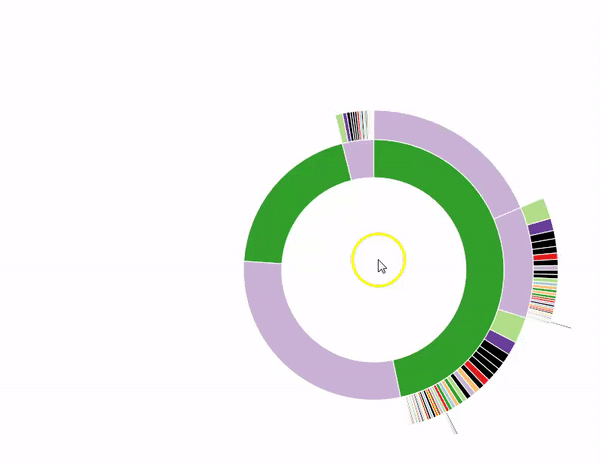 Figure 3: This diagram includes 100 provinces that could be selected by the "madrid-toledo" intersection during the given time frame of the 9 analysed weekends.
For this visual representation we have reused one of the examples from the D3 library and represented this information focusing on the "Madrid-Toledo" group. We are talking about a Javascript library that is a big help when it comes to the visual representation of data. As well as being able to use it directly for websites, it can also be used according to your needs, meaning that it can be used in collaboration with the majority of visualisation tools for data.
To explain figure 3, we have taken the top 100 most frequent destination combinations throughout the 9 different weekends to give the data the best sense of scope. Using this base we can see those who went to Toledo for their break, the percentage of people who usually stay solely in Madrid, those who always go to Toledo, Madrid-Toledo-Alicante, Madrid-Toledo-Alicante-Valencia.
We can sum the data up by creating the following groups:
People who are originally from Toledo:

Approx. 1 in 3 return to Toledo every weekend from the study which allows us to deduct that these passengers have permanent connections based in Toledo.
Approx. 1 in 5 spend their breaks between Madrid and Toledo. For this reason we can say that they have permanent connections based in Toledo, but they don't visit them as often.
People who are originally from Madrid:

Aprrox. 1 in 5 stayed in Madrid during all 9 of the weekends making it clear that they went to Toledo for a random excursion.
Tourists from Madrid and Tourists from Toledo: There's a group of tourists who almost always stay in Madrid but sometimes visit the province of Valencia. Another smaller group who almost always go to Toledo but also visit the province of Valencia.

Within the group who normally vary between Madrid and Toledo there is a third option of people who head towards the province of Valencia. Although if we look a little closer we can see that more diverse destinations start to appear.
We can clearly see the success of the province of Valencia, with the most successful city from the region being Alicante. The left hand graph from Figure 4 shows the overall percentage (considering all destination combinations and not only the first 100) and can also confirm the previously cited example of groups from Toledo. The right hand graph backs up the success of the province of Valencia in terms of the occassional visit from people from Madrid.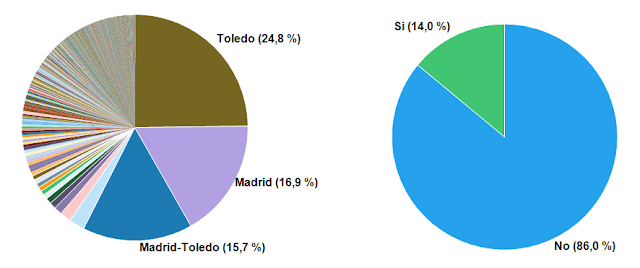 Ultimately this analysis has started to explain the travel habits of the Spanish in terms of the frequency of the different types of weekend breaks they choose and the number of different destinations in terms of these trips. The further we delve into analysis the more we want to know about the various outcomes of our research but, due to time constraints we will have to continue this with a future blogpost. The LUCA team hope that you have enjoyed this new journey around Spain and left you wanting to know more. For any blogpost suggestion, doubt that needs to be cleared or proposal you can always contact us here.