In this world of ours, it is normal to feel overwhelmed by the amount of information, facts and data we encounter everyday – and the quantity we are generating every second continues to grow on an exponential basis. However, perhaps the problem isn't actually about the amount we have to digest, but rather the way in which we digest that information. Maybe we are expecting the world to follow this frenetic rhythm of data consumerism without taking into account what the human brain is actually capable of processing.
Nevertheless, we shouldn't lose hope. There are many people out there thinking about how this problem can be solved. And it is not necessarily what you might be thinking. What if we present data in a way that people really engage with it? Because, after all, let's not forget that in this cold and empirical world, emotions make it easier to establish bonds with people – and art is a key way to forget these emotional connections.
Connecting Big Data with Art, cannot be done by merely Data Scientists or Artists flying solo – but rather a unique and potentially beautiful partnership between both parties.
This new trend came about with movements such as net.art, the first group of artists that used Internet for their creations. But who is leading new revolution of bringing Big Data Art right now? Here are four examples of artists and projects that use Big Data:
Nathalie Miebach is the woman who inspired this blogpost. She has had a unique career path in which she blends arts and science, studying art in great detail, but also she has taking courses in physics and astronomy. The result of this combination of studies is quite remarkable. For ten years she has been creating beautiful sculptures which represent weather elements data. How? She measures data by herself with basic instruments and checks that information with internet data on weather. She then combines this data and chooses two or three variables and starts to translate that data into creating the sculpture which has a basket base, and each element represents a bean and colour thread. An example of the result can be seen below:
Nathalie also converts this "data visualization-art work" into a musical score as well. She works with musicians in the translation of this data into musical notes and composes a musical piece.
Her artistic statement is a powerful one: Nathalie challenges how the visualization of science can be approached. At first, you can see this sculpture can be viewed as a data visualization. But if placed in a museum, it could be seen as a piece of art. If it were placed in a concert hall, then it would also be a musical piece. In summary, with her art work you can see, feel and hear science – which is extremely well explained in this Ted Talk and her portfolio.
Mathieu Le Sourd (also known as Maotik) is using more technical tools to create innovative art that represent data visualizations. The Montreál based artist is well-known for his impressive art installations.
FLOW is the name of the beautiful installation that represents real-time nature data. Taking into account the variables of the moon, temperature, humidity and the position of spectators, this interactive installation offers a sensorial experience of weather, showed as waves reflected into the installation. Want to see it in action? Check out the video below:
Big Data and art are also being combined by technical profiles doing beautiful visualizations. This is the case of Fernanda Viegas, a computational designer whose career has focused on data visualization, specifically on its social, collaborative and artistic aspects. She has done many interesting things, such as the project with IBM in which she created a public visualization tool named Many Eyes. You can see more of her projects on her website. One highlight is this wind map, an amazing visualization of wind real time data in the US done in collaboration with Martin Wattenberg: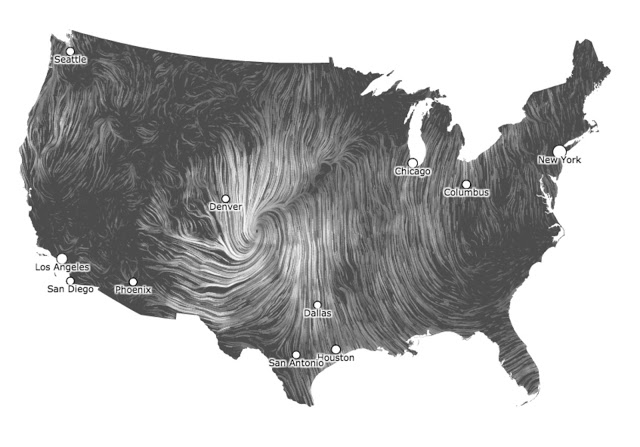 Fernanda and Martin have done many other projects with data together, which you can check out here.
4. Dear Data Project
And last but not least, another example is this unusual visualization in form of daily mail. This idea was shaped by Georgia Lupi and Stefanie Posavec, two friends separated by the Atlantic Ocean that sent each other visualizations of their daily data drawn on a postcard sent through mail post. This mail chain has been composed on a book named Dear Data Project, which is full of their beautiful handmade visualizations and is available here. To see the whole idea behind the project, watch the video below:
So fear no more, Big Data friends. There are many ways to engage with non-specialized audiences to make science not only interesting but also fun to consume. Art is key in processing all of the information around us, and an opportunity to creatively represent our world. We hope that this discussion of art and Big Data will help you start to start to rethink the way we view data.