Surely by now many have already accepted the new terms and privacy policies without really knowing what they were about or their impact on the privacy of their data, and many others have even decided to switch to Telegram and start abandoning the green messenger…
Why so much fuss about this new policy update? To explain briefly, with the acceptance (Figure 1) of this update of the conditions and privacy policy – mandatory from 8 February – you will allow your WhatsApp data to be shared with the rest of the Facebook services, which was optional a few years ago where the user could decide directly what to share and what not to share between the Facebook companies.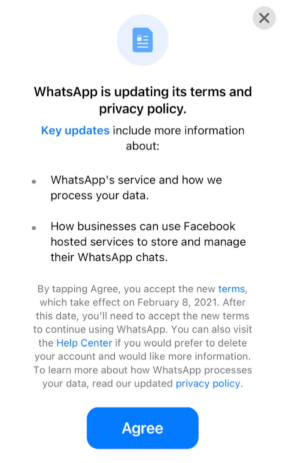 Users are talking a lot about this controversial topic because if you do not accept this update you will not be able to continue using the application. In recent days several articles have been written about these giving details, so we decided to focus this entry on what are the alternatives we have to the manifest intentions of Facebook on using our data.
Considerations on acceptance of the new terms and conditions
We are interested in analysing what will happen to users who accepted these new terms by mistake or in a hurry and want to revoke this acceptance, even if this means that on 8 February this year they will have to stop using the platform if they do not agree. Will they be able to do so? Is there any place where this acceptance can be revoked? The answer is currently simply NO. Nevertheless, we thought about verifying some actions that users might try to execute in order to reverse this "unconscious" acceptance, especially after reading so many articles or messages on Twitter about the subject, and we decided to start with the most obvious one: Search for an option in the account settings… of course there is no such option…
The second option we thought was harder, to delete the user and then create it again or even load another user into the application and see if the policy acceptance sign appeared again. However, when running WA, the application takes the last update (version 2.20.206.24) and accepts the new policy.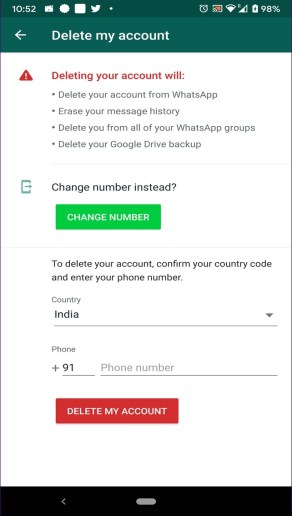 To be more incisive, the third option the user has is to uninstall the application completely and reinstall everything with previous versions from the official shop. However, when carrying out this procedure we verify that it is not possible to install a previous version since it is not available as an alternative in an official way (of course, if we already have the installer of a previous downloaded version or we download it from an unofficial shop, which we do not recommend, there we could install another version with the previous policy).
More details
It is also interesting to highlight that for the European community, the new privacy policy does not fully apply (sic), generating an exclusive policy for users resident in this area of the world and this is due to the GDPR regulations, which prevent both Facebook and any other company from sharing their users' data with their other companies, or from being used for various interests, without the explicit and clear approval of the user involved. Thanks to this, WhatsApp users in the European community have now won the battle over the control of their privacy.
In short, we can say that WhatsApp users who have already accepted the privacy policy, without reading or considering what it implies for the handling of their data, only have two options:
Delete the account and leave this messaging service by migrating to another of the many similar services that have emerged in recent years. For those who choose this option, they can select from several services that have taken off recently.
Continue with the use of this service taking into account that it is not possible to revoke the new privacy policy and accepting that your data will be shared among all the companies on Facebook, for purposes that as indicated in the policy are intended to "operate, provide, improve, understand, customize, support and promote our services".