The current digital transformation process companies are facing is causing a deep cultural change in daily business tasks, organizational processes, business roles and competencies, in which making a good use of disruptive technologies, and minimizing the impact of this digital acceleration towards a stable strategy has become a new challenge.
COVID-19 presents an even bigger challenge, and a change of mindset is needed, developing new processes, methodologies and further promoting business continuity.
This need for change management, places companies at different preparation or maturity levels to deal with arising initiatives. Hence, an assessment of features and capabilities is needed in order to:
Identify strengths and opportunities
Detect threats and weaknesses
Measure and monitor the accomplishment of objectives
Establish an action and contingency plan that supports the above mentioned aspects
Fortunately, companies do not start from scratch, they have been working hard in recent years. Finding out their internal capacities to detect environmental needs is a step they have already earned.
Some basic characteristics that will help to define the maturity level of an organization will be the following:
Knowing the business model: Having a 360º vision of the data types used, location, criticality and price will facilitate the development of analytical models by means of Machine Learning and Artificial Intelligence techniques, enabling better decisions-making. Data Governance divides data into two hemispheres (business hemisphere and technical hemisphere) and sticks them like glue in order to act as a necessary enabler for solid models.
Organizational model: Decisions are made by multidisciplinary roles involved in business initiatives. Thus, a channel that promotes Corporate Social Responsibility is needed and it can be implemented through governance tables that will act as a transformation centre.
Converting data into value: Minimizing complexity, eliminating redundancies, making data more reusable, knowing its origins and its lifecycle or lineage requires a comprehensive process of understanding, processing and cleansing tasks that enables to measure and monitor the operational business value.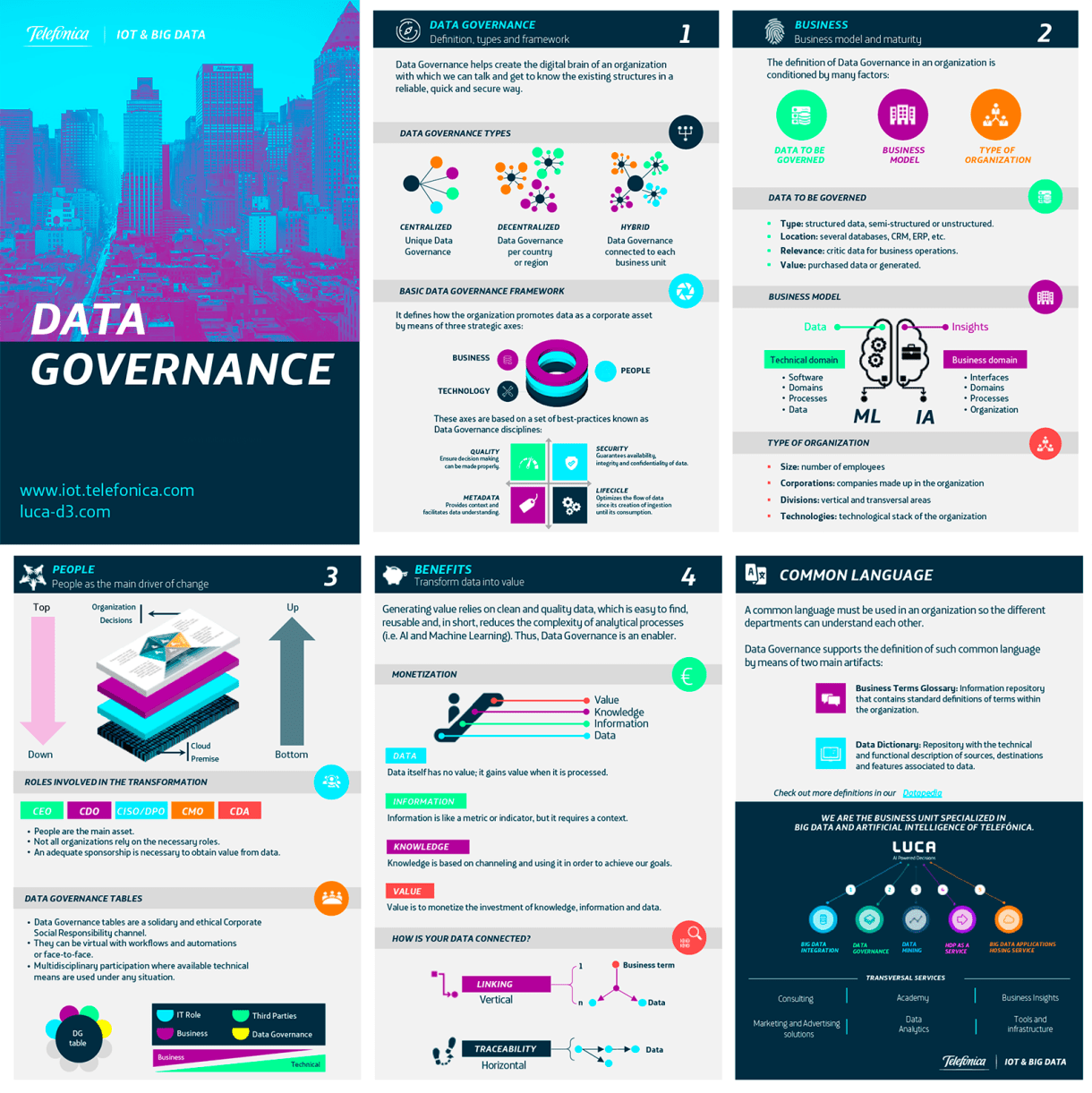 Bringing together the above aspects helps to unify criteria and ideas, eliminate ambiguities, and speak a common language. Ultimately, it enables a single entry and source of truth that provides trustworthy and reliable results demanded by customers through centralized, decentralized or hybrid business approaches.
As people, we also know about becoming mature, and from Data Governance we feel that there is no better time than now to be more human, caring and closer than ever. We consider that "it is essential to seek for the true master of our lives, that engine machines do not understand, the one does not know about processes but that makes them bigger: our heart".
Written by Raúl Hernáiz Ortega
To stay up to date with LUCA, visit our Webpage, subscribe to LUCA Data Speaks and follow us on Twitter, LinkedIn o YouTube.