It's a cold morning in Madrid and María Martínez Martín, Head of the Threats Intelligence Operations team at Telefónica Tech, welcomes us at the Telefónica building.
Wearing a blue blazer and smiling, María laughingly confesses that she doesn't see herself being interviewed as a female hacker because when she was a child, she dreamed of being a marine biologist. And now 'Look where I've ended up', she says. A telecommunications engineer, María has been with Telefónica for more than seven years, where she currently leads a team of almost 50 professionals. She is, without a doubt, a great ambassador for #LadyHackers for being a female reference in the world of technology.
What does it mean to you to be a female hacker?
To be a #LadyHacker is to contribute everything you have inside you to a sector that needs people to help make us all safer and more secure. In the end, within the world of technology, cyber security is something very incipient and important where women can contribute a lot. We have a different vision to men, we each bring something different to the table and, in the end, it's the mix that makes it all good.
Which woman has been or is your technological reference?
María admits that she has not been a person who has wanted to work in technology since she was a child, but she finally decided to go into Telecommunications. A field in which she has found great references in her colleagues and friends. Idoia Ochoa, a researcher focused on the field of medicine, who has developed her work at Stanford University and is currently at the University of Navarra; María Ángeles Santos, RVP of SalesForce working with Iberia; Andrea, María ….. All of them are very young and are contributing a lot to the world of technology.
They are all very young and are contributing a lot to the world of technology. They are also references within Telefónica Tech: Svetlana, Mercedes, Martina Matarí, Ester Tejedor, Marta, Lydia, Andrea, Susana… They are people who are contributing a lot to the teams, they work tirelessly and they also have the complexity of being mothers. They know a lot about security and they combine it with the other life that is their family. I admire them and I think they are role models for any of us to follow.
Is cybersecurity an increasingly inclusive world?
Yes, absolutely, is the resounding answer he gives us before going on to tell us the calculations he has made. 36% of the people on my team are women. In this sector, the cyber security sector, there are many female profiles, although in the hacking part they are scarcer, says María. We have a lot to contribute, another vision that leads us to do things differently from the way we are doing them in order to keep moving forward.
36% of the people on my team are women. In the cyber security sector there are many female profiles
Why is it still surprising to find a woman in leadership positions?
I think it draws less and less attention to myself, she says, saying that this has never been the case for her. Since I started, I have never noticed that I have attracted attention for being a girl and being in a position of responsibility, perhaps because of my youth. Maria also reflects on why this is still sometimes surprising: it is only recently that women have been entering the labour market with skilled and valuable jobs. There are more and more of us and we are taking on more and more positions of responsibility. I understand that in a few years it will no longer attract attention.
New generations are coming along and they see it as normal, although there is still work to be done to get more women to opt for technological careers. What does a telecommunications engineer do? We do a lot of things, engineering has many opportunities, but people don't know about them. The problem is that there is a lack of information about the opportunities available in these types of careers.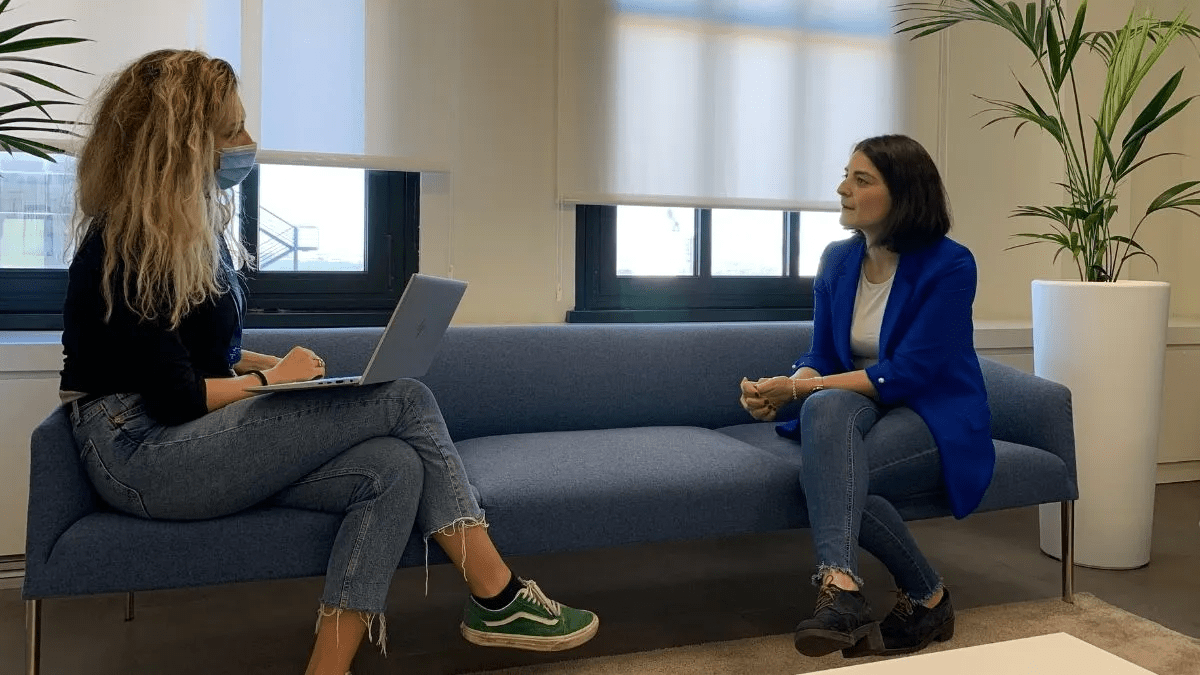 How do you see the presence of female profiles in the technological field evolving?
I think we are evolving towards professions that are genderless. It is true that, perhaps because of the way we are, we may tend more towards one profession or another, but that is changing. Young people are changing and it is very rare for a woman, nowadays, not to think about not working.
I don't think that women's profiles stand out, which there are, but perhaps they are not so well publicised, and that's why people don't know what it's like to end up studying a career in telecommunications.
Any advice for girls and young women who are thinking of pursuing a career in the world of technology?
I would tell them to do their research and go for it because they can make a huge contribution. Technological careers are not just for men. They are beautiful and in this environment, there is a lot of support, great colleagues and friends who bring a lot to the table. Take the step forward because you have a lot to give us.