We are now less than 1 week away from Big Data Innovation Day, which will be held on the 31st October 2017 along with the first anniversary of the launch of LUCA, Telefonica's Big Data unit.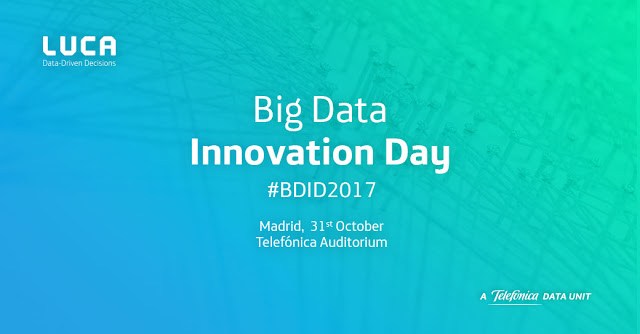 After the past year, here at LUCA we want to show all of the advances and innovations that have arrived at the department, demonstrating with case studies our establishment in the Big Data market. Big Data Innovation Day is a global event with clients and opinion leaders in the market; the event will kick off with Javier Magdalena, Director of Digital Business and TSOL at Telefonica and this will lead on to a presentation from Chema Alonso, Chief Data Officer for Telefonica. Chema will speak on the endless innovation possibilities of Big Data.
Elena Gil, CEO of LUCA, will focus on our growth and how our clients are growing with us on their journey to become data-driven. This is followed by Lourdes Cubero, Retail Business Developer at Telefónica España and Elena Díaz, Senior Analytical Consultant at LUCA who will give an insight into using Big Data with points of sales and customer service.
Carme Artigas, CEO and co-founder of Synergic partners, will give the presentation "Big Data: Show me the money!" and then to close the presentations, Pedro de Alarcón, responsible for Big Data for Social Good and Fernando Piquer, CEO of Movistar Riders team, will discuss how to create the best eSports team with Big Data. You can see the full schedule with the timings here.
After the main event, there will be a cocktail networking event with clients and you will have the opportunity to experience complete demos from Telefonica's portfolio prepared in the "Sala Ciria". There will be four demo areas, allowing you to gain hands-on experience with our products.
If you are yet to sign up for Big Data Innovation Day 2017, request an invitation from your Telefonica representative, or write to us at hello@luca-d3.com. If you can't make it… we understand your boss won't let you have time off work… then you can tune into our livestream by signing up here!
Discover more on the Big Data Innovation Day 2017 Website
Information on the event:
Location: Auditorio Principal at Distrito Telefonica
Date: Tuesday, 31st of October 2017
Don't miss out on a single post. Subscribe to LUCA Data Speaks.