I was invited to the event "Women in AI & Data" organized by databricks and hosted by Microsoft in Munich. It seems like a trendy topic but the founder invited women not to talk about the phenome of more women in AI and data but about their achievements, current project and goals. Because women in AI is nothing new – At least at Telefónica.
So I focused on my vision to transform and digitalize the customer service and sales service for Telefónica Germany with Aura the Company's global Artificial Intelligence. Our aim is to create a whole new customer relationship built on trust.
Aura is available in two channels in the Germany market already. Via the social channel Facebook Messenger and the service area of the o2 online web portal all o2 customer can address any kind of question, issue or request towards Aura. Thanks to natural language processing Aura is taught the language of humans so that our customers receive their solution without any detours.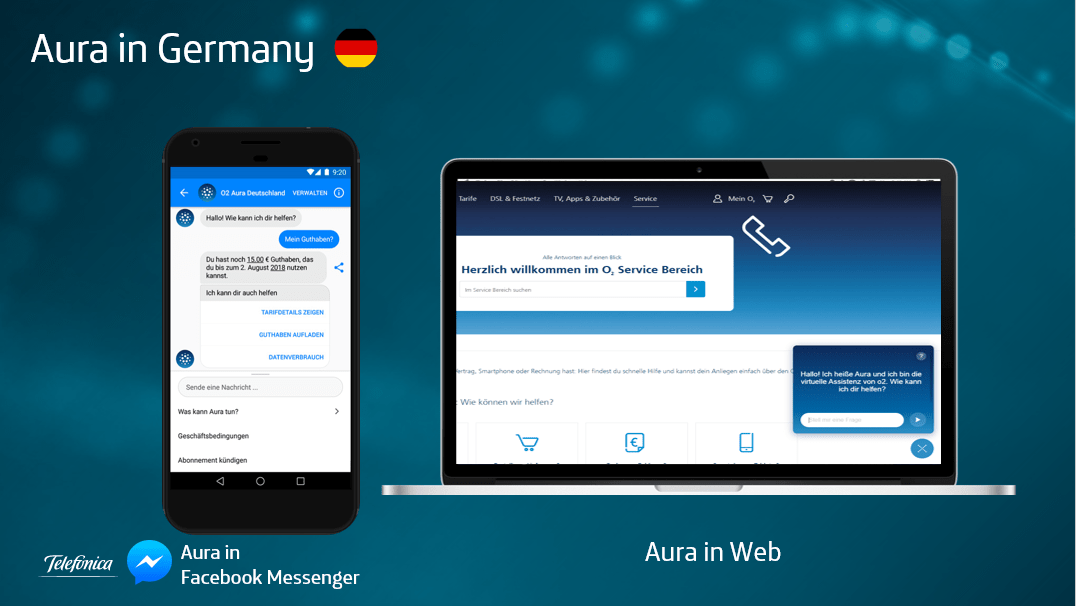 Aura is accessible for everyone and can answer more than 350+ questions about o2 services and products. Additionally, customers receive real-time personalized information on their tariff, data volume, prepaid balance and can even solve their request of a balance to-up end to end.
In 2020 Germany will focus on the integration of Aura in WhatsApp so that we can meet our customers where they are in their private channels. On top of the accessibility, Germany is working on numerous enrich use cases that will transform data into insights to increase the benefit for each single customer.
This is all possible because of the digital transformation process to provide intelligence to the three Platforms it already had and the creation of the 4 Platform to reinforce Telefónica's capacity to collect, store and analyse customer data.
After the talk many of the 100 attendees approached me to express their inspiration by our vision of Aura but also to exchange their thought and idea on the usage of AI.
Aura is our only customer facing intelligence and I'm proud that I was able to not only talk about the innovation that will change our whole business but also to represent all incredible women working on the project in eight countries all over the world.

If you want to know more about Aura in Germany click here.