Big Data can be used to help fight Climate Change [1],[2],[3]. Several projects have analysed huge amounts of satellite, weather and climate data to come up with ways to better monitor, understand and predict the course of climate change. Recognising the dramatic impact of climate change on our lives and that of future generations, many governments are designing policy measures to mitigate the effects. It is however complex to estimate, and later monitor, the impact of those measures, both on climate change and on economic activities.
One of the challenges governments face is to balance the mitigating measures with the impact on the economy. We believe that a combination of privately held data with public open data can provide valuable insights to both estimate and "quickly" monitor the impact on economic activities. This is the field of Business to Government (B2G) data sharing, whose value is well recognized as an enabler for solving important societal problems (e.g., by the European Commission, or TheGovlab).
However, currently not many of such initiatives exist, and most of them are in pilot mode. Therefore, the Spanish Observatory for Big Data, Artificial Intelligence and Data Analytics (BIDA) studies the possibility of a B2G data sharing initiative to provide future insights to policy makers on climate change measures and economic impact.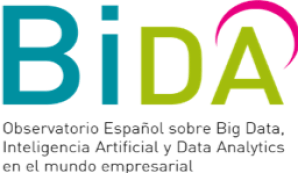 BIDA consists of around 20 large Spanish enterprises and public bodies and is a forum for sharing AI and Big Data experiences between peers. The initiative is looking into the possibilities to combine public and privately-held data (duly anonymized and aggregated) of its members into a common data lake to provide access to recognized climate change experts and data scientists. We believe that this would be one of the first occasions privately-held data would be shared for the common good on such a large scale. Applying AI and Machine Learning to such a unique data set has the potential to uncover so-far unknown insights about the relation between economic activities and potential measures to reduce climate change.
One of the key success factors for B2G sharing initiatives is that, from the beginning, potential final users are involved and commit to putting the system into operation if the results of a first pilot are successful. We therefore would like to take advantage of the Climate Change Summit in Madrid to:
invite policymakers and climate change experts to express their interest in this initiative, and
talk to experts to evaluate the opportunity of this unique initiative.
Climate change experts, policymakers and data scientists can express their interest by sending an email to richard.benjamins@telefonica.com or to bida@aeca.es.
To stay up to date with LUCA, visit our Webpage, contact us and follow us on Twitter, LinkedIn o YouTube.

---
[1] https://www.weforum.org/agenda/2018/10/how-big-data-can-help-us-fight-climate-change-faster/
[2] https://www.bbva.com/en/using-big-data-fight-climate-change/ [1] https://www.mdpi.com/406212