They say that passion for a profession is forged at an early age. Our parents are our first and most important role models. So, it is not surprising that Carmen Alonso, Head of Financial Services, Leisure & Education at Telefónica Tech IoT& Big Data, is so passionate about what she does. Since she was a child, she has always been privileged to have technology close to her.
"You could feel a change taking place, it was something innovative that transformed people's lives" she confesses, remembering her father and how, because of his work, she was lucky enough to have technology present early in her life.
Did you ever imagine when you were a child that you would be working in what you do today?
"I wanted to be so many things when I was a kid. I loved the woman on the news, but I also wanted to be an astronomer, a dancer…", she laughs. Now, as she tells us, she does all sorts of things: many customers, different industries, different problems to solve… "In this aspirational desire to be many things, I have a lot of fun in my job because every day I am a different person".
And it is this joy for what she does that leads her to speak with real passion when we ask her about her job. Something that makes her a genuine lady hacker.
What does it mean to you to be a lady hacker?
"To be a hacker in life is a way of being, of being passionate about transforming the world around us into something different, fairer, simpler and more humane, but at the same time sophisticated," she says after shyly telling us that she has given this answer a lot of thought.
"My tool for changing society is technology and data, that's my field." A technological field where there is an increasing number of women and where Carmen has not noticed any inequality in her professional career.
Is the tech world becoming more inclusive?
She answers with a quick "I think so" because "nowadays in technology we need profiles of all kinds, multidisciplinary: sociologists, linguists, architects…" A series of very diverse profiles that, as Carmen assures us, "will equalise the quotas" of women and men who choose technological careers.
Technology and humanities are progressively going hand in hand, contributing joint value to society, something that will make a difference for our interviewee who, she is also sure that women "right now we have visibility, and we want to be there".
A thought that she expresses with confidence, as well as another reality that for her is of great value: her colleagues. "There are excellent managers at Telefónica who value work and effort and are committed to giving it visibility. They see the value and promote it".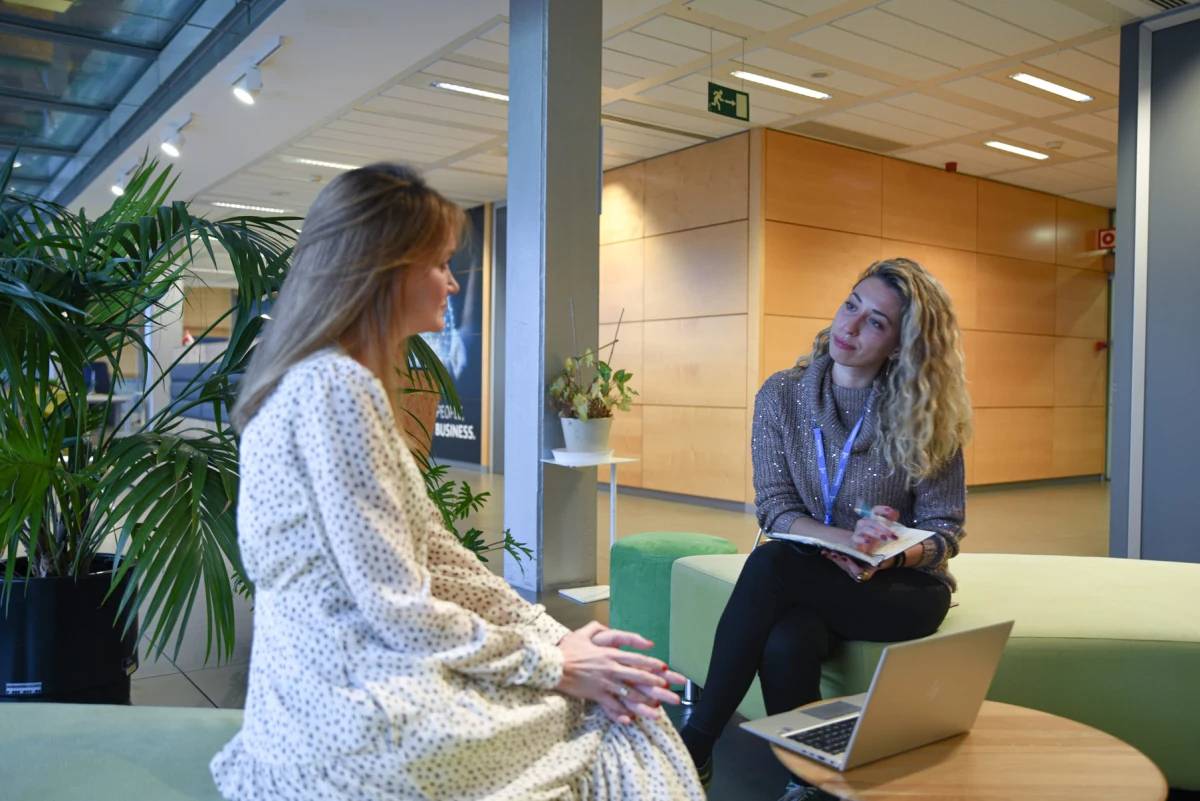 When asked about inequality in technology careers, Carmen assures us that she has only felt it in terms of her age, but not in terms of gender. "In the end, meritocracy and effort must prevail, and in certain positions of responsibility you have to be willing to make certain sacrifices. Now women are free to choose and decide their priorities. It is the circumstances of life that allow your choices to be one way or another, but there is a great deal of female talent…"
Who has been or is your female technological reference?
She tells us that, for her, having just one point of reference is very complicated, because throughout her career she has met people who have influenced her a lot, but if she has to choose a point of reference in her life, she has no doubts. "For me, the person who has given me the values that need to be reflected in technology has been my mother: a transparent, fair, responsible, ethical woman…", she describes proudly.
At this point, Carmen also reflects on the importance of knowing how to be in the background, contributing so much to society and transforming the world from behind, as many women have done throughout history. "Albert Einstein's wife comes to mind", creator of the mathematical basis used by her husband.
On this 8th March, International Women's Day, we are also looking at future generations. Students who are passionate about technology and who find in profiles like Carmen Alonso's an example to follow.
On Women's Day, what advice would you give to girls and young women thinking of going into the world of technology?
"You have to dedicate yourself to what you consider to be different and, at the same time, what you are passionate about. If you are not having fun, you are not going to be good", she assures us first of all.
Carmen believes that "the professional world is going to be completely transformed, new models of much more collaborative relationships where technology will be an essential part", so, as a piece of advice, she considers that it is necessary to know it in its broadest scope and, above all, "learn a lot about a specific discipline and do not forget to understand the business", always keeping your mind ready to continue learning.
"In the end it's all about passion, instinct, going for what you like, selecting and having a broad mind. You have to learn and relearn a lot. You have to be able to adapt to whatever comes your way."