It would be fair to say that 2020 has not been a great year for retailers around the world. As many high street stores have been forced to temporarily close their doors due to government-imposed restrictions, many retailers have had to turn to e-commerce to maintain revenues. In this piece, I will outline the three main ways in which Big Data is vital for the success of e-commerce.
According to a recent study carried out by the United Nations Conference of Trade and Development, e-commerce activity has increased across most industries in the wake of the COVID-19 outbreak.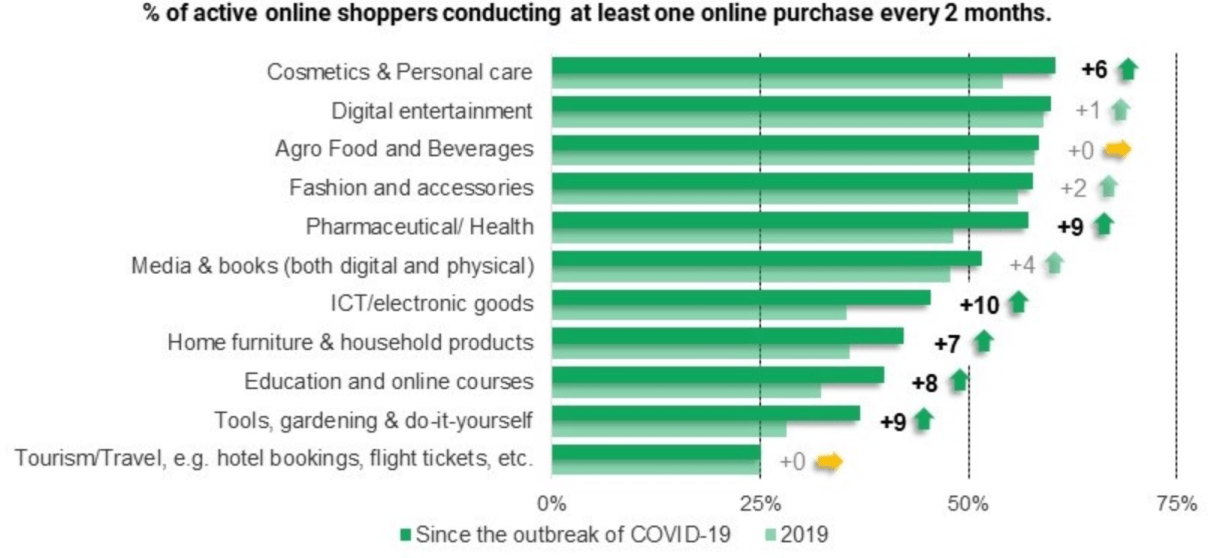 Product Personalisation
Product personalisation in e-commerce is the process of displaying appropriate content based on the profile of the individual consumer. This anonymous profile is generated by an algorithm through the compilation of data based on, for example, previous searches and purchase history.
Imagine you enter a store and the employee already knows what you like the most, what suits your budget and what you have been excited about buying
Marketing consultants Epsilon published a report In January 2018 stating that 80% of consumers are willing to pay more for a personalised shopping experience. This is the case as it saves the consumer valuable time and effort in seeking out desired products. Product personalisation makes sure that the offer of sale is relevant to the wants of the consumer, efficiently inducing sales and boosting the revenue of retailers.
Optimised Pricing
Pricing is, perhaps, the most important factor which induces a sale. Whilst traditionally, a retailer would price goods based on common 'cost + mark-up' model, Big Data allows for a much more tailored and targeted approach. Through the use of Big Data extensions, retailers can constantly track the pricing patterns of competitors and adjust their pricing strategy accordingly, always making sure that their pricing aligns appropriately with their specific vision and business model. This is especially beneficial to those retailers who target the price-sensitive consumer as they can maintain a competitive position in the market without having to manually track the pricing strategies of competitors.
Targeted Marketing
Traditionally, targeting the correct consumer is the hardest part of the marketing process. Once the appropriate segment of the market has been identified, a retailer must employ strategies appropriate to the specific type of consumer. For example, a social-media based marketing strategy on Instagram unlikely to be effective when targeting the Baby Boomer, as this cohort is statistically less likely to use the platform. Whilst this concept is obvious, Big Data extensions allow the retailer to understand on a more intricate level and dynamic basis the types of consumers that are interested in a particular product, allowing for a more considered, appropriate and targeted marketing strategy to be implemented.
Conclusion
Big Data technology in e-commerce is increasingly important and influential to retailers as consumers engage more in e-commerce activity. Retailers must offer the consumer a personalised online experience to optimise sales. Big Data extensions allow for a far more considered pricing and marketing strategy, leading to revenue optimisation and enhanced visibility to the targeted consumer.
To keep up to date with LUCA visit our website, subscribe to LUCA Data Speaks or follow us on Twitter, LinkedIn or YouTube .