The third edition of LUCA Innovation Day took place on Wednesday the 16th of October, in which we presented the advances developed over the last year by the data unit and showcased the new lines of activity provided by Telefónica in its B2B offer, supported by the new technologies of Big Data and Artificial Intelligence.
Under the theme "Artificial is Natural", the Telefónica Auditorium opened its doors last Wednesday at 15:30 to welcome more than 450 attendees. They were shown how the difference between the natural and the artificial loses importance when they share the same purpose: to facilitate people's lives.
For the third consecutive year we were able to completely fill every seat in our main Auditorium, as well as the auditorium in the Demos Centre, set up specially for the occasion. In addition to our streaming broadcast, for the first time we retransmitted the event on our internal platform, where 7,500 employees followed the event from anywhere in the world.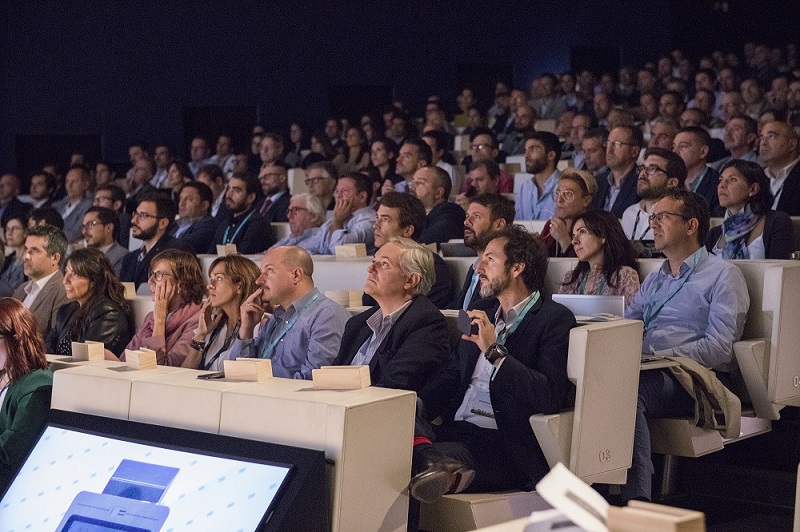 Adrián García Nevado, Adrián García Nevado, Director of Major Clients and Central Territory, Telefónica España, was in charge of opening the event, highlighting how the future of companies and organizations is closely linked to how they are capable of facing their digital transformation.
During the first part of the event, Telefónica's CDO, Chema Alonso presented one of the group's new stakes: Movistar Living Apps, which will help companies transform digitally by offering services in the home. With the collaboration of Telefónica's CDO Service Designer, Ana Molina, they explained to us how the platform works and how it makes it possible for our partners to offer unique and differential experiences in order to bring greater value to their customers.
"The use of Artificial Intelligence has allowed us to transform ourselves as a company. Now we want to help businesses build their own Artificial Intelligence"

Chema Alonso
In this way, users will be able to enjoy all kinds of services related to travel, sports or online shopping from the ecosystem of their home, thus facilitating their digital life.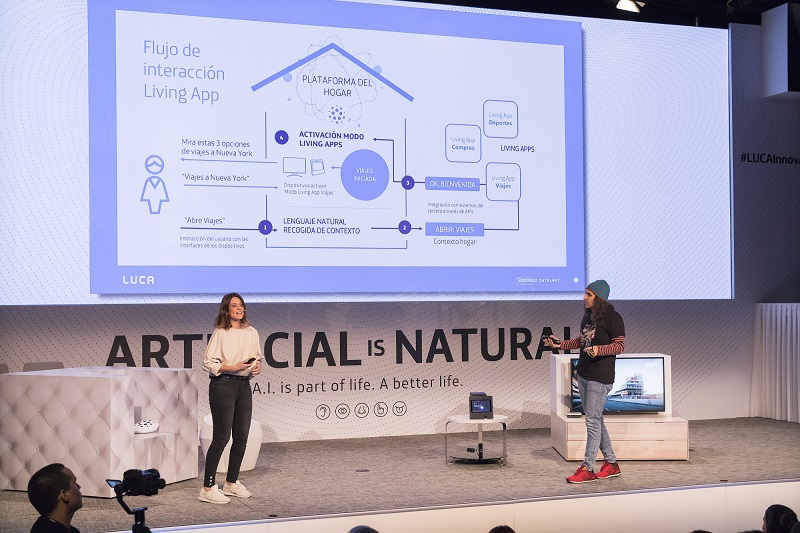 After their presentation, our CEO, Elena Gil, took to the floor to give us an overview of what we have achieved over the years: more than 620 projects for more than 340 clients within more than 14 different sectors across 18 countries around the world.
In addition, she told us how LUCA makes Artificial Intelligence accessible to all companies, adapting to any client, regardless of their line of activity or sector. To atest to this, we invited Antonio Ortiz Jaén, Corporate Digital Manager of Mahou San Miguel, a leading company in beer production in Spain, who gave us his testimony of how our collaboration, based on Artificial Intelligence has helped them to develop a decision-making strategy that allows them to meet their objectives.
"Artificial intelligence is becoming more and more natural in our daily lives and what we want is for it to become more natural in companies as well."

Elena Gil, CEO of LUCA
Another new solution presented by our CEO Elena Gil, was the AI Wizard, a tool to improve the conversion of marketing campaigns. It consists of a bot that complements campaigns and through which companies can provide more information and direct customers to complete the purchase process.
To round up this first half, Mikel Coira, Global Head of Big Data Solutions at LUCA, introduced us to the new way of doing Machine Learning, LUCA Suite, which reinvents the way of working with data."It arose from the need to overcome one of LUCA's biggest challenges, to grow at the same rate as projects were growing… and from the difficulty of communicating the results of Machine Learning to the client," says Mikel.
The interval followed, where attendees could enjoy a variety of stands according to different sectors. In them, our product experts explained the new solutions we are developing and allowed the customer to experience the new technology.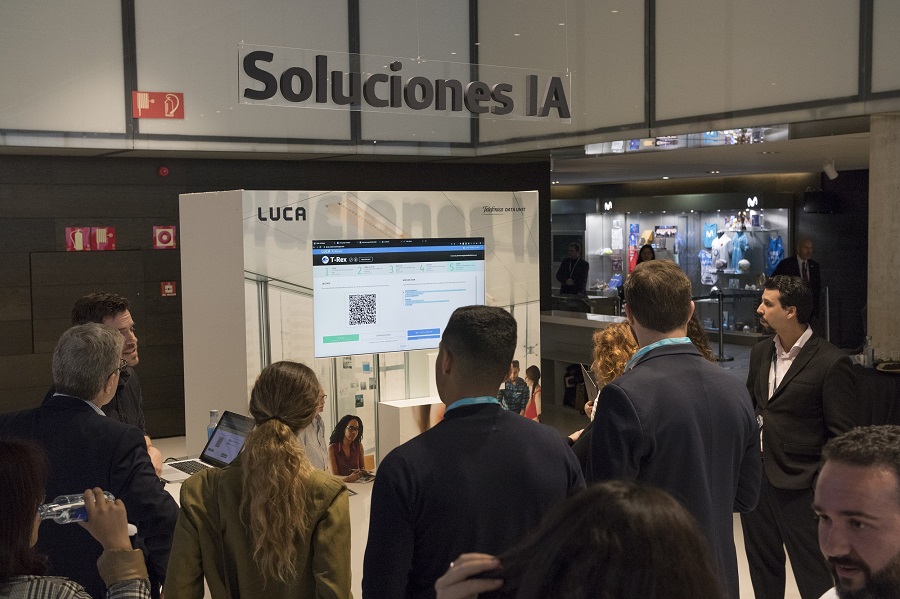 The second part of the event started with our Global Director of Big Data, Carlos Martínez and the Director of Companies of Telefónica Spain, Marisa Urquía. They wanted to highlight how, at LUCA, we help to extract the value from the data by developing companies' service offerings and thus accelerating the digital transformation process of their corporate clients.
They wanted to complement their claims with testimonials from several clients such as Iberostar Hotels & Resort or intu, in addition to the participation of Angel Martin, Deputy Director of Energy Management at UFD Distribución de Electricidad of the Grupo Naturgy who shared with us how LUCA is helping them in their digital transformation process.
Who likes sports? With this question began the last presentation of the day with Pedro Alarcón, our Head of Big Data for Social Good and Sports Analytics at LUCA. He wanted to tell us about LUCA's involvement in Sport Analytics projects with large teams, generating insights that optimize the effort and performance of athletes. To do this, he was fortunate to have Miguel Ortega, Director of Operations and Business Development of Movistar Estudiantes and Jorge Sanz, Director of the Movistar Team women's team. No pudo faltar el testimonio de la jugadora de Bádminton Carolina Marín: "… performance controls, data analysis and the support from my team and Telefonica benefits me greatly, so I want to thank you all for your support…".
To finish on a good note, the attendees enjoyed a cocktail in the demo area where they could also continue experimenting with new technologies, learn more about the speakers and even share their experiences of the event and more.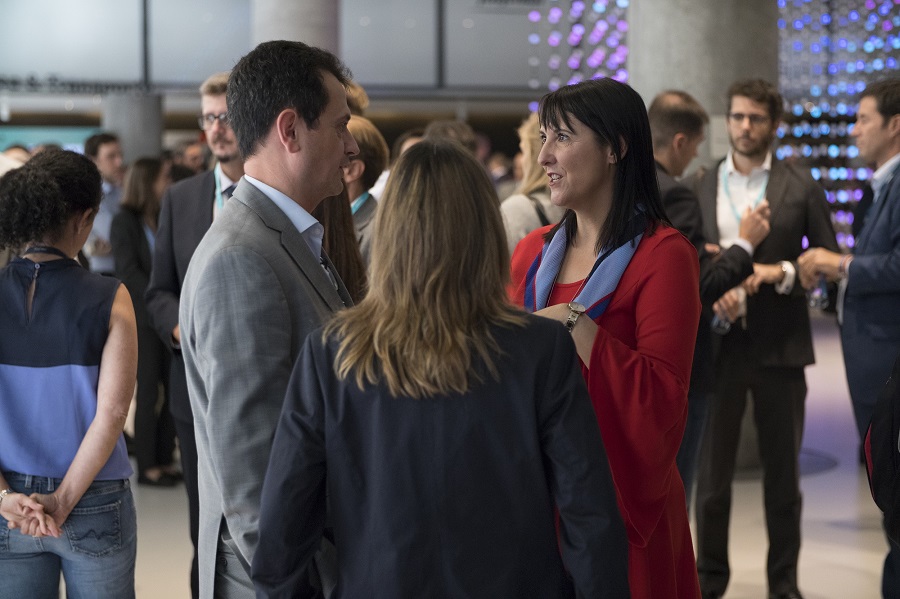 We ended yet another year at LID where Artificial Intelligence becomes part of the corporate strategy in the digital transformation of companies. Thank you for joining us in this process!
To keep up to date with LUCA visit our website, subscribe to LUCA Data Speaks or follow us on Twitter, LinkedIn or YouTube .