2018 was an excellent year for us, in which we were recognised as a leader amongst specialized insights service providers by Forrester. The independent review highlights the importance of insight-driven digital transformations within organisations.
The report defines insights service providers as organisations that "offer access to advanced data and analytics skills, methodologies, and technology not always available internally." We know that many 3rd parties look for help when dealing with data, and Forrester records that a grand total of 49% of decision makers reported engaging a strategic insights partner in 2016, with 62% of high growth (10% or more) companies in 2018 engaging with insight services organisations.
The report affirms that the vast and varied nature of problems that businesses face is mirrored in the landscape of insight service providers, with each one offering tailored services that are specialised to individual business needs.
Forrester identifies two broad categories to define the nature of insight providers: Enterprise insights service providers from a traditional services background, and Specialised insights service providers extending existing offerings to deliver outcomes.
The review summarises the benefits to businesses of engaging an insight provider in a fast-paced market, which includes: improving business acumen and services, expanding data and analytics assets to accelerate service delivery, ensuring insights are implemented to deliver value, investing in data and analytics talent and building a broad ecosystem.
Forrester assessed the strengths and weaknesses of the top service providers using the following evaluation criteria:
Current offering
Strategy
Market presence
And the following evaluation vendors:
Advanced data competency
Advanced analytics competency
Functional breadth
Vertical penetration
Heritage
The report announces Telefonica as one of the two clear leaders in the sector with both "strong current offerings and compelling strategies." It recognises our unique position within the market with our wealth of network and subscriber data power insights.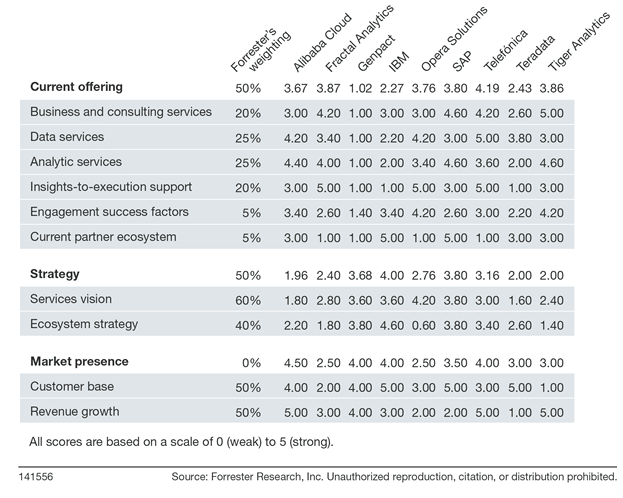 Forrester also recognises our recent and successful acquisition of Synergic Partners, from which we are able to assume their rich data assets to deliver insights from the strength of the data of Telefonica's 350 million subscribers across 17 countries. We ensure this data is always aggregated and anonymised to ensure the responsible use of data by all parties. "Customer references report high levels of satisfaction with the quality and sophistication of analytics services."
Using three data sources, Forrester was able to weigh the strengths and weaknesses of each solution:
Vendor surveys. Forrester surveyed vendors on their capabilities as they related to the evaluation criteria.
Executive strategy briefings. Forrester held in-person and virtual meetings where participants described the company's background, positioning, value proposition, customer base, and strategic services vision.
Customer reference calls and survey. To validate service and vendor qualifications, Forrester also conducted reference calls and fielded a short online survey to three of each vendor's current customers.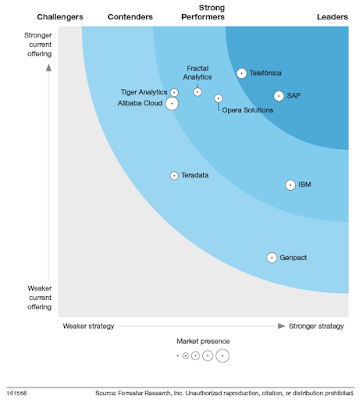 Overall, the independent review recognises Telefónica as a leader amongst the most significant companies in the sector. According to the analysts, Telefónica is one of two companies that "stand out as clear Leaders with both strong current offerings and compelling strategies." Our climbing market position places us in a good position to continue growing and take advantage of the insights we gain from our unrivalled database.
Don't miss out on a single post. Subscribe to LUCA Data Speaks.