Written by Natalia Barrera Palomero – Digital Consultant in LUCA Advertising
As a powerful channel with broad reach, it is no surprise that TV currently accounts for $70 billion in U.S. marketing spend. For nearly 70 years now, TV advertising practices have remained practically unchanged — that is until now.
A perfect storm of data proliferation, technology advancements and shifting consumer behaviour is upon us, which means marketers are entering the new age for how TV advertising is planned, targeted, purchased and measured. Brands can maximize the opportunity TV provides to connect with consumers.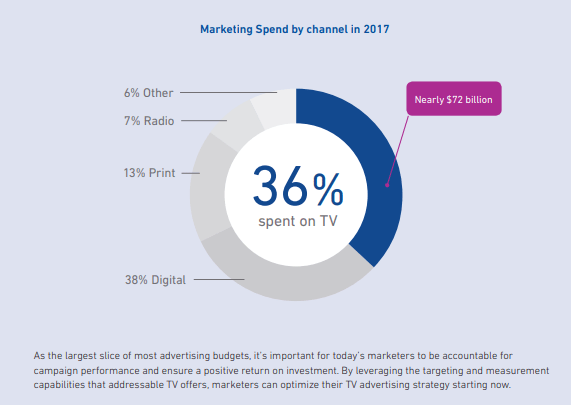 On average, we each have at least three connected devices, and throughout the day, we are consuming content wherever and whenever we like. With a Hulu and Netflix mentality, it's no surprise that we are entering the era of "TV everywhere." We want our content on demand so much so that even channels such as HBO, CBS and ESPN are creating TV anywhere experiences. Ten years ago, phrases such as "cord cutter" and "binge watching" were not part of a marketers' vocabulary. Today, the reality is that consumers are seamlessly switching between screens and channels around the clock.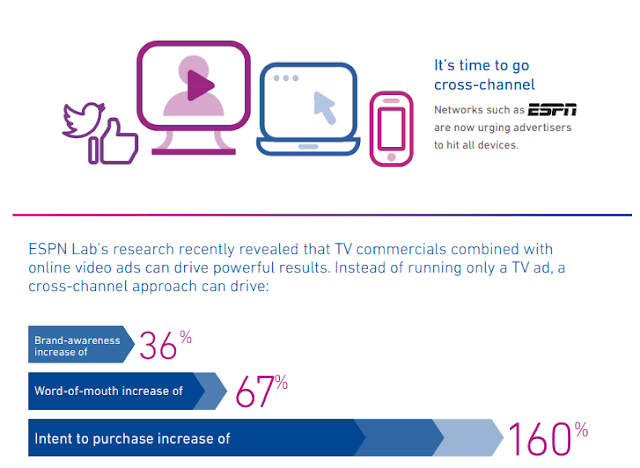 It's an exciting time for marketers, with more ways than ever to reach and engage with their best customers and prospects. However, this rapid channel growth also means there are more ways than ever for marketers to drop the ball. They could waste dollars by targeting less valuable prospects, overexposing others, delivering a poor brand experience or failing to coordinate multitouch, "surround sound" campaigns effectively across channels for maximum impact. For these reasons, it's important for marketers to leverage the addressability of both traditional and emerging channels, including addressable TV.
Top trends in shifting consumer behavior that marketers must take note of when thinking about how to devise their best TV strategy:
1. TV is still the king of video. TV is still the dominant channel when it comes to reaching largest audience, which means addressable TV is a valuable opportunity to maximize the power of TV.
2. Mobile is the first screen for online video. The number one device for consuming streaming or downloaded video content is a mobile. Consider a surround-sound approach where addressable TV strategy is paired with an addressable mobile video campaign targeted to the same audience. Being able to reach people, regardless of the screen they are viewing.
3. Cord cutting is on the rise. People are moving away from traditional pay TV. Technological and demographic trends virtually guarantee that cord cutting will continue to rise as smartphone and tablet ownership increases and millennials become a greater share of the adult population. As OTT options such as Roku, Apple TV, Chromecast and Amazon Fire are upgraded, consumers will have more and more options to consume online video without sacrificing quality or screen size. As a result, more consumers will be reconsidering whether they need to continue paying for traditional TV. By understanding this shift in consumer behaviour, marketers can devise a strong addressable media strategy that leverages the opportunity addressable TV provides, both on its own and also when it's coordinated with additional channels such as mobile and online.
4. You better add video or OTT options if you want to reach millennials. Millennials are the most device agnostic, with more than one-third saying they don't mind watching video on a portable device even if it means a smaller screen. That's more than double the rate of those age 35 and older. This decentralized viewing can create headaches for marketers who need to start a relationship with millennials during this stage of their lives, when they are most open to trying out new brands and have yet to settle down. On the plus side, marketers who do manage to reach this audience will find them much more open to advertising than the average individual. In fact, millennials are more than four times more likely to say video ads they view on their cell phone are useful. While the challenge is great, so is the potential reward. Including online and mobile video into your strategy is key.
5. Online video has its perks. The growth in online video viewing creates many opportunities for marketers. Online audiences can be targeted more easily and served advertising that is relevant, responsive and measureable. While CPM for online video ads generally are lower than those for TV, marketers can use that savings to negotiate costs based on clicks, completed views or transactions. From a creative perspective, online video also gives advertisers the opportunity to develop interactive creative and even make some elements of the creative dynamic.
TV is still the medium that provides brands with massive reach. TV commercials are effective at grabbing attention, telling a story and connecting with consumers unlike other advertising mediums. Now, with advancements in TV technology, marketers have addressable targeting options that have typically only been possible through other channels such as direct mail, email and digital.
What is Addressable TV?

The concept of addressable TV is simple: deliver TV advertising like one targets email or direct mail, using household-level audience data such as income, lifestyle interests, shopping behaviour and family composition.
Like a piece of mail that arrives in your mailbox, the TV ad can be tailored to the household, with different ads delivered to different households simultaneously across the same ad unit. This means the art and science of traditional addressable advertising channels now is possible through TV.
To target at the household level via addressable TV, one must buy from TV operator (some examples in US: Cablevision, Comcast, Dish Network, DIRECTV) who has set-top box technology to target and deliver the one-to-one ads.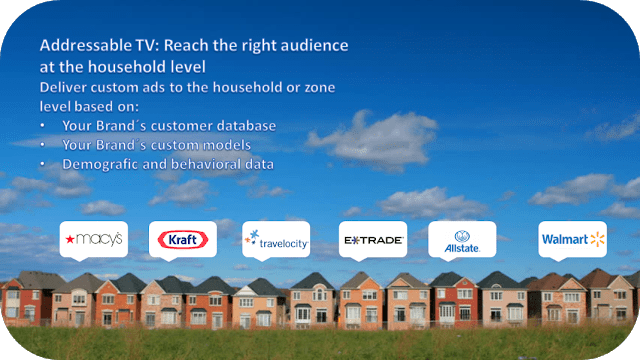 Addressable TV is about the person and not the program. You and your next-door neighbor may be watching the same show, but through the power of Addressable TV, end up viewing different ads.
How Addressable TV Works
Process for making an addressable TV campaign come to life:
1.Build an audience: The advertiser determines the target audience based on first-, second- or third party data.

2. Match audience. A neutral third party matching anonymizes and matches the target audience to the TV operator's subscriber universe in a privacy-compliant manner.

3.Launch campaign.

4. Measure the results. At the end of the campaign, the TV operator sends ad exposure data and the advertiser provides cross-channel sales data being able to create campaign closed-loop analytics that show how the campaign drove sales both in-store and online.
By focusing on targeting individual households rather than specific programs, addressable advertising is opening new doors. Outside of the top 20 prime-time spots, there is a lot of viewing going on. There are many audiences on the long-term networks – some networks that have not been measured by traditional TV measurement. Addressable TV will revolutionize TV advertising and change how companies approach advertising. By targeting specific households/customers, addressable TV makes the advertising about quality not quantity. Industry leaders predict that one-quarter of TV ad budgets will be spent on addressable TV within three years.
Don't miss out on a single post. Subscribe to LUCA Data Speaks.