Confuncio said "what I hear, I forget; what I see, I remember; what I do, I learn". By communicating we learn, and from Data Governance team we understand that generating an suitable communication plan in accordance with a set of expectations will mark the successes of the organizations and maximize the investment made, even more so in these troubled times where new working circumstances will require a deep change. The implementation of any service is not only based on technology, processes, and best practises, but also on people as the driving force in the evangelization of existing changes regarding as time goes on.
The communication plan
A communication plan can bring about a cultural change and speed up the processes of digital transformation in companies. To create from scratch synergies, to spread pills to those sponsors participating in the initiatives and lines of Data Governance will be key to add resources and to obtain supports and alliances that allow the generation of a return of investment (ROI) and knowledge as premature as possible.
For its disclosure, it will be necessary to prepare several guidelines to give a Data-Driven company approach and to understand the data through its Metadata-Centric model as the main business asset.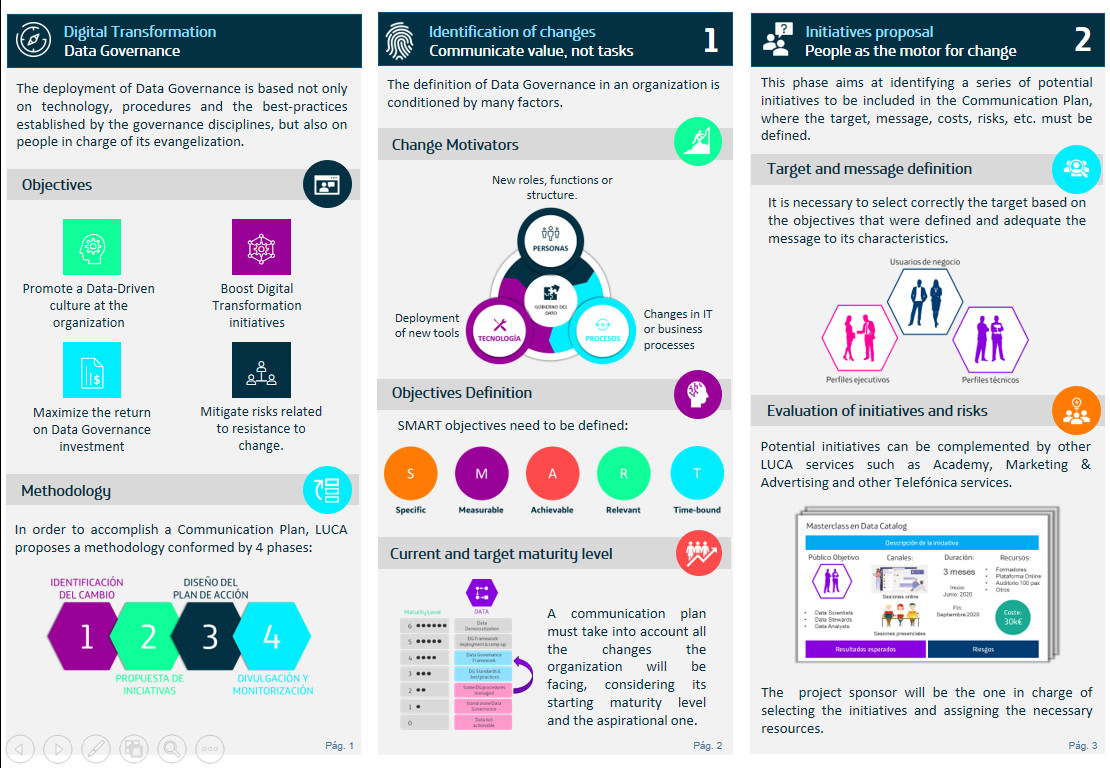 Guidelines
These guidelines are:
Identification of the change: As in all inception of a Data Governance project or service, it will be essential to carry out an initial analysis and detailed evaluation, offering a misleading picture as close as possible to reality in order to make the communication campaign as effective as possible. This will help to identify the target audience, its current maturity, groups to which a member belongs and their clustering, as well as the way in which to head up the target necessary to develop a tailor-made action plan.
Proposal of initiatives: Assuming that the customer will be the one who ultimately defines the SMART objectives referring to the communication plan, from Telefónica we understand that the strategic vision must be to create a business culture focused on data, establishing in a guided and gradual way covers a series of insights or KPIs that allow to follow up the progress of the agreed measures.
Designing the action plan: Here comes the time to take real action. The approach proposed by Telefonica on how to become the content of the message to all over the organization is based on the generation of:

Manuals or guides
Circulars and mailings
Intranet newsletters
Workshop planning
Participation in events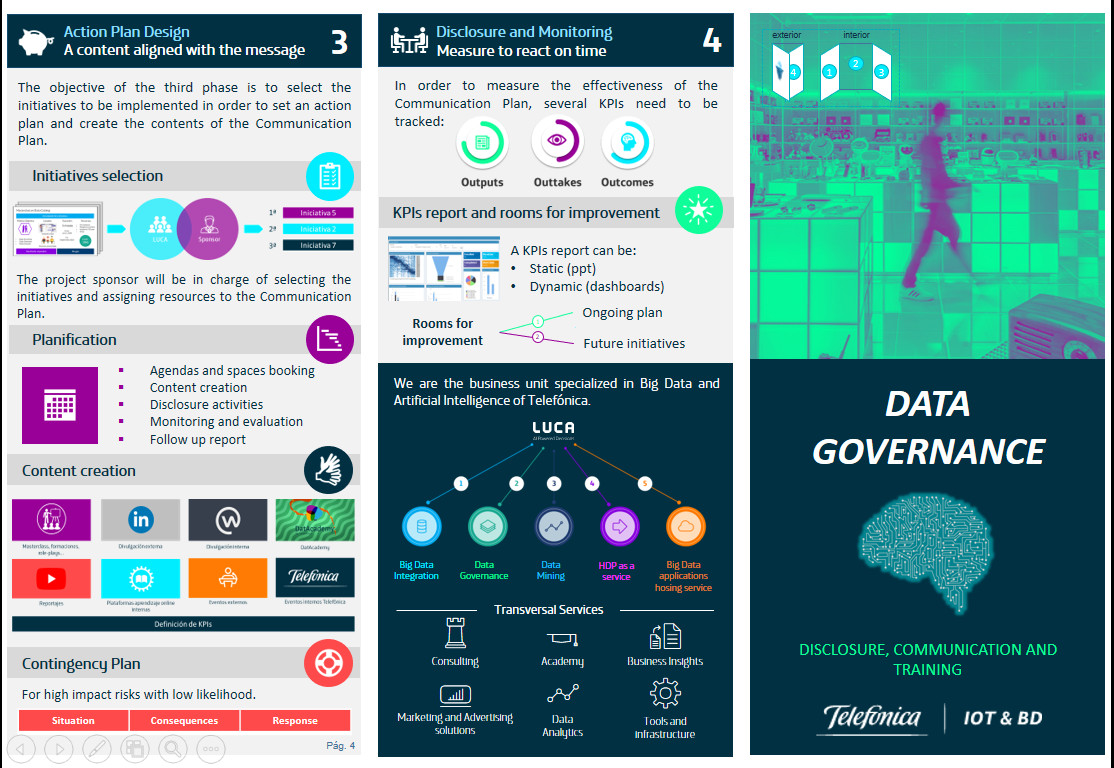 Monitoring and evaluation: After the execution of the plan, there will be a maintenance phase, contingency plans and continuous follow-up, which will make it possible to know the scope and satisfaction level among the group and to carry out mitigating actions in case of risk or anomaly.
Likewise, and closely linked to the art of communication, we draw from a baseline of resources and training needs that can be adapted to the target audience to which the knowledge is leading. This thread pipeline given the moment we find ourselves, may be used either in person or remotely. In either case, a calendar will be established, as well as a location through the reservation of an appointment or space, and support (physical or multimedia documentation) to be offered to the stakeholder.
Conclusion
All these facilities make new learning opportunities, democratize access to quality knowledge, and establish the foundations for social and ethical corporate growth.
And as our president says:
"we are not facing a time of change, but a change of era"

José María Álvarez-Pallete
It is essential to be in a continuous process of adaptation as people, as a society, and, as companies. Only those who know how to offer their best essence and adapt to this reality will survive in this new digital world.
Writen by Raúl Hernáiz Ortega
To stay up to date with LUCA, visit our Webpage, subscribe to LUCA Data Speaks and follow us on Twitter, LinkedIn o YouTube.