Today we want to revisit with you some good news that we received in mid-June, a little before the holiday season in July and August, a little before summer, the Olympics, the Tour and the Vuelta a España, and that made us go on those well-deserved holidays with a little more joy (if that's possible).
As many of you will remember, GlobalData, one of the world's leading analyst houses, evaluated Telefónica Tech IoT&BigData's capabilities in the IoT field in particular and considered us Leaders in the latest update of its report"Global Industrial IoT Services: Competitive Landscape Assessment".
To be precise, despite the name "Industrial IoT", this is actually a global review exercise of our entire portfolio of products and solutions, professional capabilities and ability to execute projects for our clients and how this compares to our global competitors, both telcos and IoT-specific companies. So, in an Olympic year, we are on the podium of the IoT Olympics.
In its final report, GlobalData highlights the following as Strengths of our commitment as Telefónica IOT&BigData Tech :
Industry experience, as we already manage over 35M IoT connections (including all types of technologies: mobile, fixed, LPWA, satellite, etc.) for many high-profile global clients.
AI of Things vision: The combination of the ecosystems and capabilities we had for IoT and BigData/AI that we have executed in recent months is seen as differentiating since we can offer a real e2e2 with more value to our clients and their businesses.
Our Industry 4.0 proposition: In addition to the capabilities already recognised in previous versions of the report (e.g. special connectivity solutions across LTE and 5G Private Networks), this year we have extended our offering with specialist partners in this space, being able to offer not only connectivity, but more complex and valuable use cases.
We can consider that the improvement in the overall position is due to the fact that, of the 7 areas evaluated, we have maintained our position in five of them and have improved in 2 of them, which are also seen by GlobalData as key in their considerations towards potential IoT service clients. We have specifically improved in the areas of:
Value Services (from Very Strong to Leader): Our capabilities in Professional Services, Consulting, Security and Data Analytics are evaluated very positively.
Partnerships (from Strong to Very Strong): The universe of commercial partners (i.e. Partnership Programme as a resale channel) and application partners (e.g. Geotab, Edge solutions with Microsoft, with AWS, etc.) is highlighted.
In the attached graph you can see how we have been rated and how those ratings compare with the market average .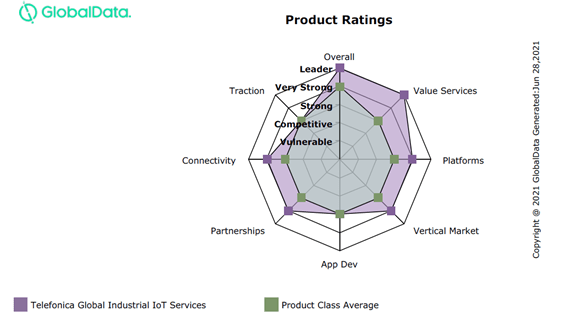 This Leaders rating is, in fact, an improvement on the "Very Strong" position we had in GlobalData's previous analysis of this type of services and therefore confirms that we are heading in the right direction in terms of how we are building our capabilities and solutions, how our strategic vision has improved and the enhancement of the execution capabilities we have in this ecosystem, both in terms of products and more specialised projects.
Finally, I just want to remember that this achievement is the fruit of the whole company. I believe that we are a team and we are all pulling together at all times.
Let's go for the next medal or world championship or whatever they put in front of us, Telefónica Tech!!!!
---