The implementation of Aura, Telefónica's Artificial Intelligence, in Spain, Brazil, the United Kingdom and Germany has revolutionised the way customers interact with the company. Currently, and depending on the country, users can talk to Aura through devices, applications, WhatsApp and Facebook.
The unstoppable growth of Artificial Intelligence has managed to optimise our navigation, facilitate our access to information and improve the way we communicate, radically changing our technology consumption. In the case of Telefónica, thanks to Aura, the customers' experience has evolved in such a way that companies like Movistar (Spain), Vivo (Brazil) and o2 (United Kingdom and Germany) have incorporated Aura as a virtual assistant to simplify communication and make interaction with the services they provide to their customers easier.
Aura is able to meet all kind of user demands, not only by responding unidirectionally to voice commands, but by anticipating customer requests. In this sense, Ana Molina, expert in experience design and research of Aura in Telefónica, explains the possibilities offered by Aura to improve the contact point with the customer:
QUOTE:
"Through models and algorithms that calculate patterns, inferences can be made to know when users will run out of data, what is the most appropriate rate for their circumstances, or what is the next game or movie they will want to watch. Like this, Aura can give user-specific answers".
The constant progress of natural language processing (NLP) systems, together with the evolution and penetration of smartphones and smart devices, have led to a greater presence of virtual assistants. This is what Aura can do as a virtual assistant for users in the four countries where it is available. 
Talk to Aura through different devices in Spain 
In Spain, Aura is natively implemented in devices such as Movistar Home and Movistar+ Voice Remote Control. This allows users to access a wide range of Movistar services. Everything from using the functionalities available in Movistar Home, controlling the Movistar+ television or opening the Living Apps can be done by voice. In addition to talking to Aura through these devices, users can interact with the virtual assistant through the Movistar+ App to control Movistar+ content. 
Talk to Aura in Brazil: a multi-channel experience
Brazil is the country in which the use of Aura is more widespread, since Vivo's Artificial Intelligence is present in more than 20 channels, such as: WhatsApp, Meu Vivo's applications, Facebook, the website of Vivo and the Call Center. Through these channels, approximately 40 million queries per month are registered, most of them through WhatsApp. This instant messaging channel has positioned itself as the reference channel for making queries to Aura.
In the channels where Aura is present, customers can interact in writing or by voice, making personalized queries about their bill, data consumption, balance or recharge, activate promotions or ask about their contracted products. Another channel in which the integration of Aura in Brazil stands out is the Cognitive Call Center, in which Aura offers personalized telephone service and responds, fundamentally, to queries from prepaid users and Control customers.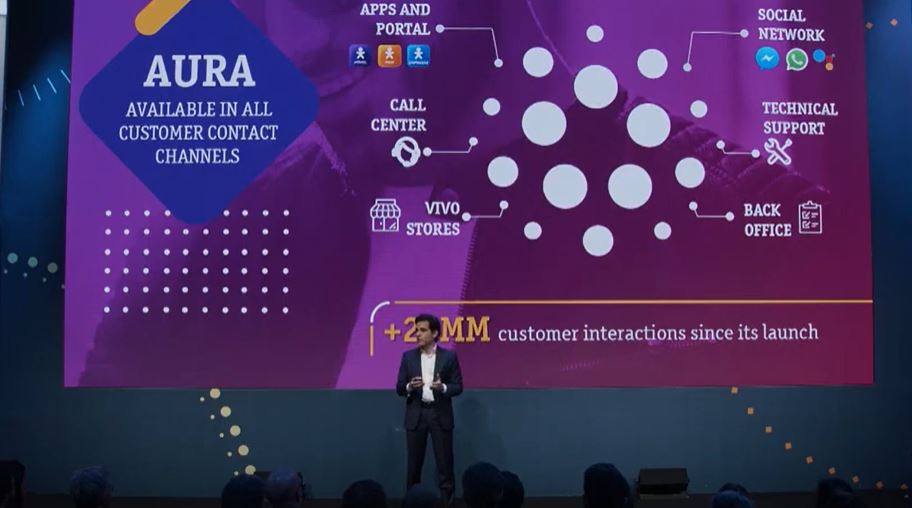 Ask Aura in the UK through the o2 website and the My o2 app 
In the United Kingdom, Aura is available under the o2 brand in the help section of the commercial website. Aura responds in a generic way to the questions that users may raise regarding data usage, WiFi settings, the location of the nearest o2 store or inquiries related to services and promotions. Aura is also available as a virtual assistant in the My o2 App, where users can receive personalized answers related to data consumption, monthly bills, or the available balance. 
Aura guides your Facebook and web queries through an authenticated user in Germany
In Germany, users can ask generic questions from O2's Facebook account, which Aura answers automatically. However, the best way to take advantage of the virtual assistant is through the O2 website, as users can not only ask generic questions, but make personalised queries about their available balance and the rate they have contracted. They are also able to make a recharge or access their bill information immediately. All this thanks to the recent launch on the country's commercial website, where users can access Aura with an authenticated user so that the virtual assistant can answer their queries.  
Thanks to the development and implementation of Aura in these four countries, it has been demonstrated that Telefónica is meeting the objective of improving customers' digital lives, simplifying their relationship with the company thanks to artificial intelligence.