Stadiums are where the magic of football happens. They are the meeting place where fans and rivals experience the thrill of competition. Passion and joy, and also sorrow, are shared in the stadiums with the players and the team, with thousands of fans and even with millions in front of a television.
That is why it is always exciting to go to a stadium to watch a football match. An experience that technology, applied to the digitalisation of stadiums (smart stadiums) has the capacity to turn into a memorable experience, increasing the attractiveness of sports venues for fans, viewers and sponsors.
Innovative technologies such as 5G connectivity, the Cloud, Big Data and Artificial Intelligence, and the Internet of Things (IoT) offer football clubs everything they need to improve and extend their relationship with their fans, to attract new audiences and to increase the number of spectators in their stadiums. It also allows clubs to be more agile in responding to the demands of fans and advertisers; and to adapt to new football consumption habits, especially among young people.
Technology to engage viewers and attract sponsors
The digitalisation of stadiums and sports facilities allows clubs to provide services and entertainment ecosystems to attendees. It also enables new dynamic and proximity marketing actions to increase audience participation and loyalty at events or at the club itself. For example,
Wifi or 5G connectivity inside the stadium makes it possible for spectators to connect with their mobile phone via the club's app to access exclusive content in high definition and in real time: camera views and additional shots without delay, on-demand replays, interactive content and even live and 360° virtual reality, or overlaying statistical and player performance data.
Artificial Intelligence can automate sports broadcasts, enabling clubs to offer spectators a personalised mobile experience, giving them the ability to choose what they want to watch and what they want to share so that they don't miss out on what is happening inside and outside the stadium.
This combination of high-speed connectivity and AI also enables new advertising media and formats to capture the attention of spectators and get a better economic return from sports facilities and communication channels, and to expand the sponsorship portfolio.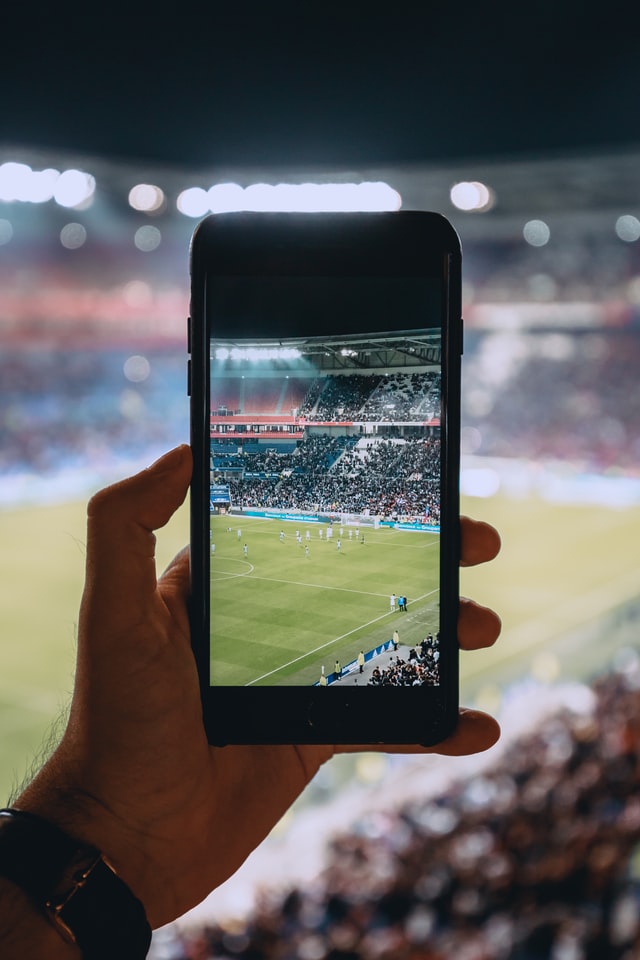 Digitalisation also makes it possible to offer 360° video scoreboards and turn stadiums into visual and acoustic spectacle generators in tune with the development of the match and the emotions of the crowd. Both during football matches and at events of all kinds, such as meetings, cultural events or concerts.
Sensing the environment to connect with the crowd
The use of IoT sensing and Artificial Intelligence also allows clubs to know in detail the behaviour and profile of those attending the course and its surroundings.
In this way, clubs obtain insights about tourists or visitors to take into consideration when making operational, strategic or business decisions. For example, to decide what is the best date and time to hold a specific event or launch a promotion, and what type of promotion.
Also to know with which public, at what times or in which areas of the stadium different commercial actions work best; or to optimise access control and the flow of attendees, improving their safety and that of the stadium.
Sensorisation also increases the operational efficiency of sports facilities when combined with high-speed, delay-free connectivity (5G) and Cloud and Edge Computing technologies.
Autonomous and automatic coverage of matches in smart football stadiums
This combination of technologies enables autonomous and automated coverage of sporting events. Connected remote cameras and artificial intelligence algorithms are capable of performing real-time game analysis, tagging plays and orienting and switching cameras to produce a signal suitable for live broadcasting -on television, social networks, digital platforms…- that, in addition to:
It facilitates the reporting and broadcasting of events, and even eliminates the need to deploy mobile TV units, streamlining operations and reducing broadcast costs while improving efficiency and sustainability.
Managed broadcasting from the Cloud platform allows recording and broadcasting to be carried out from multiple locations and in near real-time, thanks to high-speed data transfer.
Through the Cloud, production can be done from anywhere in the world, with the best specialists and the best resources. This means an improved experience for the viewer, providing them with a greater number of viewing options, shots and effects to enrich broadcasts and make them more personal.
Cloud platform stores a historical audiovisual archive that remains available and easily accessible for the club, the media and the fans, erasing the limits to the capacity to store and manage all the content generated by the smart stadium.
The possibilities offered by digitalisation are many, both for football clubs, their fans and spectators. Also for football: the digitalisation of football stadiums turns the world's greatest spectacle into a memorable experience.