The New Cloud Adoption Reality
Yes, we are facing a New Normal, and we are living a new cloud adoption reality as well. Enterprise cloud adoption accelerates in face of Covid-19, which has radically transformed how businesses view cloud opportunity, as the pandemic may have caused some enterprises to re-evaluate their public cloud strategies as remote ways of working become embedded in accepted operational procedures. Attitudes toward the cloud today are driven by innovation and risk reduction, both of which have come into focus during the current crisis.
Yet while cloud adoption offers a powerful opportunity to unlock business value, there remains notable hesitation around the challenges of this transition. Cybersecurity concerns remain a significant barrier, although Cloud Service Providers (CSPs) play an important role in improving and making sure users understand and have what they need to run cloud native applications, but they don't take responsibility for security beyond what they promise in their agreements. There are important end-users' security responsibilities that need to be taken to ensure cloud native security and protect their cloud environments and workloads — especially those that CSPs cannot effectively secure for being out of their scope.
Security Challenges in the New Paradigm
Under the AWS shared responsibility model, AWS provides a global secure infrastructure and foundation compute, storage, networking and database services, as well as higher level services. AWS provides a range of security services and features that you can use to secure your assets. As an AWS customer you are responsible for protecting the confidentiality, integrity, and availability of your data in the cloud, and for meeting specific business requirements for information protection, bringing a new governance model. Enterprises are migrating their legacy applications and developing new cloud native applications to generate value for the business, and to achieve that it is imperative to secure them according to this shared responsibility model.
One of the fundamental paradigm shifts is that proper configuration is key to ensuring the basic AWS capabilities and services that support these native applications. Furthermore, it is fundamental to ensure an adequate security posture and to ensure compliance with corporate security policies. Cloud misconfiguration remains one of the main causes of data breaches in the Cloud.
The flexibility and scalability of the cloud services and workloads have fostered the adoption of DevOps methodologies for cloud native applications, which make cloud environments more dynamic and forces companies to include security in these processes to protect applications throughout their complete lifecycle without affecting the release speed and time to market goals.
Security teams are responsible for addressing these challenges to have a secure cloud infrastructure, and that requires having continuous visibility of the configuration of assets and services, data, and activity of user, services and workloads running on top, to apply the required security measures.
Trusted Partner
The challenges of cloud security are complex, so it is essential to work with expert and trusted partners who have the knowledge and skills to guide and supervise the security of your cloud processes. CSPs can't predict how every individual customer will use their environment, only customers know the intricacies of what they put in the cloud. With the current shortage of cybersecurity skills, it is difficult for security teams to find the right talent to keep their organization safe.
Most cloud customers aren't fulfilling their shared responsibility for security, and if you do not have unfortunately sufficient means, due to lack of skilled personnel and / or budget, to exercise that protection responsibility, and to minimize the risks derived from the continuous development and launch of applications that support your business, what can you do?
At ElevenPaths we can help you raise your security posture of your AWS infrastructure and services, allowing you to gain the control and confidence you need to securely run your business. We promote three fundamental areas to position ourselves as your expert partner in cloud security:
Knowledge: through specialized training of our professionals, test laboratories, etc. We have accredited professionals in the design, implementation, operation and management of native cloud security, aligned with your business;
Tools: We have a wide portfolio of tools (services and capabilities) supported by the best technologies from our security partners to guarantee the best possible protection; and
Proven experience: with CSPs, our security partners and our customers, thanks to our proven experience in deployed security projects and services.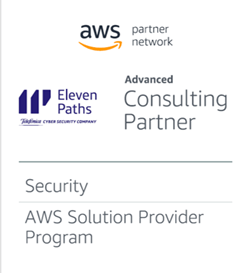 Two months ago we excitedly announced that we had achieved AWS Security Competency status, as APN Consulting Partner providing expert guidance to AWS customers on how to leverage security tools and embed best practices into every layer of their environment. Achieving the AWS Security Competency differentiates ElevenPaths as an AWS APN member that provides specialized security engineering and consulting services designed to help enterprises adopt, develop and deploy complex security projects on AWS.
How Can We Help You Secure Your AWS Deployments?
ElevenPaths' Cloud Security best in class integrated and end-to-end cloud security value proposition covers security topics such as identifying, categorizing and protecting your assets on AWS, managing access to AWS resources using accounts, users and groups and suggesting ways you can secure your data, applications and overall infrastructure in the cloud.
Our AWS Certified Security Specialty experts are fully skilled to design, deploy and manage AWS innovative cloud-native security features, including the controls in the AWS environment and some of the products and features that AWS makes available to customers, alongside best in breed ISV security solutions, helping you to move securely critical workloads to the public cloud, while keeping compliance and governance.
We help you define and implement a strategy that will enable you to achieve your cloud security goals. To carry out this strategy, based on three axes – implementation of control frameworks for cloud governance, monitoring and tracking and establishment of the security operating model – we have the following capabilities:
ElevenPaths provides specialized security engineering and consulting services to help you design, develop and deploy complex security projects on AWS. Our certified AWS Security specialists help you define a holistic AWS security model and implement controls for visibility and compliance monitoring:

Definition and implantation of Control Frameworks aimed at AWS environments, aligned with your organization's governance model and which can be continuously monitored.

Assessment of your security posture in AWS (ElevenPaths CSAx: Cloud Security Assessment Express), enabling you to understand your current security posture, analysing its context and proposing actions for improvement.

Design and build of the cloud security platform that best meets your needs to monitor the security controls, enable threat detection, protect against data leakage and take advantage of related security information, building in the foundations of AWS cloud-native controls like CloudTrail, Security Groups, GuardDuty and many more, to secure your cloud architecture combined with advanced ISV security solutions.

ElevenPaths provides Managed Cloud Security Services on AWS to monitor your security posture and protect your critical workloads deployed on AWS:

Cloud Managed Security Services for AWS (Cloud MSS) that provides comprehensive visibility into your cloud assets, network security and native services configuration in order to identify inherent risks, enforce compliance requirements and governance standards and identify security incidents close to real time providing automated alerting and automated response for specific use cases.
Secure DevOps will allow the inclusion of security into the DevOps process in your native Cloud application pipeline and toolchain in order to automate Guardrails for secure infrastructure (IaC), workloads and application deployment in a continuous improvement process.

ElevenPaths Is Well-Positioned to Secure Your AWS Applications

ElevenPaths Cloud Security offering and value proposition, based in the deep expertise of our professionals and proven success securing every stage of cloud adoption, from initial migration through ongoing day to day management. With ElevenPaths' Cloud Security for AWS, your organization is not only getting the most advanced cloud managed security service, but also getting a trusted security advisor and AWS Consulting Partner to help you as an extension of your own team. Together we are stronger.