During the last edition of MWC, our colleague Javier Zorzano participated in the "5G IoT Summit: Hybrid NB-IoT and Satellite Solutions" alongside Shahbaz Ali, from Sateliot.
In their talk, Javier and Shahbaz discussed the benefits and challenges around satellite connectivity for IoT devices. This technology, which we are jointly developing, expands and complements our portfolio of NB-IoT connectivity solutions via 5G and LPWA networks. This way, we are configuring a hybrid solution, with both terrestrial and non-terrestrial (NTN) satellite networks, to offer our customers global NB-IoT coverage.
"Only 30 percent of the world's surface has coverage from terrestrial networks" according to IoT For All. For this publication, satellite connectivity was one of the "dominant trends" at Mobile World Congress 2023.
"The next step in NB-IoT connectivity is to provide global coverage, worldwide. And that step is what we are taking now." —Javier Zorzano (Telefónica Tech)
The growing number of industries and sectors adopting IoT solutions worldwide makes it necessary to develop this hybrid IoT connectivity that provides coverage worldwide. Otherwise, there will be more and more IoT use cases that cannot be developed due to the lack of communication.
For example, for the livestock sector operating in rural or remote regions, for the logistics sector when it needs to accurately track the status and location of its goods on transoceanic routes, or for the renewable energy sector that manages wind farms or solar farms in hard-to-reach places.
Convergence of terrestrial and non-terrestrial networks
As explained by Shahbaz Ali during the meeting, Sateliot is developing the first 5G NB-IoT constellation of LEO (Low Earth Orbit) nanosatellites.
This constellation is made up of small and efficient satellites typically located between 500 and 600 kilometers in altitude to configure an NTN (Non-Terrestrial Network) IoT connectivity network capable of integrating into our 5G terrestrial network.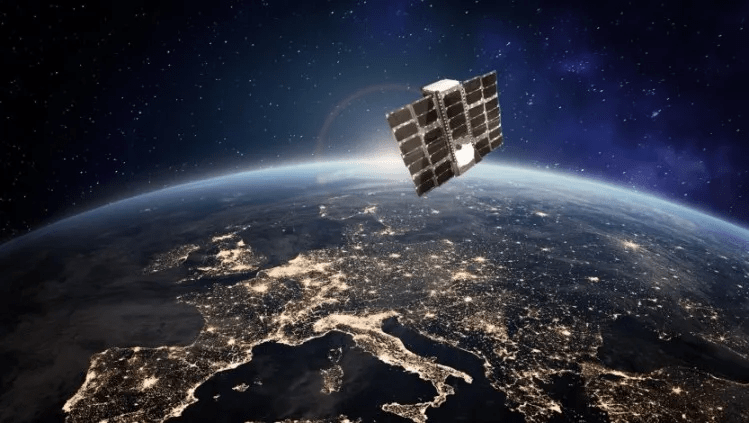 Our collaboration with Sateliot consists of developing a technological solution that includes satellite IoT connectivity to offer an affordable and transparent solution for our customers: satellite IoT connectivity based on the same 3GPP standard as 5G and NB-IoT networks.
This connectivity is also compatible with the same IoT devices currently used thanks to the development and certification of hybrid connectivity modules.
"Thanks to standardization, our hybrid IoT connectivity technology is affordable and scalable, and will reduce frictions when adopting it." – Shahbaz Ali (Sateliot)
This way any conventional IoT device can simultaneously work with terrestrial 5G NB-IoT networks and satellite networks. So service providers "will be able to connect with the nanosatellite network using a roaming service when they need 5G coverage to offer connectivity and follow, for example, the cargo of a moving ship, the trajectory of a mountain biker or alert emergency services in the case of an accident," explains Sateliot.
Benefits and challenges of our satellite IoT connectivity
The development of IoT connectivity via satellite provides two important benefits to any IoT solution:
Global coverage in remote areas and in territories without network infrastructure or mobile coverage, helping to close the digital divide between regions.
Backup coverage to reinforce mobile network coverage and to ensure service continuity in case of disruption due to incidents or natural disasters.
The solution we are developing with Sateliot not only allows the use of the same IoT devices already on the market, but also the same SIM card. Whether connected through a conventional network or through Sateliot's network, connectivity can be managed through our Kite platform.
Satellite connectivity managed with Kite Platform
Kite Platform is our managed connectivity solution through which our customers can easily control and monitor their data line SIM cards in real time, via web or API. In this way, "our solution is equivalent to having a conventional roaming agreement, but with a satellite operator," explains Javier Zorzano.
From a technical point of view, this simplifies and reduces the adoption time of this technology. From a commercial point of view, this roaming agreement is more affordable than existing solutions in the market.
The first commercial pilots of satellite NB-IoT with customers are planned for the end of the year.
With our technology and in collaboration with Sateliot, we address the major challenges of satellite connectivity:
Connectivity management, with our Kite Platform technology.
Service cost, a "very sensitive" aspect for the IoT B2B market.
The massive adoption of IoT that demands coverage in places not covered by terrestrial networks.
Conclusion
Our partnership with Sateliot helps provide NB-IoT coverage on a global scale. It also contributes to the massive deployment of our IoT solutions and devices, especially in the B2B sector.
This technological solution opens up new possibilities and use cases for IoT technology. From precise tracking of goods or fleet management anywhere in the world to the development of smart livestock and agriculture solutions in rural areas, as well as environmental monitoring projects or the management of natural resources such as water or energy. "Possibilities that we could not consider before are now on the table," concludes Javier Zorzano.
Watch the talk with Javier Zorzano (Telefónica Tech) and Shahbaz Ali (Sateliot) in which they discuss the benefits and challenges of satellite connectivity for IoT devices (Hybrid NB-IoT), a solution that expands and complements our IoT connectivity portfolio."
Featured photo: Stefan Stefancik / Unsplash