You all know Metashield. Basically, it is a technology from our own to analyze and clean metadata, that is used in several of our own products. Although metadata seems to be an old problem, it is still useful when you analyze leaked data,
as in the Bin Laden hard disk case
that we covered, and even it was a key piece in our
research about Wannacry author
, when we found out how the creator worked and even what his default language in Word was. We are introducing today a new way to use Metashield, for everyone and from everywhere since we have created bots for T
elegram, Skype and Slack
. It is easier than ever now. Let's see.
If you want to use Metashield, you have several choices. Clean-up online, a client for Windows, as an aside technology
in our imminent Path8
,
with FOCA
… but
how to use it from your computer, laptop, tablet and phone? We have now the answer. Simply add these bots as a chat in Skype, Telegram or Slack, and send (or share) a file.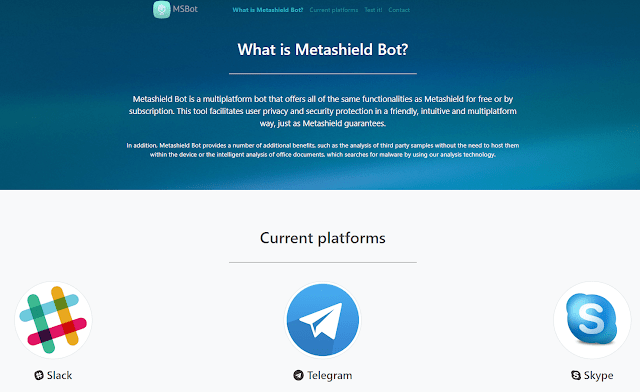 https://msbot.e-paths.com
The bots will analyze and show metadata and, if you want to, clean them. This will allow to:
Clean and analyze files from any platform or operative system where Telegram, Slack or Skype can be used.
Clean and analyze files easily before sharing them. Just drug and drop. If your Skype, Telegram or Slack is synchronized between your own devices, the analyzed or cleaned file will be there too. So you will have some kind of "distributed Metashield".
Aside in the case of Telegram, for example, this allows you to include it in your own developments as an API if you want to use the bots in an automated way.
You may analyze as much as 500 files every hour, but we have limited the cleans to two files every hour, so the service is not abused. Aside, please consider these programs are "beta" yet, so please report any issue and forgive our downtimes. We do not keep any file, so your privacy is guaranteed.
We have recorded some videos to show you how easy it is to configure and use these bots in these platforms.
Metashield Bots for Slack:
Metashield Bots for Telegram:
Metashield Bots for Skype:
Equipo de Innovación y laboratorio