What is the AulaCibersegura (Cyber Secure Classroom) initiative
I have long had the desire and personal need to contribute in some real and direct way to Telefónica's family of volunteers. I had previously considered it, but I always had the excuse of lack of time to get involved; however, when I heard about the #AulaCibersegura initiative, I was convinced that this time the excuses and justifications were over.
This initiative, promoted by Telefónica Tech and Fundación Telefónica (Telefónica Foundation), aims to instil the importance of Cyber Security in society, placing special emphasis on children and young people, making them aware of the proper use of the Internet and other digital tools, as well as raising awareness of the importance of reducing the digital divide.
After the relevant preparation and organisation, it was definitely last week when I carried out my first volunteering action as a Telefónica Tech employee, teaching 4 sessions for a total of 100 children in this enriching initiative. The school chosen was very special for me, as it was my old elementary school 30 years ago, the CP Santiago Ramón y Cajal in Alcorcón, Madrid.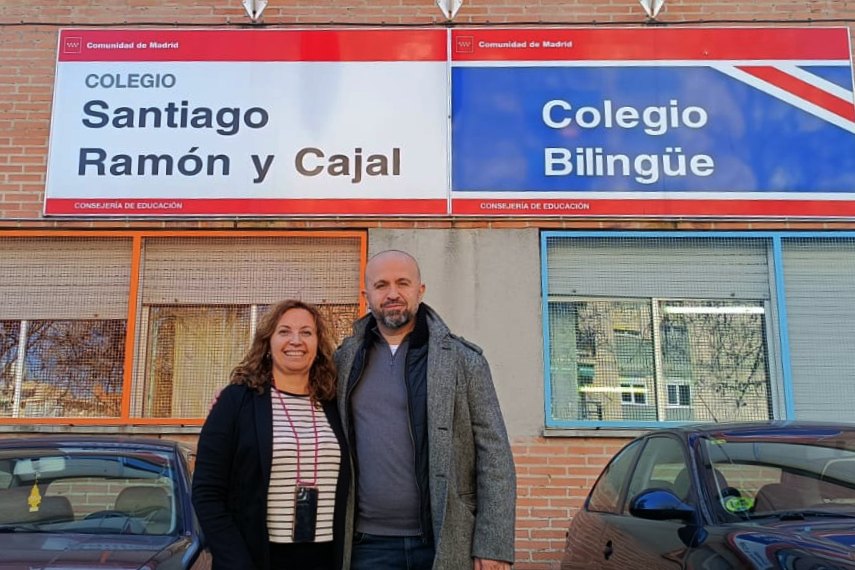 Before holding the sessions, I held a face-to-face meeting with Susana Quevedo, the headmistress of the school, to explain the scope and dynamics of the initiative and to be able to jointly determine the number of sessions to be held and to set the corresponding dates in the agenda. To this end, we explained to the headmistress the main objectives, the topics, and the methodology with which we would develop the talks.
We also explained how we would involve and interact with the students, and how we would conduct these meetings in an open and sincere manner with respect to all the topics we would address during the hour we would be with each group.
Preventing risky behaviour in children
For the actual development of the talks, which would run through an introduction and six critical and sensitive topics such as digital security, safe gaming, grooming, sexting, cyberbulling and digital empathy, it was necessary for the students to answer a series of questions in each of the sections using a form provided to them.
The original plan was for them to answer them in real time as the session progressed, and once each block had been completed and the nuances of each issue, the associated problems and consequences had been explained, they were to do a self-reflection exercise on their answers.
Together with the headmistress of the centre, we decided that they should not spend time writing during the talks, so that they could use as much time as possible to think and be self-critical of the answers they had given.
Therefore, the day before, they spent time answering the form, which was a success, as we did not have a single second to spare in any of the talks, as the children did not stop interacting and on some occasions their teachers had to calm them down because they showed a commendable interest and participation.
Once everything had been explained and discussed, the first comment from the headmistress of the centre, Susana, was: "You don't know how good this is for us. Every year we end up having a case with some of the problems described in the initiative".
Before leaving on that first day of contact, we took the opportunity to walk around the school. What a moment, great memories of my childhood flashed before my eyes as if I was living them at the moment. The truth is that I was very excited, because with the retrospective of age you realise how important this stage is in people's lives, and it makes you see that through this initiative you can certainly help them to make that stage better.
Technology training to protect children on the internet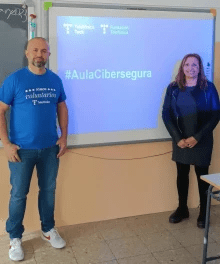 What can I tell you about the development of the sessions? I have had meetings with CIOs to defend less compromising offers than the situations in which some of the students had put me 😊.
And although they are very lively and agile, deep down they still really reflect the innocence of their age, and that is why these talks help them to understand many things that for them go completely unnoticed. They had to be confronted with answering and being self-critical with questions such as…:
Do you change your password from time to time?
When you access your social media accounts after you log out?
Do you keep your computer's web cam hidden, and your mobile phone's web cam hidden?
Have you ever accepted users on social networks that you didn't know?
Have you ever sent a compromising personal photo to someone via digital media?
Have you ever done or do you feel that you have harassed someone through the Internet (social networks, Whatsappp, etc)?
Have you ever noticed how another person feels while talking to them in a chat room?
So that is how my contribution ended, offering them both the advice contained in the programme of the initiative and the advice that one personally and sincerely has in the back of one's wardrobe accumulated from one's own life experience.
Conclusion
My conclusion about this incredible experience is closely linked to the perception I have had about their understanding and interpretation of terms such as digital security, safe gaming, sexting, grooming, cyberbullying or digital empathy.
For them in general terms they are abstract terms that need to be grounded from a conceptual level to the level of life itself. Questions they asked me like "Why does someone want to get into my computer?" or "But why does an adult want to meet me?" are symptoms that the initiative makes all the sense in the world; because when you explain it to them, they thank you enormously with a big smile, and they also call you 'teacher' without having taken a competitive examination 😊.
Featured photo: Element5 Digital / Unsplash