Cloud security is mainly achieved through the implementation of appropriate policies and security technologies, like it is for other IT environments. If you don't know if you are using the cloud securely, we will guide and help you to rapidly adopt and secure any cloud workload, according to your overall cloud strategy, and to mitigate cloud risks according to your defined risk appetite. That's the goal of ElevenPaths Public Cloud Managed Security Services.
While public Cloud Service Providers (CSPs) dedicate extensive efforts to security, the challenge exists not in the security of the cloud itself, but in the policies and technologies used to secure and control your deployments in the cloud. In nearly all cases, it is the customer, not the cloud provider, who fails to manage adequately the controls used to protect an organization's data. In fact, Gartner considers that through 2025, 99% of cloud security failures will be the customer's fault. In addition, the teams that are implementing cloud workloads might not have the security knowledge necessary to adequately protect them.
Cloud compliance teams have traditionally relied on manual data aggregation and testing to assess IT compliance posture. The process of checking and tracking compliance status and resolving issues has been slow and laborious. In this age of heightened security risks, businesses are doing away with periodic security audits in favor of continuous compliance tracking and enforcement. The tools and controls that worked well for security and compliance in the datacenter fail in public cloud environments that demand agility and efficiency. It is no wonder that as organizations move critical workloads to the public cloud, compliance and governance remain a leading concern.
According to Check Point's 2019 Cloud Security Report, 67% of security teams still complained about lack of visibility into their cloud infrastructure, security, and compliance, and setting consistent security policies across cloud and on premise environments and a lack of qualified security staff tie for third place (31% each). Misconfigurations (20%) is one of the most concerning cloud data leakage vectors because of human error, and precisely lack of experience and qualified security staff (26%) was one of the biggest barriers to wider public cloud adoption cited by respondents.
How to move with confidence into the cloud
ElevenPaths Cloud Security offering, which includes Professional Services and Cloud Managed Security Services (Cloud MSS), can support your organization by assessing your cloud infrastructure to determine if the appropriate levels of security and governance are implemented to counter these challenges. Based on the best cloud security practices, on demonstrated deep technical and consulting expertise in cloud native security solutions, and the experience gained from our Cloud Security Lab – by examining the leading cloud security market technologies and the latest features designed to keep your cloud safe – our cloud security team will guide and help you achieve optimal cloud threat prevention and establish and keep the best possible cloud security posture for your business.
Meeting cloud security goals may require rethinking and adapting to agile processes, reducing complexity, maximizing visibility, and automating compliance and governance enforcement. Our Cloud MSS service includes and offers Check Point's CloudGuard unified cloud native security platform providing you with a comprehensive review of your cloud infrastructure with priorized actionable recommendations from our ElevenPaths SOC cloud security team.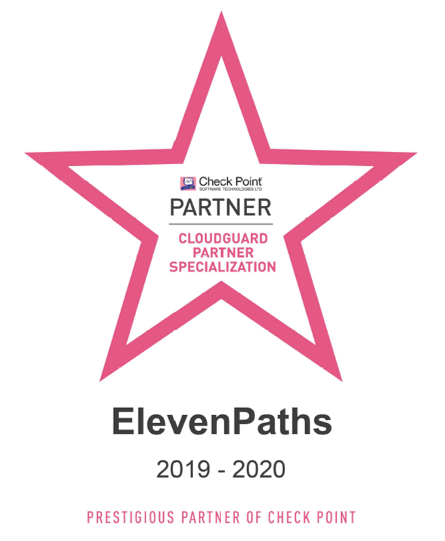 ElevenPaths is a Check Point's CloudGuard Specialized Partner, recognition based on our solid knowledge, technical certified skills and demonstrated success in the support, installation, deployment and management of Check Point's CloudGuard solutions within our Customers security environment, thus becoming the first CloudGuard Partner Specialist in Spain and Latin America. We provide you with a centralized visualization for all of your cloud traffic, security alerts, assets configuration and security posture along with auto-remediation.
Moreover, you can also benefit from our lessons learned, the knowledge and experience the ElevenPaths team has gained from securing our own public cloud deployments by using our own expertise and Check Point's CloudGuard Cloud Security Posture Management solution.
ElevenPaths Cloud Security Services powered by Check Point's CloudGuard unified cloud native security platform will provide you with:
Cloud Security and Compliance Posture Management: High fidelity security, visibility, control, governance and compliance across your multi-cloud assets and services. Our cloud security experts visualize and assess your cloud security posture, detect misconfigurations, model and actively enforce gold standard policies, protect against attacks and insider threats, apply cloud security intelligence for cloud intrusion detection, and ensure that your public cloud infrastructure conforms to regulatory compliance requirements and security best practices at all times. Our customers receive a comprehensive security report auditing standard and ElevenPaths' enriched compliance and configuration checks within your public cloud instance, to find misconfigurations, provide a complete inventory of assets, prioritization of failed tests by severity and context of your environment, along with best practices and guidance for remediation;
Cloud Workload Protection: Seamless vulnerability assessment, full protection of modern cloud workloads, including serverless functions and containers, from code to runtime – automating security with minimal overhead. ElevenPaths cloud security team continuously scans functions to increase your security posture – providing observability, continuous assessment, and providing your security teams and developers with clear guidance on how to improve your overall cloud workload protection;
Cloud Network Security: Automated and elastic public cloud network security to keep assets and data protected while staying aligned to the dynamic needs of public cloud environments. We deliver consistent visibility, policy management, logging, reporting and control across all your cloud and networks, and security events monitoring from your virtual Firewall deployments;
Cloud Intelligence and Threat Hunting: Advanced security intelligence, including cloud intrusion detection, network traffic visualization, and cloud security monitoring and analytics. We apply cloud security intelligence and security analytics, delivering enhanced cloud security processes, rich contextualized information and decisions with contextualized visualization, intuitive querying, intrusion alerts, and notifications of policy violations, for faster and more efficient incident response.

With ElevenPaths Managed Cloud Security Services organizations have faster and more effective cloud security operations, end-to-end compliance and governance, and automated DevSecOps best practices. Our cloud security experts are focused on staying ahead of adversaries, relentlessly reducing its attack surface and obtaining total visibility of events taking place in your environment. We jointly with our Strategic Partner Check Point automate your security posture at scale, preventing advanced threats and giving you visibility and control over any workload across any cloud, helping you moving with confidence into the cloud. Together we go further.