Today, March 8th, International Women's Day, we start a series of interviews with #LadyHackers from Telefónica Tech. Through their work and effort, these women are helping us become a more creative and innovative company.
* * *
Tell us a little about yourself: who are you and what do you do?
I'm Jess Woods and I joined Telefonica Tech UK&I in October 2021 as a Senior Product Manager, which means that I'm responsible for our Cloud product strategy and roadmap.
What is your specialization and how do you acquire new knowledge on a daily basis?
I specialise in our Cloud services portfolio, comprising of Public Cloud, Private Cloud, Data Protection and Edge Computing. This is a set of broad and ever-changing technologies, so I am constantly learning through conversation, research and most importantly listening to others.
What or who motivated you to choose a technology-related profession?
I studied Sociology at university so whilst it wasn't a STEAM subject, I did a module that focussed on the impact of the 'Internet on Society' and it really piqued my interest.
After I graduated, I secured a role in Customer Services at a locally headquartered MSP. An opportunity opened up to join a newly formed Product Management Team and I jumped at the chance to apply. Twelve years on, I'm passionate about the discipline of Product Management and also how technology can improve lives.
Most of my technical knowledge comes from being curious, through constant communication with internal and external stakeholders, online training and a lot of learning on the job which I think never ends if you retain that growth mindset.
Many think that not studying a STEAM subject prevents them from building careers in the technology sector but there are lots of routes available if you have the passion.
What training would you recommend to someone who wants to pursue this specialty?
Being a Product Manager is a diverse role and requires many skill sets so there isn't really one single training route to become one.
As it's a relative new profession, there are different interpretations of the role so it may be industry specific or require different skills dependent on whether you are managing physical or software products.
Personally, I really enjoyed doing a course ran by Product focus for Product Manager in Technical roles. It's increasingly important to make sure you can adopt agile approaches so any training that you can do in that space is really beneficial.
It's also vital that you know your product and your market so taking vendor led training, reading industry whitepapers and research and keeping an eye on tech news are all important.
Diversity encourages the search for novel information and perspectives, leading to better decision-making and problem-solving, improving the bottom line of companies. —Scientific American.
Could you explain to us what the #LadyHacker initiative means to you?
I couldn't be more encouraging of making the role of women in the tech sector more visible —there have been too many times where I am the only women in the room or amongst a select few.
Gender stereotypes need to be broken for both, men and women. But we need society to recognise that it isn't a level playing field out there, and there is more work to be done when it comes to equity and inclusion for women. Particularly in technology professions.
We can make a difference with initiatives like #LadyHacker to let more voices be heard.
What do women bring to STEAM professions?
Honestly, I think that women bring the same that men do to STEAM professions. We're all humans, we're not all the same, nor do we have the same needs. But women bring energy, expertise, dedicated and determination to drive change within any STEAM profession.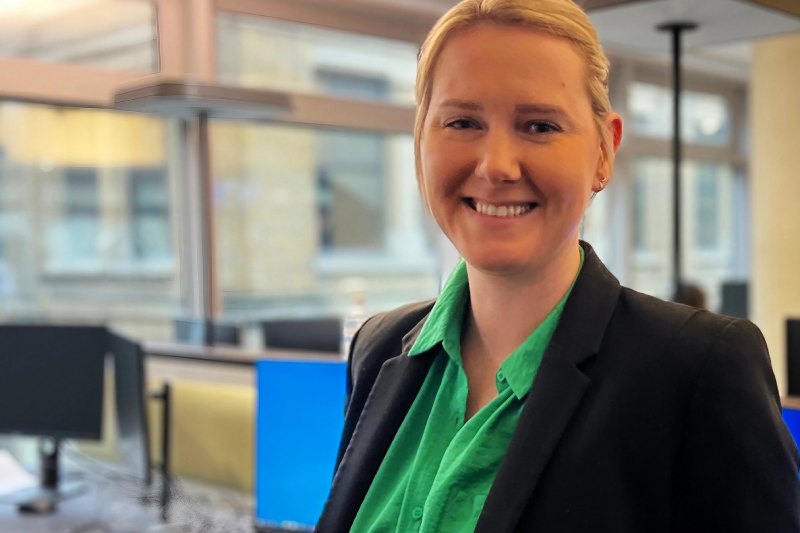 We need to work harder to ensure that our society encourages this from an early age and that when we do enter these careers that we're bought into environments that welcome inclusion and diversity. Also, we must recognise and address the need for equity.
How is your experience in the work environment?
I've had mixed experiences within the workplace over my career so far. Some have been not so great — one example is at a trade show one year: somebody came up to our stand and asked who the technical representative was. They were directed to me and visible scoffed in disbelieve, as I was at the time in my mid-twenties and clearly not who he was expecting to speak to.
However, I have had so many fantastic experiences in my profession. I have had some fantastic mentors, built some excellent relationships and formed many friendships over my 15 years in IT.
What advice would you give to the Jess Woods of 10 years ago?
Ten years ago, I was two years into my career as a Product Manager. I think my advice would be to trust your instincts and that everything happens for a reason. I was hard on myself when I went through university clearing and, again, when I wasn't successful in securing a graduate role.
Hard work and determination have led to be being in the same position in my career as those who were on graduate schemes, it just meant that I needed to take a different path to get there.
* * *