The Sustainable Development Goals (SDGs) are a United Nations-led initiative to address the most important problems our society faces. It encompasses "a set of interconnected social, economic and environmental goals and objectives" that form part of the 2030 Agenda for Sustainable Development.
The Internet and digital solutions – with the basis of connectivity – are essential to achieve many of the goals that have been set: to improve people's quality of life, to facilitate equitable growth and to protect the planet. At Telefónica, we use these goals as a roadmap to achieve sustainability and build a better world in which no one is left behind.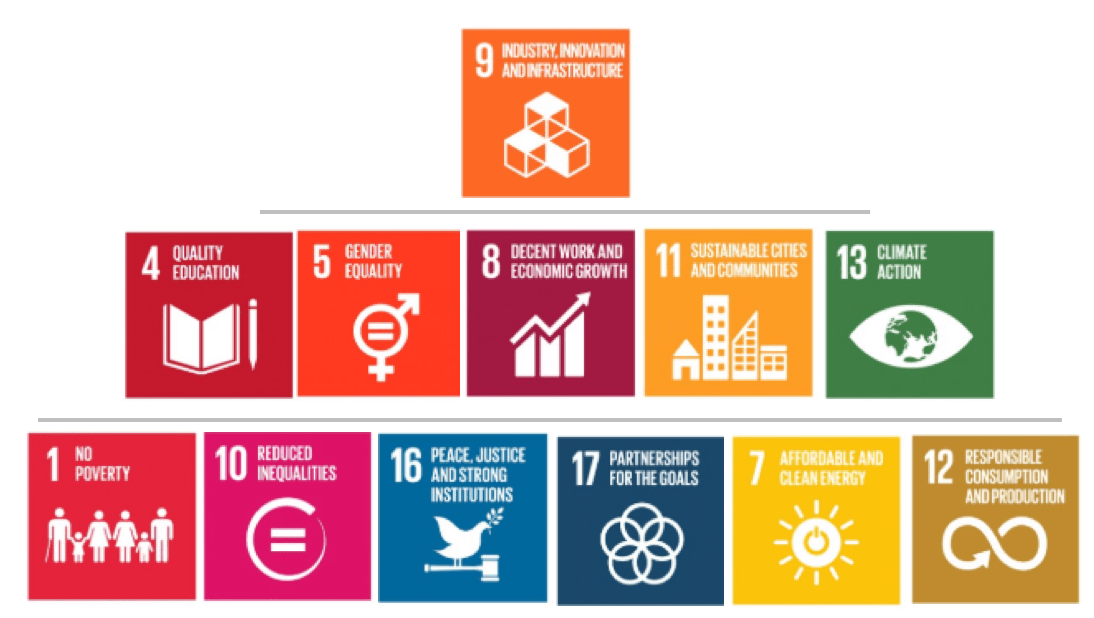 (Strategic SDGs for Telefónica: greater contribution)
In this sense, the Internet of Things has enormous potential to help meet these SDGs. It plays a key role in developing solutions to reduce the negative environmental impact of cities, help the economic growth of the industry and promote quality education.
As a company, Telefónica contributes to multiple SDGs related to different business areas. But which specific goals does IoT help reach?

Industry, Innovation and Infrastructure (SDG 9)
The impact of startups on economic development is increasing and, in general, such companies are closely related to technology. Many innovative ideas have been launched on with the foundation of the connectivity provided by the Internet of Things.
Initiatives such as theIoT Activation Program provide connectivity modules, access to labs to test NB-IoT solutions with engineering support, and platforms like Kite, which provide connectivity management and cloud integration.

Quality Education (SDGs 4)
IoET (Educational Internet of Things) devices have great potential to stimulate students' abilities and facilitate flexible learning and creativity.
Interactive devices have been immersed into classrooms and turned them into connected learning places where students can unleash their imagination thanks to new tools that encourage them to learn.
From connected backpacks, which ensure the safety of the little ones with a geolocator and dining rooms with RFID technology to monitor food intolerances, to scanners like Scanmarker, an underscore that digitizes the text that is marked on the book to be able to edit, listen to or translate it on your tablet or computer.
To ensure that no one is excluded from these advances, there are also formative plans to incorporate key technological competencies in the Internet of Things sector, such as Artificial Intelligence, Blockchain or Big Data.

Labor and economic growth (SDG 8)
The increase of productivity is made possible by monitoring the various business processes with IoT technology. Industry 4.0 uses sensors in order to optimize product manufacturing processes, Retail to create smart stores that tailor its services to the demands of its customers, and fleet optimizer companies to track vehicles and prevent accidents. All these improvements translate into economic growth and have a positive impact on the day-to-day lives of workers, improving their overall working conditions and safety.

Sustainable cities and communities (SDG 11)
The use of IoT by public institutions is critical to the development of Smart Cities, as the use of smart sensors to monitor aspects such as lighting, pollution, irrigation, traffic or the conservation of monuments makes for a more effective and sustainable management with the environment and our health.
On another note, the use of connected drones is already a reality in the fight against natural disasters, through actions such as theprevention and extinguishing of fires or the search for survivors in floods and earthquakes.

Affordable, non-polluting energy (SDG 7)
IoT technology contributes decisively to the development and implementation of renewable energies. As a result, public institutions, companies and individuals can reduce their carbon dioxide emissions. Connectivity also applies to Smart Waste, intelligent waste recycling management that uses sensors that monitor the status of trash bins.
In addition to all these contributions, projects such as Internet For All stand out, which aims to provide Internet access to 100 million people in Latin America by 2025, or Smart Rural Territory, which brings IoT and Big Data solutions to administrations of the "emptied Spain".
Infrastructure development, the digital divide, economic growth and pollution are some of the main problems we face. The commitment to sustainable innovation must be a priority in order to address them, as the solutions provided by connectivity help us to successfully overcome these great challenges.
As the United Nations asserts, "it will not be possible to achieve sustainable development without radically transforming the way we build and manage urban spaces." In this sense, IoT plays an essential role in achieving the objectives set out in the 2030 Agenda.
If you want to know more about Telefónica's commitment to the SDGs, click here.