This week we are at Advanced Factories, the annual reference meeting on innovation and industrial automation, robotics, and digitalized industry or Industry 4.0.
At Telfónica Tech, we are sharing our knowledge and experience. We are also showcasing technologies that enable process automation and digitalization of the industrial sector, driving efficiency and productivity.
"Industry 4.0 consists of integrating technology into the process to produce more and better at lower costs." —Darío Cesena, Geprom part of Telefónica Tech.
To demonstrate how new generation digital technologies improve industrial competitiveness and how they are applied in the sector, at Advanced Factories we have four demos that incorporate our main enabling technologies of Industry 4.0:
IoT sensors to collect real-time data.
5G and NB-IoT connectivity to provide high-speed and ultra-low latency connection.
Cloud and Edge Computing to store and process large amounts of data.
Industrial management software and data analytics to optimize process management.
Big Data and Artificial Intelligence to obtain insights and improve efficiency.
Cyber Security to protect the entire industrial process.
Our interactive demos at Advanced Factories
1. Smart Lego Factory, an intelligent process factory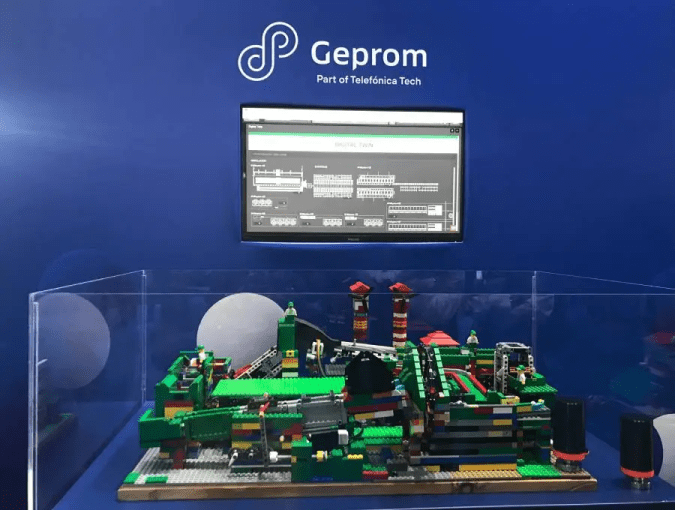 Adapted to an event context, we built a process factory with Lego. Process factories produce goods that cannot be broken down into their elements. This would be the case, for example, with detergent or soda.
These types of factories have highly automated processes.
Generate lots of data. Capturing and processing data allows process improvement, cost savings, and increased efficiency and profitability.
The Smart Lego Factory demo allows visitors to see and interact with our IoT/MoM Legato platform for manufacturing process management (MES). Legato provides real-time information about factory performance.
This solution allows to know any parameter, both in the production process and in the business layer. As long as that process is sensorized, generates data, and is connected.
2. Fab Lab 4.0, a smart factory for discrete manufacturing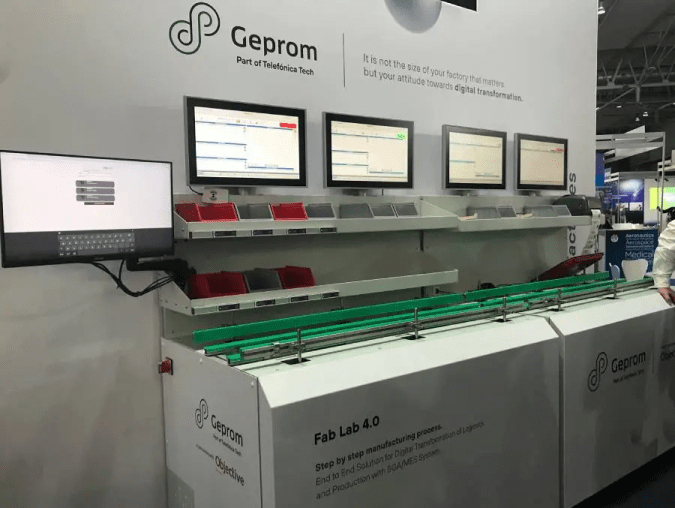 Also with a scale model, we showed our visitors how to apply our knowledge and technology to a discrete manufacturing process. This is the type of factory that combines different parts to achieve the final product, such as a car or toy factory.
These are usually factories with more involvement of operators, where knowledge resides, than machines, which generates less data.
In this case, our MES/SGA Objective platform does not focus as much on data capture as on guiding the operator and monitoring the process. It also monitors the parts used, and the final result.
For this scenario, we have a small toy helicopter factory at the stand that visitors can assemble following the instructions on a screen.
At the same time, MES software tracks the steps and parts used. Upon completing the assembly, the MES software assigns a serial number to each finished toy to ensure traceability of the final product: who assembled it and when, how long it took, what parts were used, etc.
Blockchain would add an additional guarantee of authenticity and immutability of that information.
In this demo, the Legato software controls the production, monitoring in real time and making decisions to improve the efficiency and quality of the manufacturing process.
3. Connected preventative safety with Livall smart helmets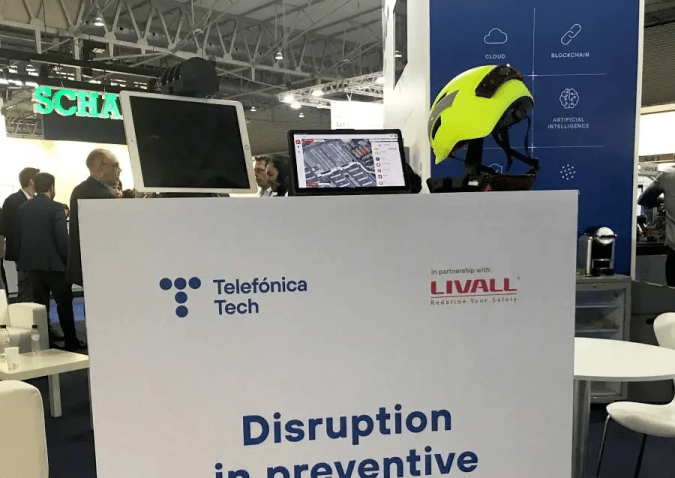 At our booth, we also have a connected worker helmet. It is based on the same approach as Livall's connected helmets for motorcyclists or cyclists.
For use in industrial environments, the helmet is equipped with sensors that measure air quality and ambient temperature. It also has an accelerometer to detect impacts and sudden movements.
Thanks to these sensors, Livall's helmet can anticipate industrial risks such as environmental toxins or poor air quality.
In addition, it can alert in case of detecting impacts or falls of the worker.
The NB-IoT connectivity of the Livall helmet allows its use in large facilities such as a mine or a petrochemical plant.
The data generated by the helmet is sent anonymized to a platform that processes it; for example, to activate safety measures.
4. Spot, the 5G-connected 'robot dog' for industrial environments monitoring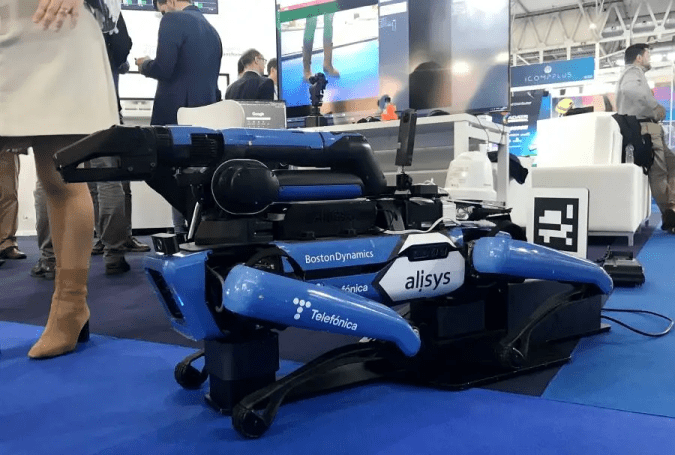 Spot, the 'robot dog' by Boston Dynamics, is the perfect example of the possibilities offered by self-piloted robotics in the industrial sector.
The Alisys unit that accompanies us these days at Advanced Factories incorporates 5G connectivity to communicate with our Edge Computing solution.
5G connectivity, in addition to telecontrol, allows the data captured by the sensors embedded in Spot to be sent: a thermal camera, a 360 vision camera, and control of a robotic arm.
In self-piloted robotics, such as automatic guided vehicles or AGVs, drones, or other machinery, 5G connectivity provides:
Ultra-low latency, almost imperceptible, essential for the robot to move and interact with the environment in real time.
High capacity to transmit and process data, such as images captured by cameras.
For the industrial sector, we are already defining use cases for self-piloted robots like Spot. Although not directly related to production processes, they have real applications in factories:
In a large-scale car factory to inspect the facilities, Spot can examine for thermal differences or to identify objects.
In a waste processing and recycling center, Spot can identify health risks in the area where the raw material (waste) is stored, such as toxic gases or hazardous materials.
The same technologies that enable Spot (5G connectivity with network slicing, Edge Computing, sensorization) can also be applied to other purposes: logistics, surveillance, or goods movement. Other self-piloted robots, such as drones or AGVs, can also benefit from these technologies.
The knowledge and experience of our experts and clients
In Advanced Factories we also participate with lectures and talks of our experts and customers, to tell first hand their experiences and projects:
Comprehensive digitization of production processes applying Artificial Intelligence: The case of Stolt Sea Farm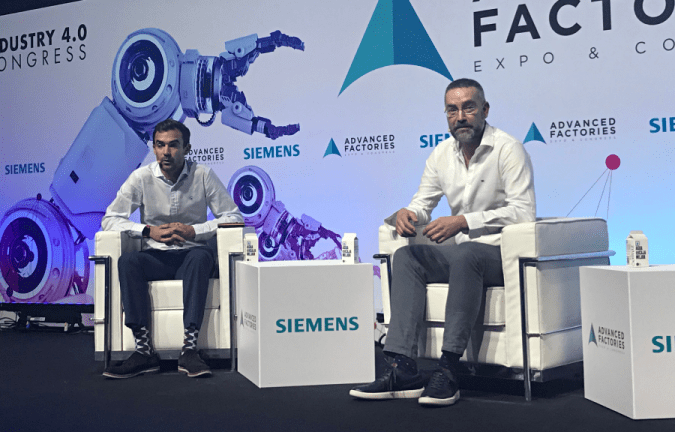 Darío Cesena (Geprom part of Telefónica Tech) and Jorge Juan Alfonso (Stolt Sea Farm) spoke about aquaculture farm digitization. They highlighted how data is changing industrial manufacturing to increase productivity, meet customer demands, and better manage operational processes.
A company's data is another asset," says Darío Cesena, Geprom part of Telefónica Tech.
To achieve this, it is necessary to collect and analyze information. Artificial Intelligence models allow for insights and optimizing production, as we do in Stolt Sea Farm's aquaculture farms.
By applying connectivity solutions, Artificial Intelligence, Big Data, and Cyber Security, which make industrial processes more efficient, Stolt also can predict supply and demand for their products. This is an especially important considering that some species take years to reach their desired size.
Stolt provides "quality service and products to its customers while also promoting innovation in its own activity and in the food sector," explained Jorge Juan Alfonso, Food Operations Manager at Stolt Sea Farm.
The intelligent helmet for preventive safety management of industry workers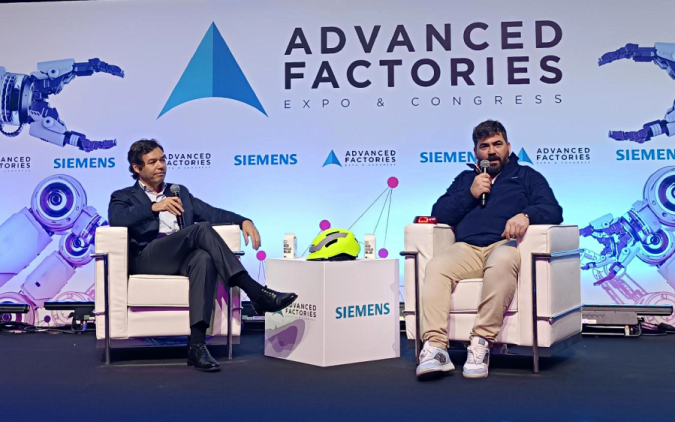 Alfredo Serret (Telefónica Tech) and Manu Marín (Livall) talked about connected helmets in the industrial sector. Marín took a few minutes to discuss the beginnings and motivations of Livall, a platform built to "put the benefits of intelligent mobility at the service of people."
From that idea other variants and applications emerged, such as a helmet for skiers and the connected helmet designed for accident prevention, which we showed at our Advanced Factories stand.
Although the helmet aims to provide "preventive safety to avoid accidents," it also can sensorize a factory, saving large costs," explained Marín.
"The digitalization of the industry benefits the people at the center of the process as well." – Alfredo Serret, Telefónica Tech.
Both participants agreed that Livall's industrial helmet has many possibilities and use cases for the digitalization of the industry to also benefit "the people who are at the center of industrial processes," explained Alfredo Serret.
Quality and maintenance: A leap in competitiveness supported by technology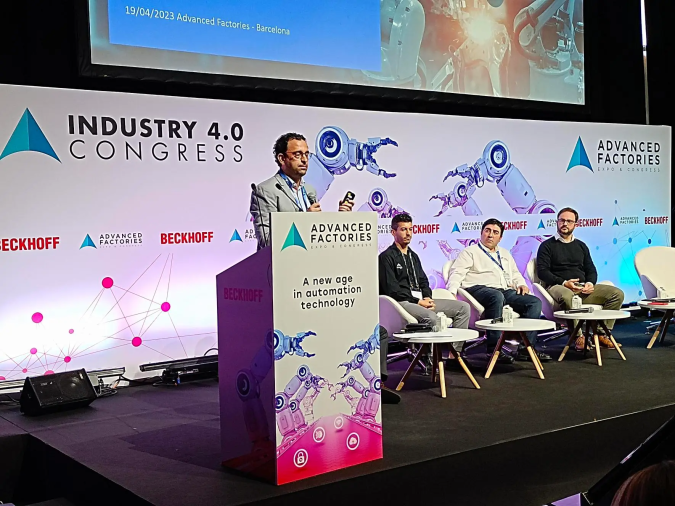 Javier Martínez Borreguero (Telefónica Tech) participated in a roundtable discussion on predictive maintenance with Artificial Intelligence. Borreguero listed some benefits of industry digitalization:
Resilience.
Sustainability and positive impact.
New business models.
"In the next five years, 95% of quality and maintenance management processes in the industry will incorporate Artificial Intelligence and massive connectivity," he added.
These are available technologies that we can incorporate into the industrial sector to tackle challenges in quality and maintenance management.
"5G connectivity and Artificial Intelligence are realities. They are available technologies. The question is: are they integrated into your production processes?" – Javier Martínez Borreguero, Telefónica Tech.
Turn-key solutions for Industry 4.0
At Advanced Factories we share our complete vision of a digitized factory, end-to-end: from the entry of raw materials to the exit of the final product.
5G connectivity, Cloud, Cyber Security, Big Data or Artificial Intelligence models, among other enabling technologies, allow us to address any need across the entire spectrum, from the factory floor to data analysis.
Further, we develop digitalization projects that connect factory software with business layers using our industrial knowledge and sensorization. As a result, we can provide customized solutions to meet the needs of each customer.