Telecommunications companies have a natural right to play in enabling communication channels for their customers. However, in the case of P2P (Peer to Peer) messaging we see that Over the Top (OTT) players, that have enabled conversational messaging platforms, are dominating the market and telecommunications companies have little, if any, role to play.
However, in the case of A2P (Application to Peer) messaging or Business Messaging we see that the ubiquitous and reliable SMS is still growing. SMS reach is unmatched. It has the highest read rate within minutes and boasts the highest engagement rate when compared to email and OTT mobile messaging apps.
The global A2P SMS market is estimated to grow at a CAGR of 4.4% during the forecast period 2016 – 2025, and accounts for US$ 62.10 Bn in the year 2025. The ubiquitous nature of SMS services has favoured the growth of A2P SMS market significantly. A2P messages are used for reminders, mobile event ticketing, One Time Passwords (OTP), flight & train updates, promotional activities, polling contests and the list goes on…
However, with entry of new OTT players into messaging customers rightly demand improved user features and experiences. The results of which has created OTT Business Messaging competition and RCS (Rich Communication Suite).
Although most messaging platforms such as iMessage, LINE and WeChat were created as P2P messaging platforms, they have all now enabled businesses to use their messaging channel, as this provides a powerful monetisation case. Now we will review the key OTT players offering a Business Messaging proposition.
OTT analysis
WhatsApp for Business
WhatsApp is a messaging app for smartphones created in 2009. It has 1.5 billion users in 180 countries making it the most-popular messaging app in the world. It has one billion daily active users. WhatsApp began to verify business accounts in August 2017. A few months later, in January 2018, WhatsApp Business was launched. As of May 2018, 3 million businesses had signed up for WhatsApp Business via the specific app, which the business is required to download. Businesses can only contact customers who have provided their number and agreed to be contacted. The app is aimed at small and medium-sized business owners, and is aimed to facilitate better client-customer communication. As with standard WhatsApp, messages from businesses will be encrypted. Additionally, in August 2018, WhatsApp launched the WhatsApp Business API, which allows businesses to respond to messages sent by customers, who must message first. Businesses have 24 hours to reply for free (from the last message), after which they will be charged at a fixed per-message rate. This is WhatsApp's first revenue-generating enterprise product. Facebook released on April 2019 a new SDK that allows mobile app developers to integrate WhatsApp verification into Account Kit for iOS and Android. This will allow developers to build apps where users can opt to receive their verification codes from companies through the WhatsApp app installed on their phone instead of through SMS.
Facebook Messenger
In 2011, Facebook decided to single out its messaging feature into a standalone app – Facebook Messenger, and three years later the company announced that messaging featured will be removed from Facebook app completely and so all users will have to download the Facebook Messenger app to be able to send instant messages on Facebook. In March of 2015, Facebook added a feature to the app, which allowed users to send money to their friends. In spring of 2016, Facebook launched chatbots solution for Facebook Messenger that allowed businesses to build a communication channel with their customers via Facebook Messenger. As of April 2017 the total number of user of the app has reached 1.3 billion. Businesses on Messenger lets consumers and businesses interact straight from the Messenger app. It can be used as a customer support option to help retain customers and answer their questions. The platform allows businesses to accept payment right from the messenger. The Business/customer relationship is all managed between Facebook and messenger, in a virtuous circle.
Apple Business Chat (ABC)
On June 9th, 2017, Apple released Apple Business Chat (Business Chat). Business Chat is a new tool that allows businesses to offer real-time customer support. Customers can search for a business in iOS via Safari, Maps, Spotlight, or Siri, and from any of those services they can open Messages and chat with the business. Many businesses also let their customers start a conversation directly from their own app or website. Only clients can start a conversation, and once they delete a thread, the business can't contact them again until they start another conversation. Business cannot see your personal information, like name or phone number, unless clients choose to share it for appointments or deliveries. ABC is provided to platform partners for free, therefore offer strong competition to players that monetise in the Business Messaging space.
This increased competition from OTTs into Business Messaging has incentivised Telecommunications Company's advancement to RCS. RCS offers a standards upgrade to SMS.
Rich Communication Services (RCS)
RCS brings conversational and group messaging, picture sharing, audio and video, rich cards, delivery and read receipts to life for carriers. At the same time, it provides a seamless evolution—with SMS/MMS fallback. RCS is already live in 65 operators and 45 countries, with 167 million MAU and is forecasted to reach 1.01 billion MAU by the end of 2019. Market research shows 74% of consumers say they are more likely to communicate with a brand over RCS, and early brand results show a 10x uplift in click through rates, with 60% of consumers preferring RCS over SMS. RCS represents an opportunity for MNOs to monetize mobile messaging by providing brands with a secure, clean marketing channel that delivers the privacy and reliability that enterprises have come to expect from mobile operators.
But the window of opportunity to scale RCS is limited. OTT messaging applications are already entering the B2C messaging space in an attempt to generate revenue from a customer base grown on top of a free P2P messaging service. WhatsApp for Business (leveraging the WhatsApp consumer base) and Apple Business Chat (leveraging the iMessage installed base) are some clear examples.
Business Messaging is crucial for Businesses to communicate with their customers. And now messaging platforms have enabled the capability of customers to communicate with Businesses too. SMS Business Messaging will continue to be relevant however, there is a land grab in IP based business messaging. As a telecommunications company Telefonica is proactively supporting the enablement and deployment of RCS across its footprint, while supporting the integration of other channels that our customers want to interact with.
RCS Business messaging vs OTT positioning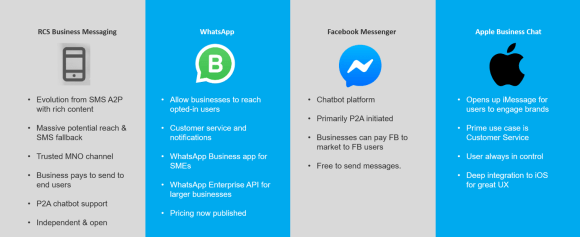 Don't miss out on a single post. Subscribe to LUCA Data Speaks.