Thanks to new technologies that help connect objects or machines, such as NB-IoT or LTE-M, we can provide answers to how to optimise and make water consumption more efficient.
Water utilities, and the water industry in general, face one of the biggest challenges: digitalisation.
These technologies are having a major impact by enabling connectivity to a multitude of new IoT use cases and by addressing five key market needs:
Provide quality and availability guarantees in communications as they are licensed band technologies.
Massive and efficient connection of a large number of dispersed or highly concentrated devices, improving coverage in remote or underground locations.
Have mechanisms to cut signalling totally or partially, thus extending battery life by up to 12 years.
Being future technologies, currently available, with no risk of obsolescence and being compatible with 5G.
Versatility and robustness by being compatible with other data technologies, SMS or SWAP service (change of operator subscription by reusing the same SIM card).
Telefónica Tech is committed to these technologies to help our customers optimise and make the most valuable resource we have, water, more efficient.
A great example can be found in the city of Valencia, where we deployed this connectivity for our client Global Omnium to carry out the remote metering project.
Today, Global Omnium has more than 800,000 remote water meters, making them national leaders and one of the largest implementations in Europe.
We were lucky enough to visit their facilities and learn first-hand about all the details of this project.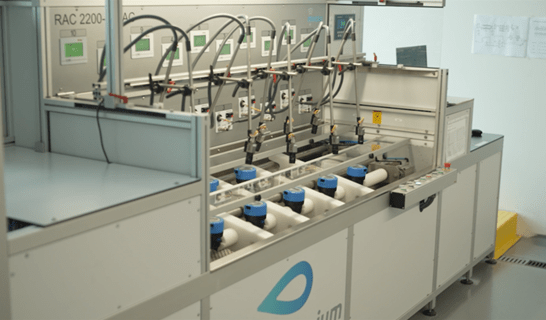 "Our mission at Global Omnium is to sensor the network as much as possible. In this way, we can capture as much information as possible so that, if necessary, we can act on the network in a centralised manner. All of this with the aim of ensuring that when citizens turn on the tap they have quality water, with pressure, and receive a bill on time and without estimates,"

Alberto Palomar, meter area manager at Global Omnium.
There are many benefits to remote metering and they help both the company and the citizen. Víctor González, director of remote metering and meters at Global Omnium, explains some of these benefits.
On one hand, for the citizen we can find all these advantages:
Warning of possible leaks in your installations.
Effective reading of all meters without estimations.
Reduction of complaints
We provide companies and public authorities with the possibility of calculating their water footprint and the social services of local councils with the possibility of monitoring the homes of vulnerable people living on their own.
On the other hand, for Global Omnium of course, we highlight the following benefits:
Optimised meter fleet management
Hourly water balances to detect leaks in distribution networks
Control of unauthorised water consumption
Identification of stalled or faulty meters.
Finally, the most important benefit is to move towards sustainability. So, we have reduced water consumption by more than 5 cubic hectometres per year to provide the same service, which translates into a reduction in emissions of more than 1,400 tonnes of CO2.
A challenge that once again demonstrates Telefónica Tech's capabilities as a partner in the digital transformation of our customers. Great advances that contribute to a better world.