According to recent studies, urban dwellers are less able to regulate fear, anxiety or stress than residents in peripheral or rural areas. Issues such as rises in rent, perceived insecurity or traffic problems are at the centre of the decline in the health of the citizens.
In coexistence with the term Smart City, every time we talk more about a Healthy City it means: model cities where the health of the inhabitants becomes one of the priority issues in the political and social agenda, giving a strong impetus on public health at a more local level. According to the World Health Organization, a healthy city is a city committed to the wellbeing of its inhabitants, which has processes and structures to achieve this, and which continually tries to improve its physical and social environments and expand community resources to allow the maximum development its people.
Here, the role of technology comes into play. Although for some authors Smart Cities have become innovative proposals that better serve architects and planners, Healthy Cities seem to be the necessary transformation towards an intelligent city that serves the people who reside in it and where citizens can also be involved in these decisions.
But can this work? Let's look at a real case. In Marion County, Indiana, they have created a public access platform that makes it possible for all citizens to be involved in neighbourhood planning. This tool collects a set of 50 consistent metrics and values for all possible decision makers; measures the health and sustainability of the neighbourhoods within it and offers data within the following areas: building space, economy and work, education, equality and autonomy, health and safety, natural systems and general demography. In this way, Indy Vitals becomes a platform from which citizens and NGOs can exercise their right to request specific policies for their neighbourhood and companies can find new business opportunities based on transparent data.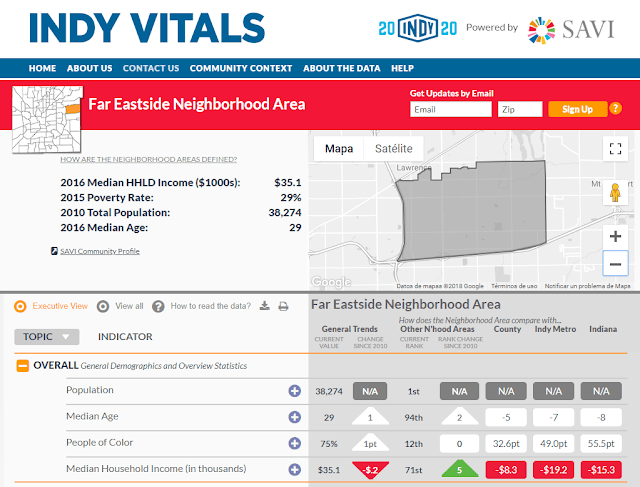 The data collected by Indy Vitals comes from both open sources and public and private organizations that have given information for the project. These metrics, when viewed in their entirety, quickly describe the economic and social health of each neighbourhood and allow all stakeholders to work around a common goal based on real data, rather than disparate sources of information as in the past.
Another success story comes from the Department of Health in Baltimore, where a system based on data analysis has also been developed to try to reduce infant mortality. A previous study in public health warned of the negative effects that certain social and urban policies had on the health of the population, in particular where a very high rate of infant mortality was detected in certain neighbourhoods. The new system allowed the detection of the points of conflict and correctly dimensioning the resources.
The data collected included vital statistics of the child population, information on births and deaths, and other public records, such as those of social services, as well as qualitative information obtained through surveys. The analysis made it possible to detect failures and anomalies in the services provided to the mothers and identify which type of protocols had the biggest impact on the users. Thus, it was possible to determine in which situations more support was needed from the community and in what structural change was needed in the policies applied. Finally, the mortality rate was reduced by 38%.
These two examples share a common denominator that makes them successful: the final objective of the technology applied to these projects is to convert inhabited spaces into more inclusive, competitive and cohesive, that is, healthy cities, where residents are at the centre of everything. With this in mind, and with the great possibilities that data analysis and the latest intelligent technologies offer us, we are only a small step away from all cities becoming healthy places.
Original post in Spanish written by Olaya Vide.
Don't miss out on a single post. Subscribe to LUCA Data Speaks.