By Glyn Povah, Head of Global Product Development at LUCA.
Hackathon is derived from the English words "hack" and "marathon", and if you Google the word "hackathon" you'll get something like the following: "Noun (informal). An event, typically lasting several days, in which a large number of people meet to engage in collaborative computer programming".
This all conjures up images of lots of developers packed in a dark room, coding on MacBooks for 24 hours, eating lots of pizza and drinking lots of soda. My experience is somewhat different. In fact I'm not a developer at all. Well, not any more anyway. Despite that I still consider hackathons an indispensable part of the new product development process.

Actually this post isn't about hackathons at all really. The central theme is about a collaborative approach to product development that puts customers heart and centre, not as an afterthought.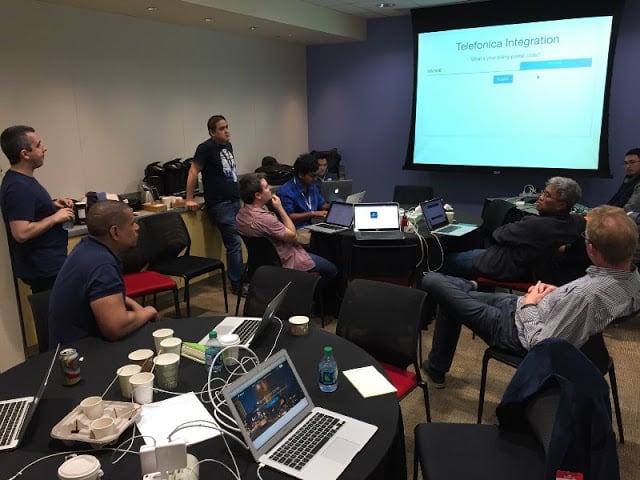 The Smart Digits team in one of the product sessions.

Customer-centric product development
"We innovate by starting with the customer and working backwards. That becomes the touchstone for how we invent". Jeff Bezos, CEO Amazon
In the Smart Digits team in
LUCA
, we always take a customer led approach to new product development. It's how we started out with our first product and it's been part of our DNA ever since. It's not a very Telco approach to product development but it's worked very well for companies like Amazon and it works very well for us.
The hackathons we run are all about collaboration. Not just about collaboration between engineers but a cross-functional team of developers, design UX and UI specialists, product developers and commercial managers. Such a cross-functional team can produce a working prototype in just one day if everyone comes along with the right "hacker" mindset.
The goal of any hackathon is having something to touch and feel and something we can show to customers. This could be a command line tool, a GUI or a web app. Bringing to life concepts and ideas we imagine, drawing them on napkins or whiteboards and rapidly getting them into our own hands and then very quickly into customer hands is key to to learning quickly and iterating rapidly. Sometimes the "experience" feels different to us or customers from how we imagine it on paper. Sometimes we discover flaws, challenges or unexpected benefits by playing with our demos and MVPs. Our customers can give rapid feedback too to improve the next iteration.
Back to collaboration and customers. Why is our team so insanely customer-focused when developing new products?
Fostering the right culture. The goal is to foster a spirit of collaboration in the team where everyone is equal regardless of their role and everyone can have their say and input. All team members across all functions are encouraged to challenge and be challenged. Robust and challenging conversations deliver great outcomes and decisions. Most of all this approach fosters trust and buy-in from the whole team which results in a highly collaborative approach from the start of a new product development project. The same principle applies to involving customers right from start too. This approach engenders trust and high levels of engagement from the get-go.
Execution excellence. We believe co-creating with customers gets fast, high quality results that meet customer needs from day one. We have plenty of examples of going from a working prototype as a result of a one day hackathon to a Minimum Viable Product (MVP) we can share with our customer in less than two weeks.

Think big, start small
As a product team with global remit to roll out new products in 21 countries with access to 350 million customers, our addressable market and opportunity is massive. Further, many of our B2B Enterprise customers are themselves massive global businesses too. So it's natural to want think big from day one.
In Smart Digits we like to think big but smart small. Our ambition is always to scale new products globally but we always insist on proving them first with one customer in one country. As a global product development team we need to use our knowledge, experience and judgement to determine which ideas have global potential.
Thinking big and starting small doesn't mean being slow to market. Quite the opposite. We've learned to co-create with one customer in one country and quickly launch a MVP. Once proven we can quickly move to scale globally using Agile based development process.
So, if you're a new customer (or an existing one with a new product idea), be careful what you wish for. If you come to us with a new idea or use-case, you might find yourself a few weeks later in a dark room, eating pizza, drawing on whiteboards, napkins or even coding. We'll have a prototype ready by the end of the day that you can touch and feel and a MVP a few weeks later. So you'd better be ready to integrate on those timescales!