Our Chrome extension is really simple. It takes advantage of the Bing
technology (already used by FOCA)
to perform a search of documents on
the domain being visited at the moment with Chrome.
This list (limited
to 50) is quickly accessible from your browser. You can export it to a
TXT file which can, in turn, be used by the FOCA.
Among the available options, you can choose what kind of documents you
wish to search. Moreover, you can perform an automatic research, so you
will not need to press the extension button. By doing so, every time you
visit a domain, on the FOCA icon it will appear an indicator with the
potential number of documents found.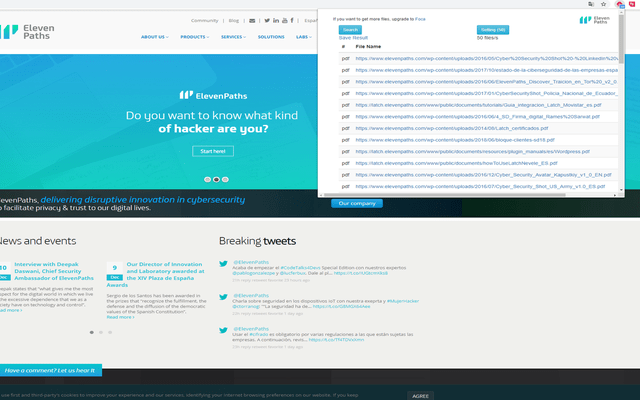 This is a first version and we expect further developments, such as the
possibility to connect the extension directly with the application, so
you will not have to export the documents to a TXT file.
In the
following video you can watch how it works:

You can donwload the extension from here:
Innovación y laboratorio en ElevenPaths
www.elevenpaths.com