The music industry is always evolving and, like many other industries, has realised that it oughtto be harnessing the power of Big Data. Historically, human efforts have beenthe driving force behind this sector. A fan would go to local venues to see anunknown band that their friend had recommended. An artist would gig tirelesslyto build up their following. A label would painstakingly listen to samples fromartists in the search for their next superstar. Now, the music industry is moredata-driven than ever. In 2016, music streaming overtook downloads andCD purchases as the leading way in which music is listened to and companiessuch as ReverbNation are using this data to uncover the next global superstar.

The homepage of the website features the claim that "Artists launch careers here" and with household names such as Imagine Dragons and Alabama Shakes starting their careers on this platform, this claim seems credible. ReverbNation is less of an agency and more of a social media platform (when an artist joins they can link their social media accounts to the site). The tools used to achieve exposure harness the power of Big Data. For example, the Crowd Review tool sends an artist's song to a select group of music fans, who then provide feedback. The report for the artist features data driven analysis ranging from audience retention to commercial potential. ReverbNation also offers promotional tools, targeted fan interaction and website creation. 

Figure 1 : ReverbNation tools available to artists.

In our previous blog from March, 
it was shown how Big Data could cut out the intermediaries between label and artist in order to help artists financially. Now, ReverbNation is showing how data science can also bring efficiency to the process of finding the next best artist. The team at ReverbNation listen to artist uploads daily so still offer 'human' suggestions to labels based on what they hear. Additionally, labels and festival organizers alike can submit a request to the site and receive detailed statistics about artists' music and marketability in order to make the perfect picks for their situation. For example, a rock festival in Paris could find an artist of that genre with a growing following in that region.

Artists have received festival slots at Bonnaroo and Ultra Music Festival
through ReverbNation.
Music fans are evolving too. Now more
than
ever they want a
close connection
with their favourite artists
as well as instant access to content. Using Big Data, this is easy to achieve. Streaming services such as Spotify, Pandora and ReverbNation, according to data from the Record Industry of America, accounted for
51% of revenues
in the US market in 2016 and their growth shows no sign of stopping. The billions of data points created by the users of such services allow 'Discover' features to suggest new music based not only on your listening habits but also on those of your friends. The true power of data science in this area is that the more music people listen to, the more information they create, and the more accurate the suggestions will be.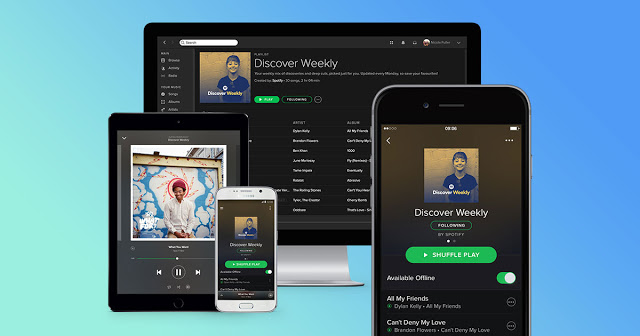 Figure 2 : Spotify's Discover feature.
Of course, the thrill of stumbling across new music by chance will always exist. However, using the data available can bring efficiency to all areas of the music industry. The 'lucky break' that artists search for will involve less 'luck', and more data science. These processes can also be applied to other industries. For example, an art gallery could base their decision to showcase an artist's work not on intuition, but on historic data of their performance. Here at LUCA, we are excited to see what Big Data can bring to the arts industries. What changes do you think we will see in the coming years?
Don't miss out on a single post. Subscribe to LUCA Data Speaks.