Once again, we return to the RSA Conference, the reference event in the cybersecurity sector. From February 24 to 27 we will be presenting our proposal under the claim Humanizing Security. Three days full of activities, meetings, presentation of demos and projects of some start ups supported by Wayra and companies invested by Telefónica.
The activities will take place at our booth, South #1459 at the Moscone Center in San Francisco. Discover what you will find there:
Our tools' demos
The Innovation and Laboratory Area, together with the IoT Cybersecurity Area, are working to develop new security tools that adapt to new technological trends and allow technology to be used safely. The demos that we will present during the RSA Conference are the following:
IDoT: IDoT provides IoT devices with a unique identity, particularly those that perform critical operations and must be monitored in detail. This robust identity allows guaranteeing the sending of that information generated by the device in a secure way, using end-to-end encryption with an own certificate issued on the fly by Telefónica.
TheTHE: Due to the experience of our Threat Hunting teams, the Innovation and Lab team has developed a free OpenSource framework hosted at Github to facilitate the first stages of research.
IoT Anomaly Detection: this demonstration allows to monitor in real time attacks aimed at IoT devices, especially brute force attacks. The information of the attack arrives automatically to the IoT Threat Detection platform, allowing to detect the attack and to raise an alert with details of the attack.
Aldara: one of the main tools of VERO, an intelligence service that has allowed us to analyze the behavior and progress of Coronavirus in social networks. We will present conclusions, figures and main communities created around the virus in the digital world.
Security Start ups and Wayra
On Tuesday we will enjoy the visit to our stand of several security start ups who will present their proposals with Wayra. Discover their innovative solutions from 11:00 to 13:00 on Tuesday 25 February:
LuJam: LuJam Cyber was founded in 2014 when Tim Moran realised that small and mid-sized businesses need similar levels of cyber security to that enjoyed by major enterprises, but delivered in a way that was easy for a business owner or manager to use, without having to be an IT specialist. Four years and extensive trials later LuJam launched its Cyber Protection Service. The inexpensive subscription service offers a jargon free customer experience that gives visibility of all the devices connected to a network, while protecting it 24/7 against the latest cyber threats.
CloudKnox: CloudKnox is a two-year-old company based in Sunnyvale California founded by veterans from VMWare. It addresses a significant risk in a twenty-five-year-old technology, role based access control.To date it has raised $12m in seed and series A funding from ClearSky Security, Dell Ventures and Foundation Capital. It has been successful in winning several awards already including Gold for the InfoSecurity Startup of the Year 2019. In the short time the product has been shipping CloudKnox have secured customers including Blackrock and eBay.​ 11:00 – 11:15 AM
Fraud.net: Fraud.net operates a real-time fraud detection and analytics platform, helping digital payment companies to quickly identify transactional anomalies and pinpoint fraud using big data and live-streaming visualizations. This first-of-its-kind platform allows enterprises to monitor their end-to-end fraud program's performance, identify process improvement opportunities, and gain new insights into developing fraud trends in minutes instead of months.​ 11:15 – 11:30 AM
Keybox: Keybox is a distributed data vault allowing the highest level of data security through fragmentation and distributed storage. Using distributed ledger technology Keybox stores "information secure" fragments of encrypted data in multiple nodes, and smart contracts to recombine data when required. Keybox allows anyone with high value data to store that data in a way that is both highly secure and readily available. It thereby addresses expensive data hacks and data leaks that we see more frequently in centralised data storage.​ 11:30 – 11:45 AM
Ohalo: Ohalo is a data privacy focused enterprise software firm. We produce tools that automate data privacy compliance processes, such as data mapping and answering data subject requests, for better, more efficient data governance. Our Data X-Ray tool employs machine learning to let users scan unstructured, structured and semi-structured datasources for personal data, which they can then efficiently search across at scale. 11:45 – 12:00 AM
Pixel Pin: PixelPin was founded in 2012 by Brian Taylor and Geoff Anderson. The two co-founders saw a market opportunity for improved authentication methods. The product was iterated using client feedback over the first few years and went live with its first clients in 2016. In 2018 PixelPin picked up their first Venture Capital funding from SBI (formally SoftBank Investments) in Japan, with an investment of £1 million. This brought the lifetime funding to £4.5 million. The company has offices in London, Cheltenham and Tokyo​. 12:00 – 12:15 PM
Secure Schools: We are experts in information security, and education is in our DNA. Our technology is awesome but wouldn't have been possible without a thorough understanding of school culture and the challenges they face. Paul Alberry (an information security expert) and Jill Foster (an expert in education; former headteacher and multi-academy trust CEO) formed the co-founding team, having worked together in schools for eight years on technical projects.​ 12:15 – 12:30 PM
The Cyberfish Company: The CyberFish Company delivers solutions that manage organisational exposure to digital risk resulting from human behaviour. Our Attitudes Assessment is a pioneering first, psychometric assessment, measuring 32 personality traits. Our research has shown to have a direct, indirect influence on security risk and organisational resiliency. It is used with clients for recruitment, development, and education initiatives. Wargaming simulation playbooks and bespoke role-play helps organisations test their leadership and incident response dynamics in crisis. Improving the overall resiliency of organizations​ . 12:30 – 12:45 PM
TrustStamp: Trust Stamp is a dynamic four-year-old cyber security startup with dual headquarters and corporate registrations in the United States and United Kingdom. We are 30+ ambitious and creative scientists, technologists, economists, law-enforcement professionals and entrepreneurs. We are committed to building long-term shareholder value by inventing, patenting and delivering ethical, AI-powered solutions addressing trust and identity while empowering transactional and personal security, data privacy and integrity​. 12:45 – 13:00 PM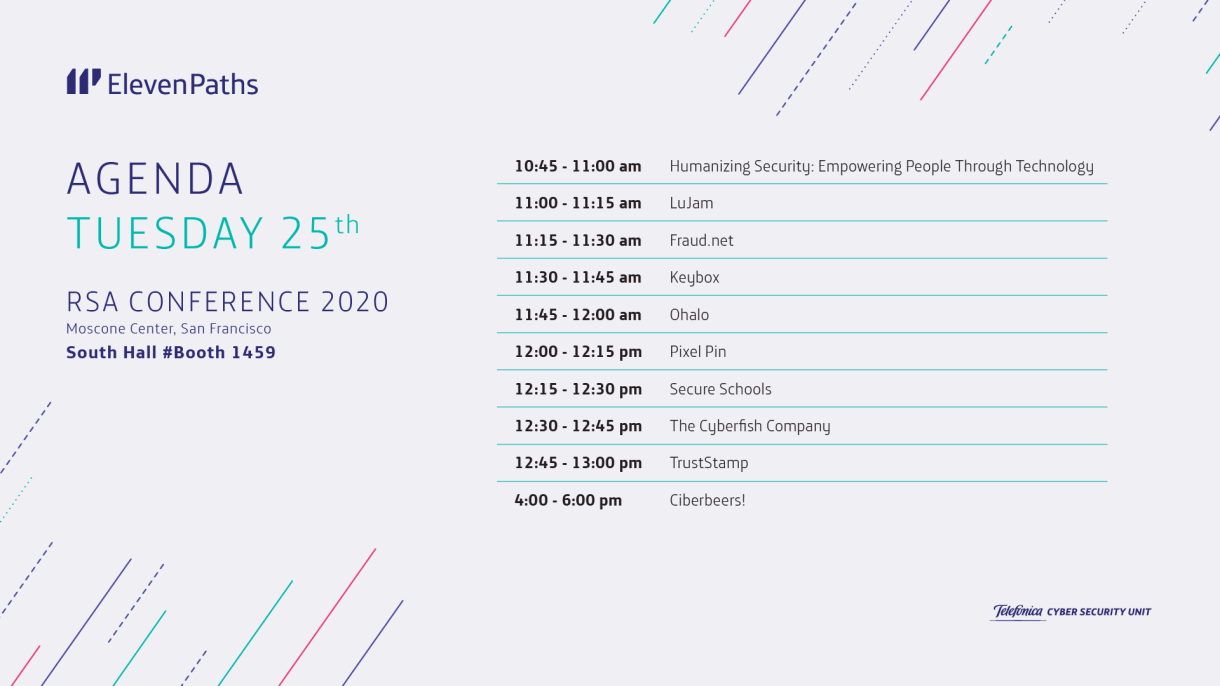 Presentations by our experts
On Wednesday it will be the turn of our experts. Through different lectures led by ElevenPaths security team we will present our own contents, we leave you with the order and topics of the lectures, as well as the speakers:
Humanizing Security: There when you need us, Emma O'Nien and Paulo López. 11:00 – 11:15 AM
IoT & OT, Vicente Segura. 11:15 – 11:30 AM
Coronavirus: Health and beyond, Helene Aguirre. 11:30 – 11:45 AM
Open Cloud Factory, Ester Tejedor and Darragh Kelly. 1:00 – 1:15 PM
Intelligence & Innovation, Claudio Caracciolo. 1:15 – 1:30 PM
Innovative Technologies, Claudio Caracciolo. 1:30 – 1:45 PM
Cloud Security, David Martín Lindstrom. 3:00 – 3:15 PM
SOC of the future architecture, Alexandre Gaspar. 3:15 – 3:30 PM
MDR & MSSP, Alberto Cuesta. 3:30 – 3:45 PM
Invited Companies
On Thursday, several companies will come to our booth to share experiences and create synergies:
BlueLiv: Blueliv is Europe's leading cyberthreat intelligence provider, headquartered in Barcelona, Spain. We look beyond your perimeter, scouring the open, deep and dark web to deliver fresh, automated and actionable threat intelligence to protect the enterprise and manage your digital risk.​ 11:00 – 11:15 AM
Hdiv: Hdiv Security is a leading provider of security software for real-time, self-protected applications, being the first company worldwide to offer protection against security bugs and design flaws from SDLC. Since 2008, we have pioneered self-protection software and today, Hdiv integrates with leading commercial software providers such as Spring and Grails.​ 11:30 – 11:45 AM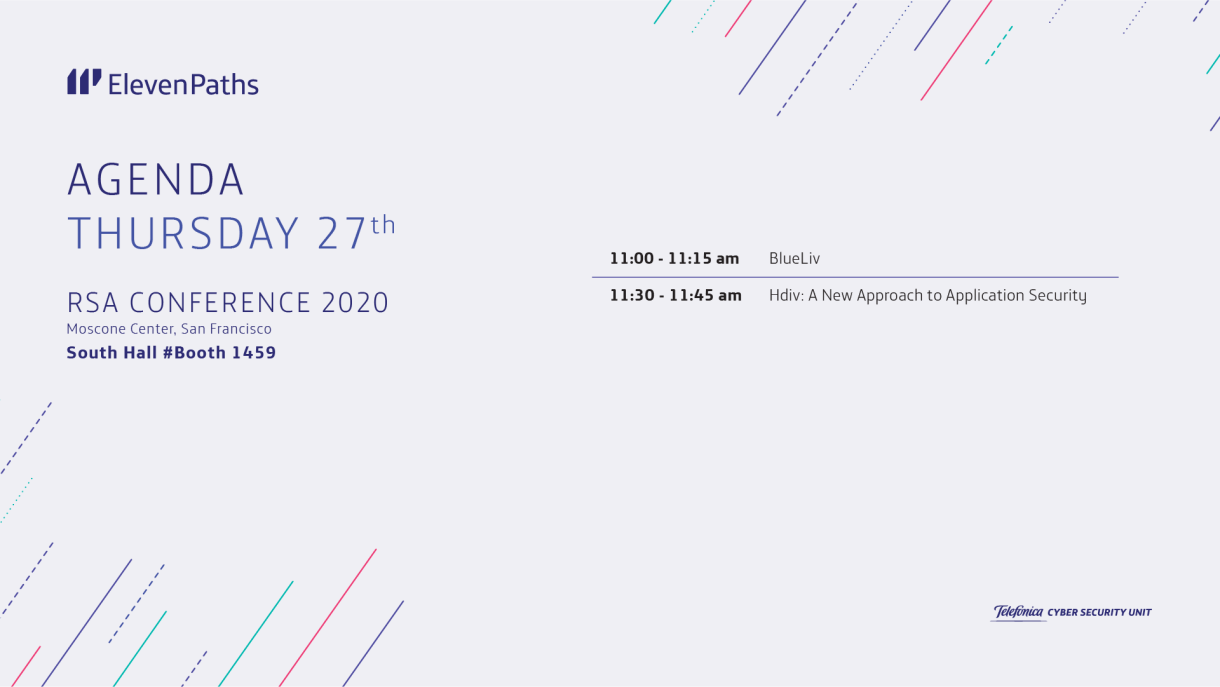 If you're going to be in San Francisco, we'll be waiting for you at the RSA Conference. Remember that you can use our Expo Code (XE0UTELEF) to register and access to the conference. If you want to follow the activities mentioned above, follow us on Twitter and LinkedIn or visit our website.