Organizations are used to dealing with cybersecurity incidents on their own networks, but new risks and threats aimed at the public cloud mean that organizations need to take steps to bake in security from the onset. They don't have full access to security data, as this is controlled by the cloud provider, and existing security teams need new skills and tools. Moreover, business leaders should challenge their teams on whether they are prepared and capable to manage and respond to security attacks in the cloud.
To help our customers overcome these challenges, ElevenPaths, Telefonica Cyber security Unit, has developed a portfolio of Cloud Security Services, both Professional Services and MSS. We have launched ElevenPaths Cloud MSS, which includes Check Point's CloudGuard Dome9 as a managed service for offerings that require a comprehensive software platform for public cloud security and compliance orchestration. And today we are proud to announce that we have been recognized by our Strategic Partner Check Point as a CloudGuard Specialized Partner.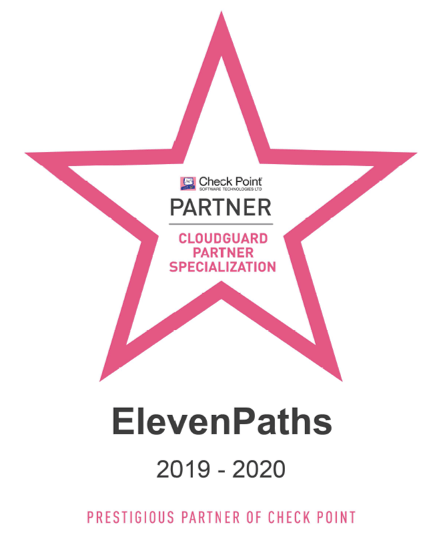 This CloudGuard Partner Specialization recognition is based on our solid knowledge and technical certified skills necessary to support, install, deploy, or manage Check Point's CloudGuard solutions within our Customers security environment, thus becoming the first CloudGuard Partner Specialist in Spain.
This year, misconfiguring cloud environments was one of the main causes for a vast number of data theft incidents experienced by organizations worldwide, according to recent Check Point's 2020 Cyber Security Report, which describes the key security and related trends that Check Point expect to see during 2020. The magnitude of cloud attacks and breaches has continued to grow in 2019. As organizations increase their security awareness, the threat actors adopt more advanced ways to exploit cloud-based assets.
Moreover, according to Check Point's 2019 Cloud Security Report, which describes among other things the leading operational cloud security headaches, 67% of security teams still complained about lack of visibility into their cloud infrastructure, security, and compliance, and setting consistent security policies across cloud and on premise environments and a lack of qualified security staff tie for third place (31% each). And precisely lack of experience and qualified security staff (26%) was one of the biggest barriers to wider public cloud adoption cited by respondents.
If you are looking for an expert managed security service provider (MSS/MDR), (i) with strategic collaborations with Amazon Web Services (AWS), Microsoft Azure, and Google; (ii) with the expertise and operational maturity on cloud-native services and security features; and (iii) with certified specialization on Check Point's CloudGuard solution to support your secure digital transformation, our ElevenPaths' cloud security team is well prepared, certified and skilled to help you achieve and maintain regulatory compliance and improve your security posture. Our Cloud MSS powered by CloudGuard Dome9 enables visibility, control, integration, incident response, and various tiers of support that most IT teams fail to provide, and we already have joint references in highly demanding sectors such as banking. Together we are stronger.