Just a few weeks ago, we launched EasyDoH: an extension for Firefox that simplifies the use of DNS over HTTPS. We have been asked about its improvements and several have expressed their interest in its features. To address these ideas, we have improved the program so that it may be used more conveniently.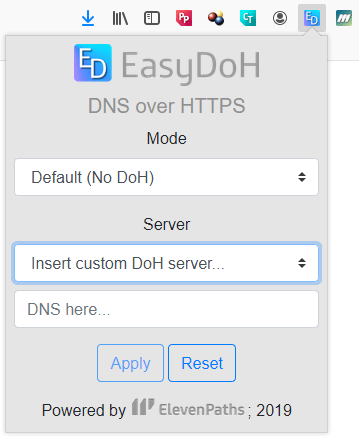 About EasyDoH
This extension is quite simple. EasyDoH is a Firefox extension that allows you to easily choose between different DNS over HTTPS servers. Currently, Firefox works with Cloudflare as its default DoH server, and allows to modify it by using some confusing configuration parameters. EasyDoH makes this configuration simpler and shows more alternatives to using different DoHs depending on your needs.
Some of the parameters are hidden within about:config menu. Thanks to EasyDoH, such parameters are just one click away. You can choose to use only DoH, the fastest server between DoH or regular DNS, etc.
One last thing: just a script file is needed. Since Firefox extensions do not allow file modification, we need a little script to achieve this and change DoH's internal configuration. No worries, source code is here.
Improvements
Essentially, we have undertaken three improvements:
Now you can add a server manually. It is no longer a closed list. You have an input field where entering the URL of your favorite DoH server. Firefox will be configured with such server and you may change it whenever you wish.
The previous version (although the DoH server was configured with other server) always showed the configuration 'by default' offered by Firefox with Cloudflare. It is no longer the case, now the configured server is showed.
The list of DoH servers available is now loaded from a dynamic list on GitHub. This will make it easier to update the servers as they appear.
Fixed uninstaller.
Thanks for using EasyDoH. We hope you will find it useful. It may be downloaded it from https://easydoh.e-paths.com