If we had to highlight one of the most relevant proposals in the field of Web3 during the last months of 2022, we would probably have to talk about the rise of decentralised social networks, which the World Economic Forum points to for 2023 as one of the trends that could become tangible and provide value in the decentralised ecosystem most quickly.
Several factors are behind this trend, which have probably been encouraged by some of the decisions taken by Twitter after the purchase of Elon Musk:
Concerns about privacy and control of personal data have increased, and many people are looking for alternatives to traditional platforms that collect and profit from the information generated by their users. Decentralised social networks allow users to have more control over their data and privacy, as well as define new monetisation mechanisms for content generators.
Growing awareness of the importance of decentralisation and the need for a more open internet. Decentralised social networks are not controlled by a single company or entity, making them more resistant to censorship and manipulation, and facilitating the possibility of using different applications while keeping the data under the control of the user, not the platforms providing the service.
Opacity of the algorithms used by today's social networks, which are often challenged for their ability to tailor the results obtained by their users to suit their interests. Decentralised social networks offer a more neutral and objective experience.
Two decentralised social networking solutions currently stand out for their maturity: Lens Protocol and Farcaster. Both share this general value proposition but, as we will see below, they differ in some aspects of their implementation.
Lens Protocol
Lens Protocol is a decentralised social networking protocol created in 2022, right in the middle of the explosion of NFTs, which probably conditioned Lens to fully rely on the non-fungible token standard (ERC-721) to build a decentralised ecosystem.
When we register a Lens profile, it is created as an NFT in our wallet. When we follow someone on Lenster (a Twitter-like application) we create a "follower" NFT on the chain. And so on, any post we make or share is recorded in Polygon, the public blockchain network on which the solution is built.
One of the most relevant aspects is the separation that Lens (and decentralised social networks in general) makes between data and tools (both creation and consumption), allowing developers to create applications by connecting and integrating different web3 and web2 solutions, or data on and off the blockchain, all using the LensAPI.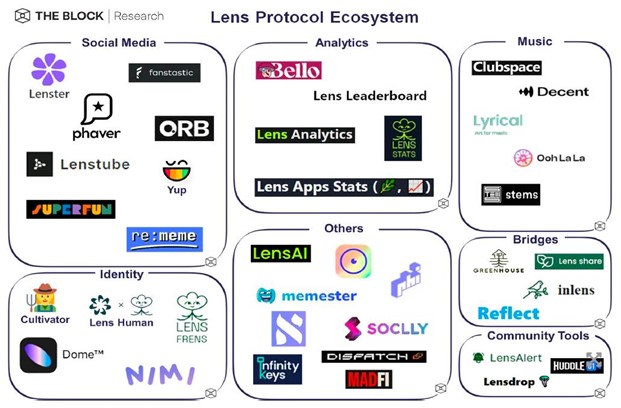 Lens now has more than 100,000 users, who have generated more than 1.4 million posts so far, since its launch in the middle of last year.
Farcaster
Social networks generate an enormous volume of data. Storing all posts, shares and favourites on the blockchain is expensive, burdensome and challenging on a large scale.
However, perhaps including all that is overkill and all we need on-chain are the most essential primitives, such as one's identity and the ability to read and write data, to have a trusted ecosystem.
This is Farcaster's approach. The main difference compared to Lens is its minimalist approach to data storage on the blockchain, which its creators call "sufficient decentralisation".
In this way, Farcaster's proposal is to build an open-source protocol and network architecture that allows any developer to query Farcaster's data and create different and customised clients (applications) on top of this data layer, in the same way that Gmail, Apple Mail or Outlook are based on the SMTP email protocol.
Farcaster is currently built on the Ethereum proof network (Goerli), which it uses to manage user identity in a secure and decentralised way through smart contracts, while all the data of the social network itself is managed outside the blockchain, through a network of nodes called Hubs, which guarantee the propagation of changes in real time so that all the applications (connected to them) have a single, homogeneous view of the information.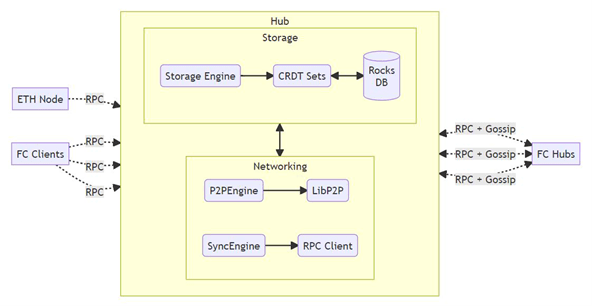 An application is a programme developed to make it easier for users to interact with the Farcaster network. Users can choose the type of application that best suits their needs and switch between them at any time, while maintaining the same information (which resides on the network).
There have been about 30 applications developed on top of Farcaster by the end of 2022, including a customer very similar to Twitter, which allows posting content, responding to other users and sharing their posts, sending direct messages, receiving notifications of mentions, searching for users and content, etc.
Some Twitter functions (such as hashtags) do not exist in Farcaster, and the type of content that can be shared is currently more limited (only images or links) to initially reduce the volume of information generated.
It is possible to configure in this application one or more Ethereum accounts associated with the user profile, thus allowing among other things to use the NFTs they contain as avatar (getting a purple check).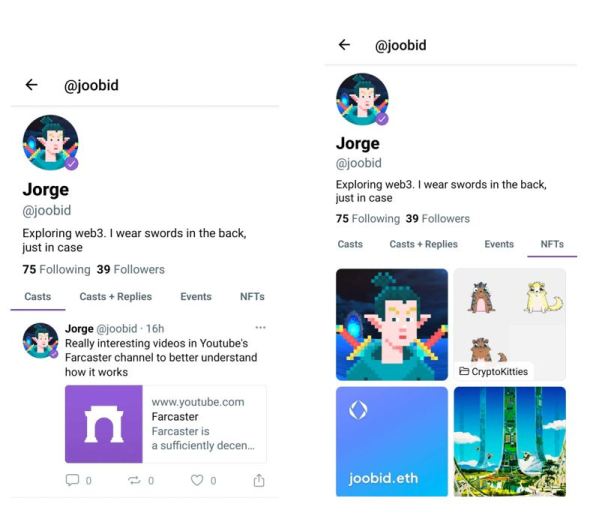 Farcaster currently has more than 9,000 users (after a particularly significant growth since October 2022) and has more than 450,000 published messages. It should be noted that new user registrations are very restricted (they are processed manually, by invitation).
The most relevant targets for the Farcaster team in the first half of 2023 are:
Gain credibility as a neutral network, making it easy for anyone to run a Hub to decentralise storage.
Reach 5000 active users/day (5% weekly growth).
Migrate identity to the Ethereum core network.
Increase network scalability.
Improve user experience and APIs for developers.
Conclusion
The main challenge facing these decentralised social networks is to confirm the value proposition, define the incentive mechanism to attract content generators and consumers, and above all, establish the business model to sustain their activity, something that is not yet clear (and that not even companies like Twitter have managed to land so far).
We will see if the trend continues in 2023 and Lens, Farcaster or other proposals manage to become the first mass-use web3 applications, beyond the ecosystem of early adopters from the crypto world.
Featured photo: Clarisse Croset / Unsplash