CapaciCard has been developed to make it work on iPhone. This feature expands its utility since it could only be used on Android so far. CapaciCard is a project of ElevenPaths Innovation and Labs area that has caught the attention of several logistics areas, both from Telefónica as well as from other external companies.
As before, CapaciCard allows authentication from any platform without the need for complex integrations.
What CapaciCard Is
CapaciCard is an in-house and patented identification and authorisation technology designed to allow users to authenticate and/or authorise any operation on a computer system. Can you imagine authenticating yourself or authorising a payment by simply swiping a plastic card on your smartphone screen (without NFC or additional hardware)? So now try to imagine the same thing but this time by placing that same card on the touchpad of your laptop.
Thanks to this update, CapaciCard can now be used on both Android and iOS. But do not forget that it can also be used on a laptop touchpad, as well as in dedicated IoT beacons like our iDoT.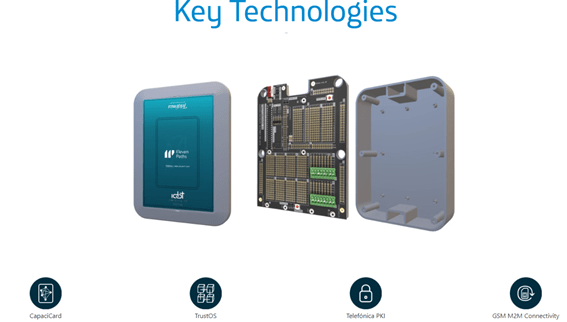 Advantages
CapaciCard enables authentication, identification or authorisation of users taking advantage from the inherent capacitive features of multitouch screens, like smartphones or touchpads ones. Neither NFC, connection, Bluetooth nor additional hardware are required, just a cost-effective card.
It can be used on your laptop touchpad (video in Spanish).
Cost-effective: CapaciCard is a simple plastic card with some capacitive points inside forming a unique graph for each user. Any capacitive screen (like that ones from multitouch smartphone screens or laptop touchpads) can read them.
Authenticate in many services from the same device: CapaciCard enables many dispositions inside, so just with a card you will be able to be authenticated in any web. The web will only need to be slightly modified to take advantage of this technology, as is usually done to incorporate any identity provider.
Paired with your device: Leave passwords and coordinate cards behind. CapaciCard is simple and easy to use. Do not fear to lose your card: it has been previously paired with your devices by following a simple process, so this prevents it from being used by a third party.
More information on https://capacicard.e-paths.com