The medical community continues to make ground breaking discoveries every day, but with a survival rate of only 50% (Cancer Research UK), we still have a long way to go until we live in a cancer free world.
Even with these technological advances, the complicated and diverse disease affects everybody. Although many common types of cancer are curable (breast, prostate, testicular, cervical, melanoma, thyroid and Hodgkin Lymphoma), more must be done to ensure a better future for cancer patients. 
One of the biggest constraints on cancer research today is the lack of large data-sets that show how patients have responded to various treatments. Could Big Data be the key to unlocking the cure?
The Universal Cancer Databank (UCD), set up for free by Australian Billionaire Andrew Forrest and creator of the Eliminate Cancer Initiative (ECI), is a worldwide anonymised database where cancer patients and survivors can input their medical details to aid others in their position. It has the potential to help in the development of better treatments, and speed up the process of discovering new ones. The UCD project aims to connect a range of existing and developing database projects into a unified databank, including the UK's landmark BRIAN database, led by Britain's major brain tumour charity.
The organisation is derived from a series of landmark national 
Brain Cancer Missions 
launched in the UK, China and Australia, as the governments of those countries recognise that global participation is necessary to progress research. So far those missions have raised £110 million towards a global goal of £500 million, including over £7 million from the 
Minderoo Foundation
, to develop a new international collaboration around brain cancer, including data sharing and the launch of a major adaptive clinical trial for glioblastoma.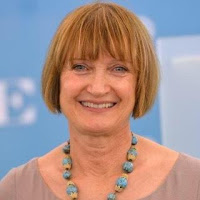 Figure 2. Tessa Jowell
Ex-UK MP Baroness Tessa Jowell became the first person to donate their medical information to the site. The 70-year-old mother of two was diagnosed with an aggressive form of brain tumour in May 2017, a diagnosis she kept secret from the public until September last year when she tweeted: "Thank you for so much love and support on my birthday. More people living longer better lives with cancer is my birthday pledge".  She has been praised around the world for her bravery and selflessness, with cancer researchers calling her donation a 'game changer' in the medical field.
Despite the conviction and dedication of cancer victim Tessa Jowell, concerns around data sharing exist among the public amid growing privacy concerns. There is a risk that people can be identified even when data is pseudonymised. At
LUCA,
we always work with anonymised and aggregated data to ensure privacy. 
Nevertheless, one must question the value of one's privacy when joining the fight against cancer. Should it be a part of our society to share our medical data to advance cancer treatments?
Tessa sadly lost her fight in May of this year at the age of 70. Rest in peace. 
Written by Lucy Beardsley