Por Javier Martínez Borrguero
I am back for the second consecutive year to participate in the Advanced Factories (AF 2023), the largest exhibition and professional congress dedicated to Industry 4.0 in Southern Europe.
A unique event to immerse yourself in the latest innovations and trends in industrial production processes and to share the main challenges and objectives of the sector: digital disruption, sustainable transition and competitive reindustrialization of the industry to reach 20% share in the national GDP, a target set by the EU.
In this edition the fair has reached its maturity. It has grown in all relevant figures of visitors, exhibitors, and impact on the sector.
In addition, it has moved to the Fira Gran Vía in Barcelona, a much more suitable setting for its size and relevance. It has even brought to light the new exhibition, Advanced Machine Tools (AMT 2023), which complements it perfectly and will undoubtedly gain relevance in the coming years.
All this in order to showcase the most disruptive ideas and cutting-edge technologies that are transforming the industrial landscape and that more than a vision of the future, are already a sample of an emerging reality.
The European Union aims for industry to account for 20% of the GDP of the Member States.
Apart from the impressive figures for a national industry event, where we are still at around 15.5% contribution to the Spanish GDP, one of the elements that gives it character and deserves to be highlighted is that, despite its large size, Advanced Factories is still a very specialized event.
This meeting is attended by numerous professionals with decision-making capacity to share real, concrete and urgent problems to be solved in industrial processes and in the deployment of technological solutions available today in the field of Industry 4.0.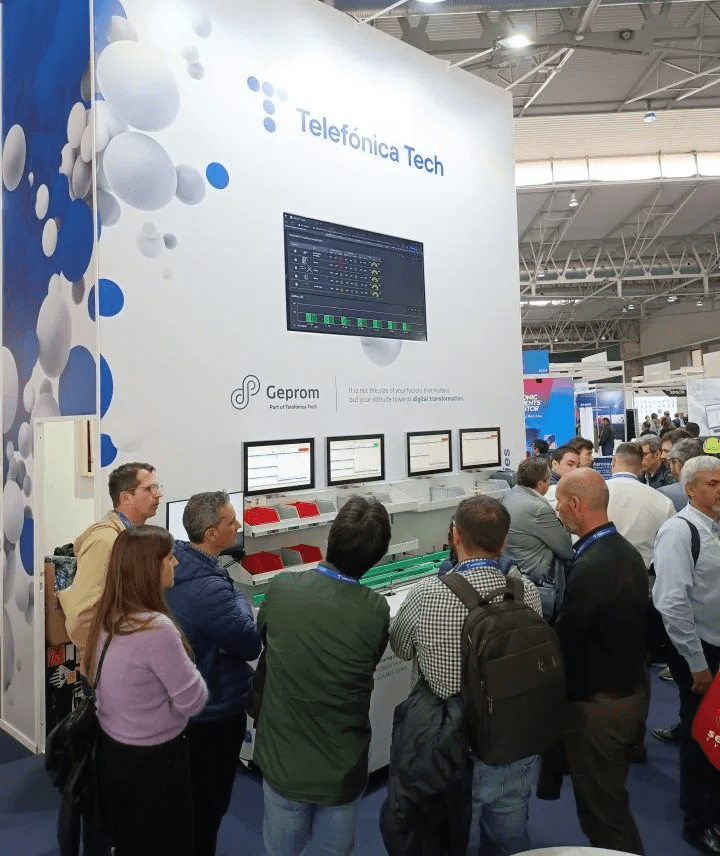 Talking about technology, what were the winners of this edition?
On the one hand, the theme of the congress promised to focus on robotics and industrial automation, and on the other hand, Artificial Intelligence as the top trend of the moment claimed its presence in every presentation and in every demonstration.
However, if I had to choose a technological headline that summarizes what was seen at AF 2023, I would choose Augmented Intelligence.
What is Augmented Intelligence and how does it impact competitive, disruptive and sustainable reindustrialization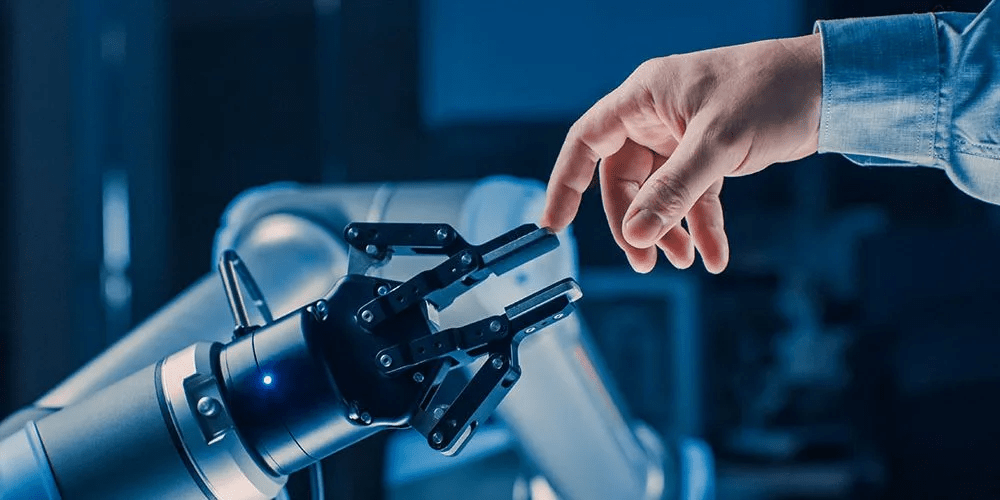 Augmented intelligence (a concept also known as Augmented Humanity) combines the power of artificial intelligence and human capacity to enhance and expand people's cognitive and creative capabilities. It seeks to complement human work, enabling people to be more efficient, accurate and effective.
Unlike artificial intelligence, it seeks to empower humans by providing them with digital tools and resources that improve their decision-making and performance in different industrial processes.
In this way, it contributes to a reindustrialization that preserves its role as a driver of employment in Europe, and that this employment can reach the levels of competitiveness required in the global economy.
Augmented intelligence is based on the processing of large amounts of data and the application of advanced algorithms that provide relevant and personalized information in real time and enable the generation of disruptive innovations through the interaction between humans and machines, allowing people to collaborate with automated systems to solve complex problems.
Augmented Intelligence enables the generation of disruptive innovations through the interaction between humans and machines.
Machines can automate repetitive and tedious tasks, thus freeing up time and resources for higher value-added activities that require human skills, such as creativity, empathy, and critical thinking.
In this way augmented intelligence seeks to harness the best of human intelligence and technology. Combining the cognitive and creative skills of people with the analytical and data processing capabilities of artificial intelligence creates a collaborative environment that enhances performance and decision making and is essential to drive the challenges of sustainable transition that require new processes and business models with a net positive impact on society and the environment.
The Industry 4.0 Congress: Forum for the exchange of proposals and debate on the challenges facing the sector
The congress featured a spectacular list of technology experts and business leaders from the industry, and society in general, who shared industry challenges and reflections on economic recovery, rebuilding and strengthening resilience.
Also, on how to co-create solutions and highlighting the most recent advances and their impact on the productivity and efficiency of factories and production environments.
The lectures and panel discussions promoted refreshing debates and provided challenging ideas on how to adapt and make the most of these emerging technologies.
Advanced Factories 2023 also provided countless networking opportunities; all of us who attended had the chance to interact with industry colleagues and make connections and contacts for future collaborations. Several networking spaces facilitated the exchange of ideas and the emergence of synergies, creating an environment conducive to innovation and the proposal of new projects.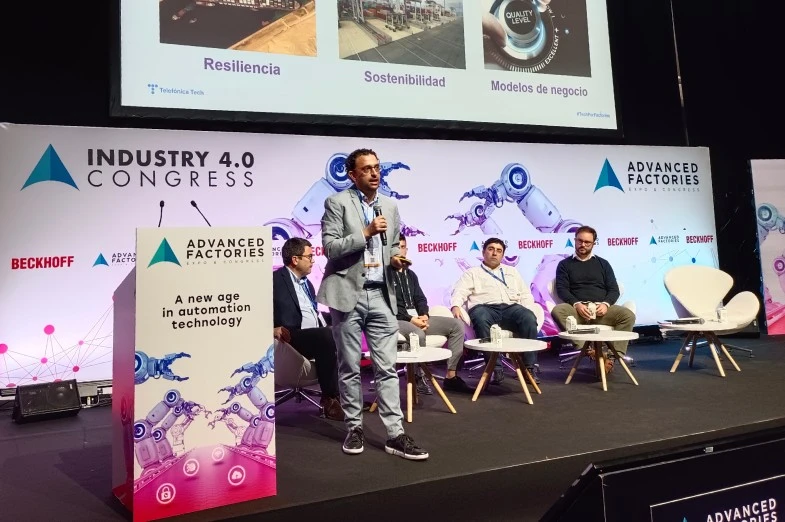 Telefónica Tech contributed to the debate by participating in different presentations and round tables focused on innovation, sustainability, and competitiveness:
Comprehensive innovation of production processes by applying Artificial Intelligence, where it was highlighted that data is the asset with the greatest disruptive power in organizations.
The intelligent industrial helmet to improve the preventive safety of workers, with a message focused on how the digitization of industry also benefits the people who are at the center of the processes.
Quality and maintenance: a leap in competitiveness supported by technology, where attendees were challenged to implement in their production processes the technologies already available in 5G Connectivity and Augmented Intelligence.
Industry 4.0 Expo: Showcase and live experiences of key technologies
The exhibition area was an exciting journey through the real possibilities of the enabling technologies of Industry 4.0, where we could all experience firsthand the latest innovations in advanced manufacturing and also "surprised" to find visitors of the animal species, unusual in this type of meetings, such as dogs, dinosaurs and even a dragon.
We were able to witness the different types of autonomous and collaborative robots, drones and quadrupeds or "robot dogs", which were the focus of many of the most spectacular demonstrations.
The additive manufacturing stands with some big size 3D printers, until recently unbelievable, but more than enough to print all the parts to assemble a life-size "3D dinosaur".
Finally, the different experiences around the metaverse, where between industrial processes supported by augmented reality and digital twins created with augmented reality, you could be surprised to find even a "virtual dragon" to avoid in some Virtual Reality glasses booth.
There were also in almost every booth, the rest of the usual technological participants such as IIoT (Industrial Internet of Things) and Big Data, Connectivity and 5G, Cloud and Industrial Edge, Artificial Intelligence and Machine Learning, Machine Tools and Industrial Software, Cyber Security and Blockchain, etc.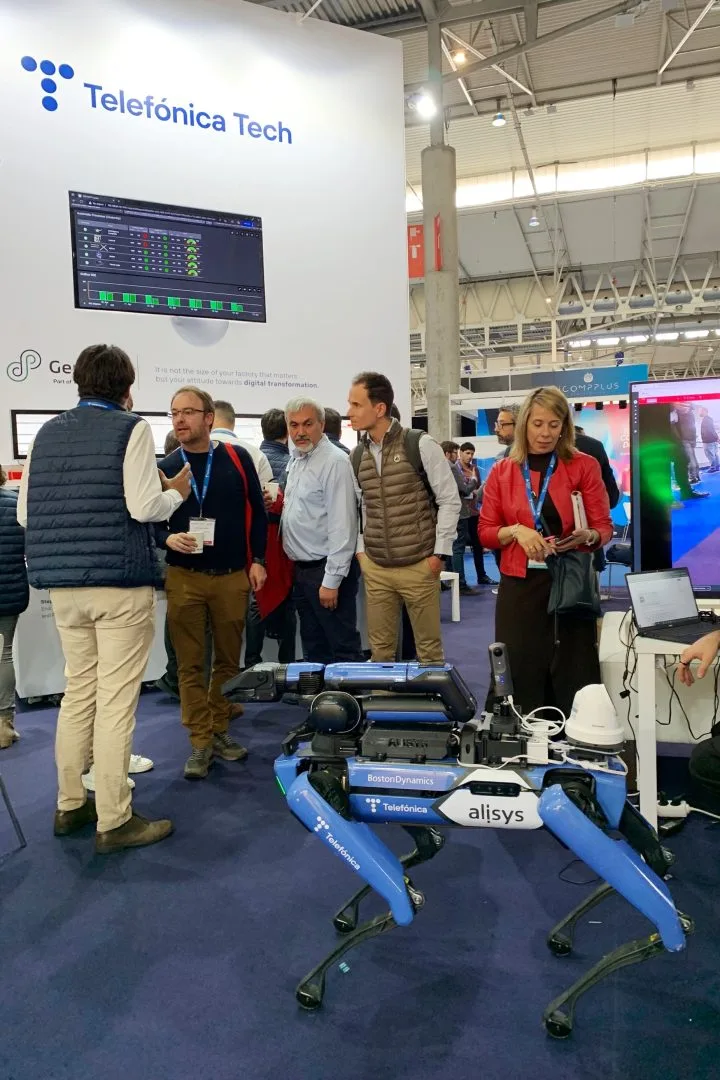 Our contribution at the Telefónica Tech booth focused on the following demos:
Lego Factory 4.0, where the visitor could "play" Lego in a continuous process factory with monitoring of its main parameters through IIoT/5G technologies and with the possibility to make simulations in the environment of a simple digital twin.
Fab Lab 4.0, also with a scale model, we show visitors how to apply our MOM management system and our Blockchain expertise in a discrete manufacturing process, allowing them to become the operator and experience these technologies applied to the various stages of the process.
5G Legged Robot, to meet Spot, the 'robot dog' that is a perfect example of the possibilities offered in real factory environments, fully autonomous robotics, connected via 5G/Edge, and free from the bondage of wheeled drive systems to be able to actively collaborate with human operators.
IoT Smart Helmet, to put us in the context of a front-line operator of a large mining or petrochemical facility and be able to send, through NB-IoT connectivity, the monitored data to a platform that processes them to activate the most advanced safety and personal protection measures.
A year ahead to continue promoting Reindustrialization
In short, this edition of Advanced Factories managed to capture the essence of new technologies and their impact on real industry.
There is now a year left until the next edition, to continue working on our processes and to bring closer that dream of a radically new industrialization that will boost our economies and have a positive impact on our societies and the planet we inhabit.
Next stop? Barcelona, April 2024. See you there!