LUCA Innovation Day 2019 is arriving, the third edition of our annual innovation event where you will have to engage all 5 senses. Watch along on our live stream if you are unable to attend.
It's a fact: Artificial Intelligence is becoming increasingly attainable and necessary, both in our personal environment and in the corporate world.
On October 16th, we want to show you the applications of AI that we have discovered over the past year: a natural AI, accessible to any organisation, in any sector, for any business objective or need, which will help optimise your value proposal and strengthen the relationship with your clients. It's within your reach.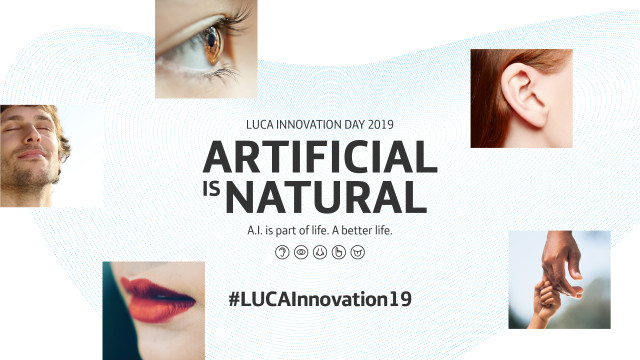 LIVE STREAM: We want you to be able to experience all the event has to offer even if you are not able to attend in person. We have set up a live stream which means you can watch along with us from anywhere in the world. Click here to get access to the link!
What do you have to look forward to?
During this day, you will see most innovative uses and applications, developed in the last year at LUCA, which solve the needs of your business.
You can hear first-hand the experiences of our clients and presentations from our experts, giving insight into upcoming trends and technologies that will transform your company.
You will also have the opportunity to touch and experiment with our AI and multisector solutions live with our experts.
Futhermore, you will also experience the launch of Movistar Living Apps, our new intelligent channel that transports your business directly into the home of Telefónica's millions of customers, via new initiatives, easily accessible by a single phrase thanks to Aura and the voice .
Technology maximises the capabilities of our businesses, but we are the people who make the decisions. Will you join us?
LUCA Innovation Day 2019 will take place on the 16th of October at 16:00 in the Central Auditorium of the Telefónica District (Madrid). We are waiting for you! Register here to come in person.