As we have seen from an earlier post on
CDOs
, Chief Data Officers are becoming more popular. Increasingly more organizations are understanding that data is a strategic asset and an essential ingredient for their digital transformation. As a consequence, CDOs are the target of many "headhunters" or, as they call themselves, "executive search" agencies.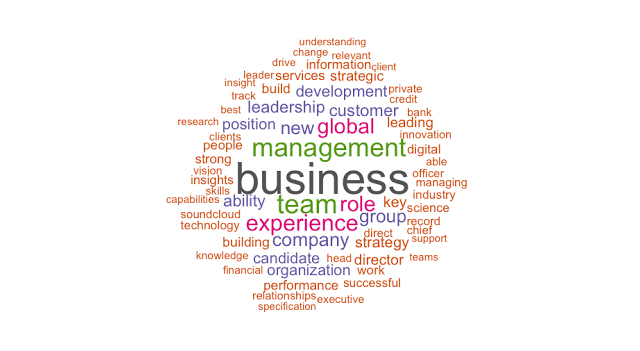 In the last 4 years (2013-2016), I have been contacted many times by headhunters, and have received 14 job descriptions of a CDO, or similar position. The advantage of receiving CDO job descriptions is that it allows you to understand how the data world is progressing, what other large organizations are doing, and -why not- understand the market value of your knowledge and experience.  You can learn a lot about different industries just by listening and having a conversation. The figure below shows clearly that the need for senior data professionals is increasing.
CDOs are not always called Chief Data Officers. Many of the titles are made up of a small set of terms including data, analytics, director, head, etc. The figure below shows a wordcloud with the most used terms.
But what kinds of qualities are companies looking for in a CDO? We have used a simple R program to parse the job descriptions and create wordclouds, and this has resulted in some interesting insights. If we analyze all 14 job descriptions, we get the following wordcloud.
We see no surprises: "data", "business", "analytics", "management", "team", "experience" are among the top words used.  If we now look at the same job descriptions but we don't visualize the words "data" and "analytics" we get a slightly different view, giving more importance to other accompanying relevant words.
Indeed, any job description for a CDO will be about data and analytics. But it is interesting to know what else is relevant for the job. Therefore, in the rest of our analysis, we will remove the words "data" and "analytics" from the wordcloud to highlight more the differences than the commonalities.
Consultancy firms
Some of the job descriptions were from consultancy companies, while others (the majority) came from client organizations (those hiring consultants for Big Data projects). Below you can see the wordcloud for those consultancy companies.
There is much focus on clients, practice, development, relationships and consulting, which is what one would expect for consultancy companies.
Now, let's look at some different industries. We begin with the financial industry. Below we see the wordcloud (again we have removed the words "data" and "analytics".
"Bank", "management" and "business" are the most relevant words, but also interesting are "digital", and "group", "team". Almost all banks (multinational groups) are frenetically working on becoming more digital, and data is a large part of that strategy.  Team work is key for that.
Next we analyze the CDO job descriptions for the Insurance industry:
Here we see much more emphasis on "international", "leadership", "team", "global" and "demonstrated". This may reflect the fact that many insurance companies are global companies operating in many countries across the world. This gives an additional complexity for a data strategy. It is curious that "technology" only appears small.
Let's have a look at the telecommunications industry:
In the telco industry there is a lot of emphasis on business and experience, but also on technological terms like "architecture" and "systems". "Strategy" seems also to be relevant. Telco's indeed are very technological companies (complex mobile and fiber technology), and Big Data forms part of their current strategy.
The publishing industry is as follows:
Relevant here are words like "business", "research", "change". Many publishing companies are active in the field of research publications. And the sector is undergoing a profound change of its traditional subscription business model.
The Pharmaceutical industry:
The importance of the word "development" distinguishes the pharmaceutical industry from others, probably because one of the main applications of Big Data in this industry is to develop new drugs.
The Automotive industry:
A CDO in the automotive industry is focused on serving the business from a global perspective. Performance is also relevant.
Conclusions
For almost all sectors -apart from Data and Analytics- Business is very important. But after that, different sectors highlight different aspects of the CDO role, as summarized here below:
Insurance: global, team, leadership
Telecommunications: technology and strategy
Finance: (data) management
Publishing: change
Pharma: (drug) development
Automotive: business, performance
So, for data professionals interested in leading the strategy, execution and value creation with Big Data, make sure you have the right experience and knowledge.
And, remember, if you are a CDO, and you need help to transform your organization in to a more data-driven one,
LUCA
is here to support you.