What do I do with 30 million euros? This is the recurring question facing first and second division football clubs.
Seventy percent of the money that the clubs receive from the CVC funds will have to be invested in improving their infrastructures.
There are many possibilities and scenarios and quite a few clubs already had in their roadmap certain actions to develop. Remodelling the stadium, enlarging its capacity, covering the stands, improving facilities, creating new sports cities, digitalising processes and facilities, metaverses, digital twins, new user experience, multifunctional stadiums beyond match day…
Telefónica Tech's experience: Civitas Metropolitano, Nuevo Santiago Bernabéu, Espai Barsa …
Civitas Metropolitano (antes Wanda), Nuevo Santiago Bernabéu and Espai Barsa are some of the projects in which Telefónica Tech has participated as the main partner for their digital transformation.
However, Telefónica Tech goes one step further by offering a comprehensive project for the transformation of stadiums and associated infrastructures.
To do so, we rely on 3 pillars:
ARQUITECHTURE + DIGITALISATION + SUSTAINABILITY
Our experience has taught us that the joint conceptualisation of the architectural and digitalisation project represents a cost saving and efficiency improvement of 20% in implementation costs. The objective is to prevent the architecture from being a watertight project on which to implement the digitalisation elements a posteriori.
The effects and interferences of technological infrastructures on the architectural project and the physical space are significant:
A change in the configuration of the stadium structure implies a resizing and possible relocation of the luminaires for a correct illumination of the field.
Architectural changes in the way the stadium is accessed mean rethinking and adapting the security, control and access systems.
An increase in capacity will inevitably lead to a resizing of the communications network (LAN, WIFI, 4G, 5G) to support the demand needs in terms of latency, bandwidth and simultaneity.
A new roof or stands will make it necessary to adapt the video scoreboards for proper viewing from all angles of the pitch.
The emergence of new spaces such as VIP areas, experiential boxes, shops, restaurants and museum areas will require the implementation of functional digitisation elements to enable a renewed ultimate experience.
Combining architecture and digitalisation in a single transformation Project
Approximately 80% of the overall budget that clubs will invest in the refurbishment and modernisation of stadiums will be spent on purely architectural actions, while the rest will be spent on digitalisation. Combining both in a single transformation project is vital to achieve excellence.
To make all this possible, Telefónica Tech works with Morph Estudio from the start and conceptualisation of the projects, which, with César Frías at the helm and a team of more than 150 architecture, interior design and engineering professionals, responds to the needs of adaptation, refurbishment, expansion or new construction of the stadiums.
César Frías: "We try to fill our projects with an idea that gives them an identity, that stems from the uniqueness of the environment and the club, in order to connect with the city and its fans. No two clubs, no two locations are the same, so each stadium we design must be unique, iconic, local, recognisable…"
Digital transformation, a sustainability driver
However, the fusion of architecture and digitalisation must integrate a final pillar that has to do with the social responsibility inherent in high-impact infrastructure transformation projects in urban environments such as football stadiums. This last pillar is that of sustainability:
Reuse of rainwater for grass irrigation;
photovoltaic solar panels for renewable energy generation;
energy community concept;
monitoring of consumption through sensors (metering);
improvement of air quality;
reduction of the stadium's energy demand through passive measures (improvement of the envelope, breaking of thermal bridges…);
reduction of CO2 emissions;
improvement of the efficiency of HVAC equipment;
sustainable landscaping;
sustainable mobility like electric vehicle, scooter and bicycle charging points, etc.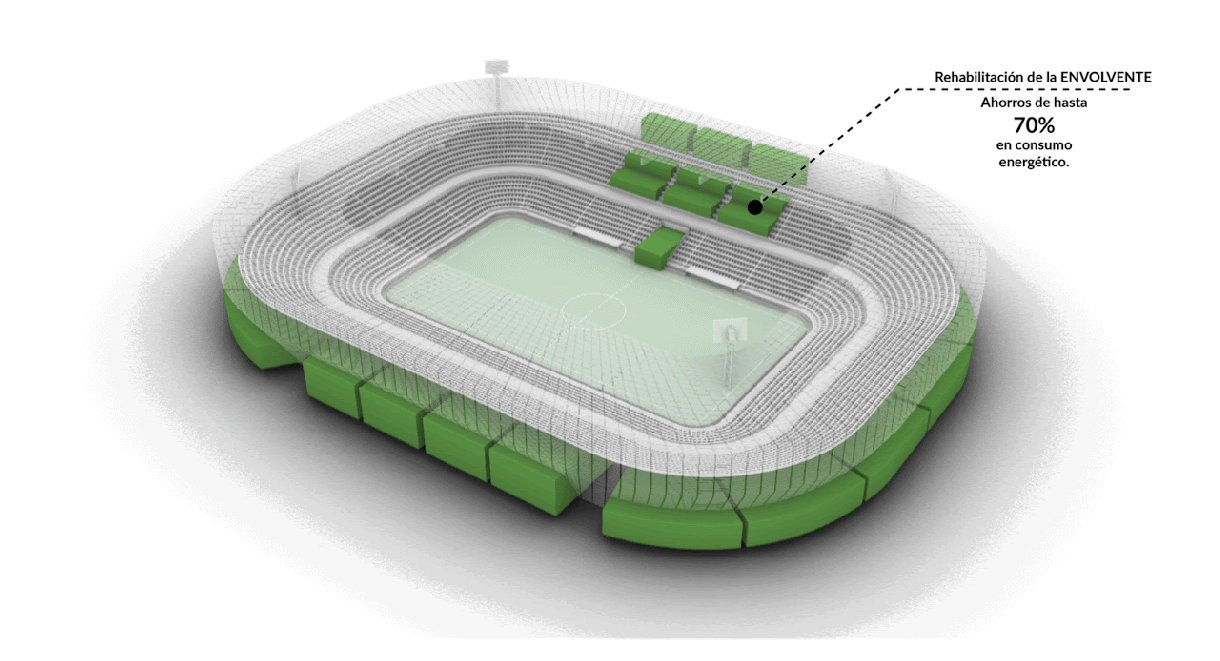 "Technology and sustainability are two sides of the same coin, without monitoring, we cannot evaluate consumption, nor can we act to achieve improvements or synergies. BIM technology enables us to unite the material world with the virtual world and both with the world of data"

César Frías, Morph Studio
A data-driven solution for football clubs
As a support base for these three pillars of transformation we have the DATA layer. Static data on the stadium and other associated infrastructures; dynamic data on use, occupancy, attendance, heat maps, origin, socio-demographic profiling; business and exploitation data; data oriented to elite sport and also data focused on the fan.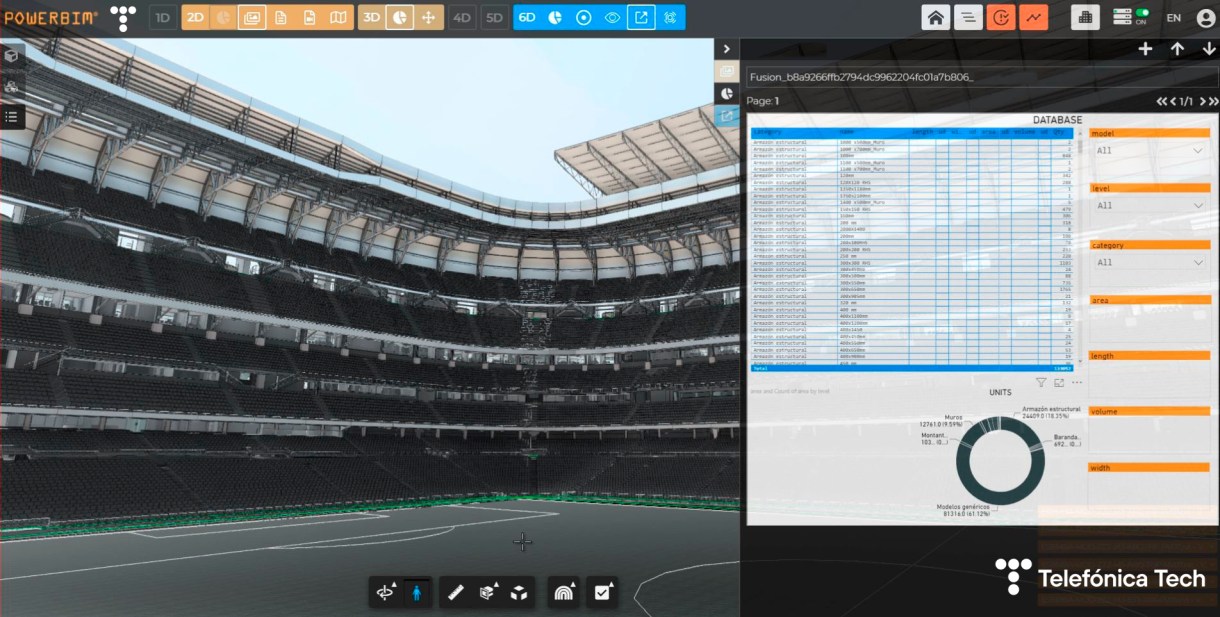 Technological levers such as connectivity, cybersecurity, cloud, AI & analytics, IoT & Big Data, Blockchain or RPA, will be the basis on which to build a Data Driven proposal that generates relevant information for clubs.
All this will allow us to monitor in real time what happens in the stadium and consequently generate a digital twin of exploitation and business with the most relevant KPIs for the club.