Following four intense days, Mobile Word Congress (MWC) 2023 bids farewell today until next year. Since opening its doors last Monday, attendees have had the opportunity to see the latest innovations in the field of mobile connectivity first-hand.
Telefónica Tech participated in MWC 2023 with a wide range of activities this year, including presentations, demos and professional meetings on next-generation digital technologies and solutions for the digitalisation of companies at a stand that extended further than the physical space, into the metaverse and beyond.
In this post we collect and summarise the main activities in which we have participated in this edition of the MWC.
Demos of our digital technologies
Smart Agriculture Solutions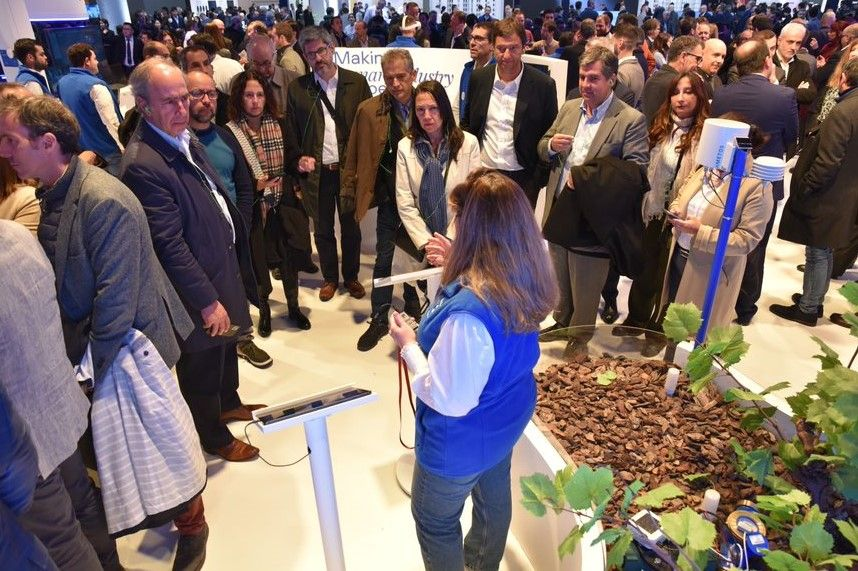 The Making Smart Agro Happen demo, applied to a vineyard at Bodegas Godeval, reiterated our commitment to bringing digitalization to all economic activities and sectors, including agriculture, by showcasing how digitalization and new-generation technologies can improve productivity, resilience, and sustainability in agriculture.
The demo included precision agriculture solutions, smart irrigation management, Artificial Intelligence algorithms to prevent diseases and pests, and the optimization of resources such as water and fertilizers.
Furthermore, it was shown how Blockchain technology can certify and protect entries in the digital field notebook, enables the traceability of production processes and the certification of the origin of the products.
Smart industry and digital twins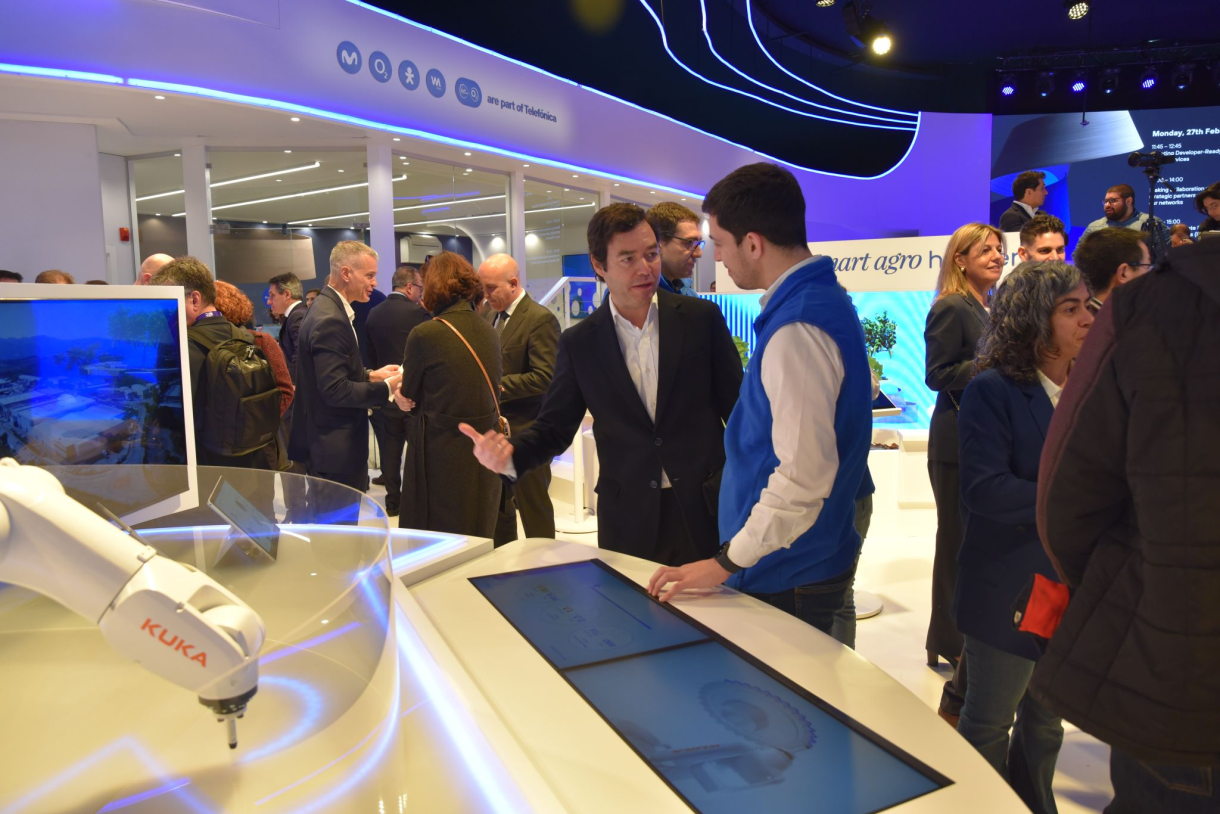 With the Making Smart Industry Happen demo, we show how a 'digital twin' works using technologies such as 5G, Edge Computing, data analytics, and machine learning to optimize industrial part production and make real-time decisions.
The digital twin includes a robotic arm that simulates the construction of an industrial part, and its movement is synchronized with a digital representation of the part.
This helps detect potential failures and improve efficiency and quality in the manufacturing process, which in turn reduces energy and material consumption, increasing profitability.
Indoor Insights with Computer Vision
Using C2RO's computer vision technology, which is part of our solution portfolio, and by placing cameras in our booth and applying Artificial Intelligence algorithms, we could constantly and in real time know how many people were visiting us in different areas and have knowledge of how things were unfolding.
This Indoor Insights solution allows for understanding the flow and anonymous behavior of visitors, which aids in data-driven decision-making.
Quality Control in Industrial IoT
At the Amazon Web Services (AWS) booth, we demonstrated an example of Industrial IoT (IIoT) usage for quality control in manufacturing, production, and logistics processes (using cameras, 5G connectivity, and our Edge Computing solutions) to ensure that products and services meet the required quality standards set by the manufacturer, customers, and regulators.
Talks, presentations and expert sessions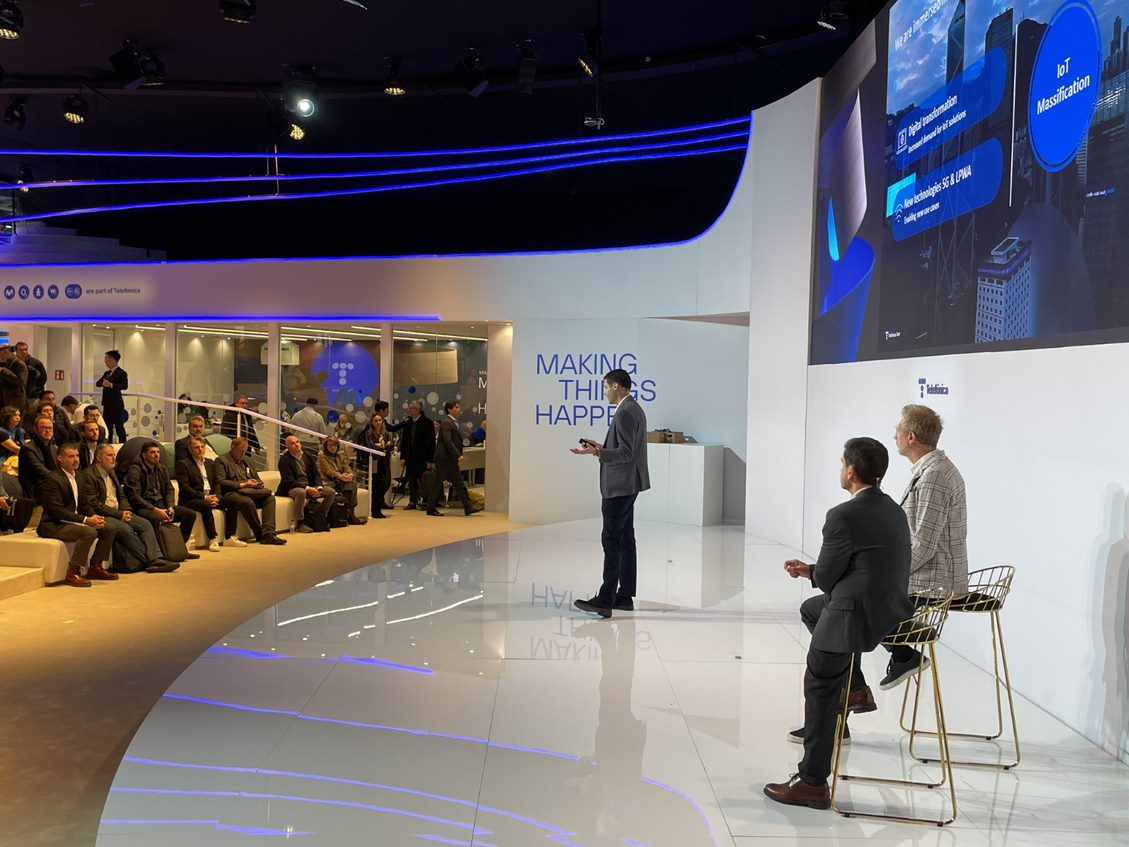 Mobile identity APIs: the road to success. Our expert Glyn Povah, participated in a talk on Mobile Identity APIs, the next step to guarantee and protect the identity of users thanks to the mobile. This technology combines SIM-based solutions and mechanisms such as facial recognition or biometric authentication to identify the user.

Mobile Identity APIs help prevent fraud, duplicate cards or identity theft and guarantee the user's identity in critical applications in sectors such as healthcare, finance and public administrations, among others.

The smart factory: manufacturing, maintenance and logistics. Dario Cesena, CEO of Geprom, Part of Telefónica Tech, participated in this presentation dedicated to connected factories. Solutions based on connectivity technologies, Cloud and Edge Computing, Cyber Security and AI of Things (Internet of Things, Big Data and Artificial Intelligence) allow optimising operational management, digitising systems and processes, making production more efficient and sustainable or collecting, analysing and correlating data, helping to make business decisions in real time.
Juanjo González, IoT connectivity product manager at Telefónica Tech AI of Things, participated in 5G IoT Connection: from space to the whole world, a panel dedicated to 5G and LPWA connectivity technologies that are driving the mass adoption of IoT devices. The session delved into our solution developed with SatelIoT that can provide satellite connectivity to IoT devices to provide global coverage, even in remote locations, as a complement to terrestrial communications.
In the Aristeo session the industrial God of OT bees, our colleague José Cascallana, manager at Telefónica Tech's C4IN Cybersecurity Centre, demonstrated how Aristeo approaches industrial Cyber Security in a native way, deploying real industrial systems all over the internet as honeypots.

In this way, Aristeo contributes to generate intelligence and knowledge that helps to identify and stop threats when they pose a risk to our customers' infrastructures.

In the Digitalisation of the mining industry: the success of our customers, our Director of Industry 4.0 and New Business, Andrés Escribano, and Jorge Azaldegui, Head of Sales Specialists, discussed with Klever Morvely, manager at Minera Las Bambas, the growing need in the mining industry to adopt digital solutions that make their operations more efficient and sustainable, that add value to their processes and optimise their results through data, while reducing the human risks associated with mining activity.
José Luis Núñez, Global Head for Blockchain & web3 at Telefónica Tech, anticipated in the DeFi-ning Opportunities session the next generation of financial services thanks to decentralised finance (DeFi, powered by Blockchain and web3 technology) that are challenging centralised financial systems for the benefit of people thanks to disruptive, accessible and secure solutions.
Javier Zorzano, Head of Technology of Telefónica Tech AI of Things, and Shahbaz Ali, Head of Product of SatelIoT, participated in the 5G IoT Summit: Hybrid NB-IoT and Satellite Solutions. This event was dedicated to 5G connectivity as a key technology for interconnecting and operating billions of IoT devices for countless purposes.

At the 5G IoT Summit we heard use cases and success stories that implement these technologies, enabling new business models, making production processes and company operations more efficient, saving time, resources and money, and reducing their environmental impact.

The Smart and sustainable agriculture session by Ana Pociña and Paz Revuelta, product manager at Telefónica Tech AI of Things, was dedicated to how new generation digital technologies, such as Smart Agriculture solutions, are essential for the agricultural sector, to address challenges such as water scarcity, rising prices of resources and raw materials, increased demand, climate change or the growing interest of consumers in consuming local, healthy and sustainably produced food.
In 5G Revenue monetization business models and platforms for non-linear growth, our colleague Bernardo Campillo, Head of Industry Partnerships at Telefónica Tech AI of Things, addressed how to tackle some of the biggest challenges for adopting cutting-edge digital technologies, such as high investment or the difficulty of demonstrating return on investment in some cases. The Open Gateway initiative, in collaboration with GSMA, aims to align all ecosystem actors to promote collaboration and innovation, and to share risks and benefits.
Our new Transformation Handbooks
As usual, on the occasion of the MWC we have published two new Transformation Handbooks that explain with use cases and success stories why and how digitalisation is key to the progress and sustainability of our society.
You can download them in English, in PDF format, directly from here:
—You can also freely access and download the Transformation Handbooks from the 2022 edition and 2021 edition.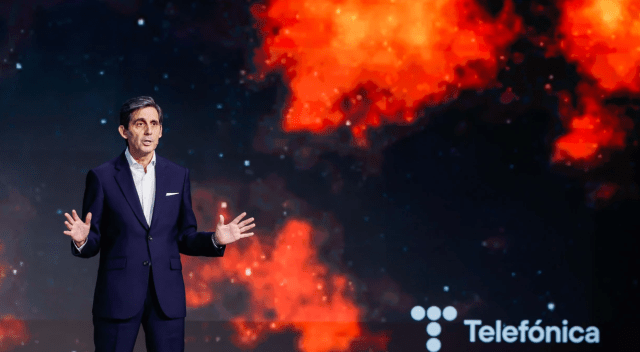 José María Álvarez-Pallete, President of Telefónica and GSMA, presented at Mobile World Congress the GSMA Open Gateway. This initiative brings together more than twenty major operators so that telecommunications companies can share open and standardized APIs with the industry, large technology companies, hyperscalers, aggregators, and service developers. This will provide universal access to 5G networks and telco infrastructures from different operators.

In this way, the networks of operators become platforms on which to develop new services and business models, benefiting the entire digital ecosystem, users, and companies. Among the uses and applications of networks as platforms are the automation of industry, autonomous driving, remote surgeries, gaming, emergency management, holographic communications, or virtual and immersive worlds.