The European Drought Observatory (EDO) monitors, analyses, forecasts and measures the impact of droughts and their consequences on the economy, agriculture and other areas.
In its latest report EDO highlights a "severe deficit" in precipitation in such important basins as the Po and Danube rivers since the end of last year. It also points to the snow deficit in the Alps region (61% less than the 2009-2021 average) which anticipates a lower amount of melt water in the coming months.
EDO's April report for southern Europe (including countries such as Spain, Portugal, France and Italy, among others) warns of drier than usual conditions, and warns of severe droughts in several regions of Europe.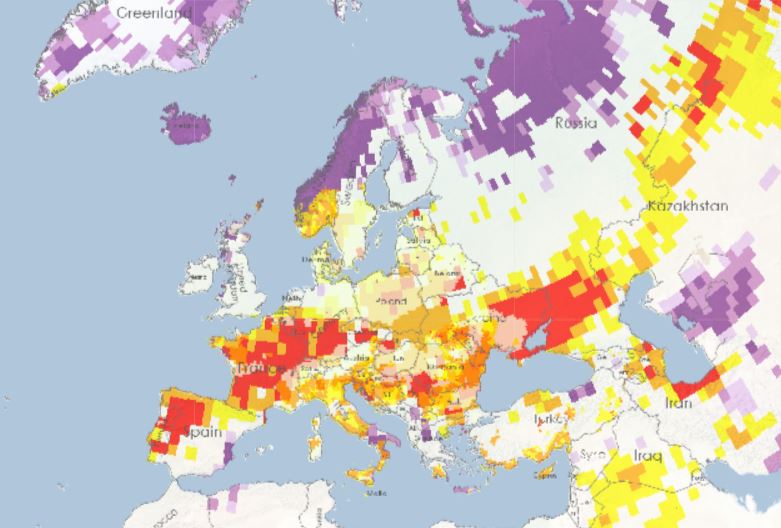 Technology for the digital transformation of water utilities
Water is a natural resource that is as valuable as it is scarce and requires smart management of its integral cycle through the digital transformation of water management companies.
Telefónica Tech's Smart Water solution applies technology to give water management companies greater control of water use, distribution and recovery in order to:
Improve supply management to minimise leakage and adapt infrastructure investment plans.
Guarantee the correct recovery, treatment and use of the used water.
Raise awareness and empower consumers by giving them greater control and information on what their water consumption is and how to reduce it.
All this is possible thanks to the intelligent sensorisation of water distribution networks. Telefónica Tech works with specialised partners such as Contazara and Idrica to implement IoT and data analytics technologies with Big Data and Artificial Intelligence aimed at the integrated management of the water cycle.
In this way, management companies have much more metrological information and in-depth knowledge of what is happening in their network, from monitoring water quality at different points in the network to receiving detailed data on the volumes distributed or variations in flow rates.
Advantages of more efficient water management
For instance, detecting anomalies with respect to average measurements or differences between volumes distributed and volumes consumed makes it possible to identify fraudulent consumption, leaks or water losses at the time they occur, both in the network and at the household level.
Digitalisation of the complete water cycle saves millions of m3 of water each year and reduces operation and maintenance costs by 20% and maintenance costs by 20%, according to Idrica.
Data from the sensorisation of water infrastructures also allows water managers to improve their processes —such as prioritising interventions according to the criticality of the detected incident— and to make an accurate prediction of demand to meet consumption.
Making strategic decisions based on data even makes it possible to accurately anticipate seasonal or one-off demands, such as the influx of tourists or the holding of large events, for example.
This leads to more efficient water management and savings in operating and energy costs. At the same time, the environment is protected and an adequate supply of water in terms of both quantity and quality is guaranteed.
How Smart Water's solution helps Canal de Isabel II improve its water distribution service
Canal de Isabel II (CYII) manages more than a dozen reservoirs in six river basins to supply water to more than 6 million people. CYII is using Telefónica Tech AI of Things products and services to address its digital transformation, with the objectives of:
optimise its sourcing processes and operations,
provide a better service to its customers,
protect this resource from inefficient consumption.
In this case, as part of the Smart Water solution, Telefónica Tech, together with Contazara, is working on the deployment of smart meters that allow remote reading of water meters.
Thanks to these connected IoT meters, the company receives a reading of consumption every hour or according to the customer's needs, instead of working with estimated consumption or with readings taken by hand every two months.
Benefits of the Smart Water solution for consumers
This amount of data provides Canal de Isabel II with greater knowledge of what is happening in its network, and of the consumption habits of its customers. For the consumer, this has benefits such as, for instance:
know their consumption and compare it between periods and with the average consumption of households with a similar profile.
pay for actual consumption and not estimates, which reduces complaints and billing incidents.
receive personalised savings plans and recommendations to reduce water consumption, and therefore the amount of the bill.
detect anomalous consumption (by default or excess), for example in second homes or in the homes of dependent persons.
Remote reading of water meters has an additional environmental benefit by reducing fuel consumption and pollutant emissions from travelling to check, maintain and read meters.
Technology is key to smart and sustainable water management
However, remote meter reading is only one part of Telefónica Tech's Smart Water solution that allows water managers to undertake a complete digital transformation of the entire water cycle. This allows them to address the smart management of a resource that is so sensitive to climate change, weather variations and increased demand.
Today more than ever, it is not only the health and well-being of consumers that depend on the proper and sustainable management of the complete water cycle – from its collection, treatment and distribution to its recovery, purification and reuse or return to watercourses. The economy and sectors such as industry, livestock, agriculture, tourism… and, of course, the environment, also depend on it.