The online retail experience has transformed over the last 10 years, from simple webpages to personalized interactive experiences. ASOS, an exclusively online retailer has been one of the leading organizations to apply Artificial Intelligence to power intuitive recommendation systems. Now they are going one step further, introducing AI Augmented Reality to create a truly personalised experience, not just to your tastes but to mirror your body type too.
On the 14th of January, ASOS released its trial of "See My Fit" an AI powered augmented reality tool developed with Zeekit, a start-up dedicated to innovating the shopping experience. "See My Fit" offers a simulated view of products on models by digitally fitting garments onto their bodies. This provides a more accurate view on how the dresses will look of different shapes and sizes.
With this trial of See My Fit, we're using the latest AR technology to put the power in our customers' hands, so they can choose to view a dress on the model that they most identify with in a way that wouldn't be possible using traditional model-shooting techniques,"

Tim Carey, senior content manager at ASOS Studios,
See My Fit
See My Fit can digitally map the garment onto each model, creating extremely realistic photographs. There are 16 different models of different heights, ranging from sizes 4-18. This allows customers to assess whether an item of clothing will suit them before purchasing, bringing the shopping experience truly into the home.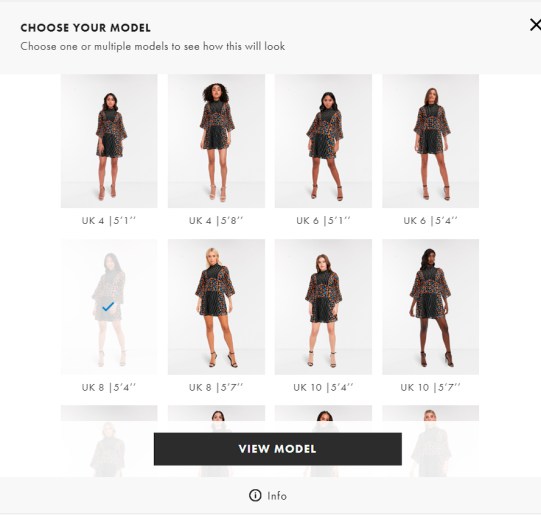 Augmented reality in E-commerce
Augmented reality is bridging the gap between the physical and digital world to empower online consumers. AI and AR are distinct technologies but can be used together to enrich the experience. "AR creates an enhanced version of reality by using technology to overlay digital information on an image". In order to produce realistic experiences with accurate shape, lighting and materials, companies previously spent hours staging photoshoots. But now, Artificial Intelligence and Machine learning models can reduce content creation time and help make AR more realistic.
"We think AR, combined with AI, can be a killer combination of experiences unlike anything we've seen before,"

Abhay Parasnis, EVP and CTO at Adobe.
It is estimated that 40% of customers would be more willing to make the final purchase/spend more on a product if AR was part of the online experience. This puts companies such as ASOS at a strategic advantage with a more personalised offer.
To stay up to date with LUCA, visit our Webpage, subscribe to LUCA Data Speaks and follow us on Twitter, LinkedIn o YouTube.